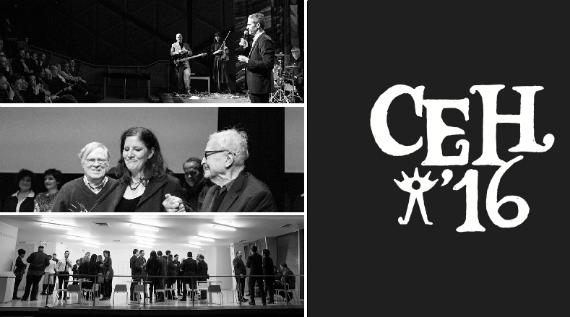 I'm in agreement with indieWIRE's Eric Kohn who proclaimed that the best awards event this week wasn't the Oscar nominations. Last Wednesday night, the 9th annual Cinema Eye Honors celebrated the best non-fiction filmmaking of this past year, awarding three of its top honors to THE LOOK OF SILENCE "for Outstanding Nonfiction Feature, Outstanding Direction for Joshua Oppenheimer and Outstanding Production for Signe Byrge Sørensen." Dave McNary reported the full list of winners at Variety, while Daniel Walber at Nonfics and Daniele Alcinii of Realscreen had their own takes on the awards.
Following the its trio of honors, THE LOOK OF SILENCE was named the following day as one of this year's Oscar nominees in an announcement by The Academy, alongside Asif Kapadia's AMY, Matthew Heineman's CARTEL LAND, Liz Garbus' WHAT HAPPENED, MISS SIMONE? and Evgeny Afineevsky's WINTER ON FIRE: UKRAINE'S FIGHT FOR FREEDOM. Brooks Barnes and Michael Cieply of The New York Times and Stephanie Merry of The Washington Post each reflected on the nominations, taking special note of the absence of Alex Gibney's GOING CLEAR and Kirby Dick's THE HUNTING GROUND, both of which were early favorites in the race. Our own Thom Powers and Raphaela Neihausen also discussed the nominees on WNYC's Documentary of the Week segment. And while the nomination announcements bring flashes of the glitz and glam of the Oscars to ones mind, indieWIRE's Bryan Glick dared to ask a very serious question regarding the expenses necessary to pursue a serious chance at awards season success – "Is the Academy hurting most documentary filmmakers?" The Directors Guild of America also released their nominations for Best Directorial Achievement in Documentary, naming Liz Garbus, Alex Gibney, Matthew Heineman, Asif Kapadia, and Jimmy Chin and Elizabeth Chai Vasarhelyi for MERU.
This week's major doc news may have been filled with award season buzz, for us here at Stranger Than Fiction it was the announcement of our 2016 Winter Season that has us most excited! Our latest season is set to kick off February 2nd with OXD: ONE EXTRAORDINARY DAY, with special guests director Craig Lowy and choreographer Elizabeth Streb in attendance for a post-screening Q&A. Season tickets are now available for purchase here.
This week the Miami International Film Festival announced their first wave of titles, including among them Dawn Porter's TRAPPED, which will screen as part of Stranger Than Fiction later this season. Similarly, according to Bénédicte Prot at Cineuropa and Daniele Alcinii at Realscreen, the Berlinale also added a new helping of non-fiction to their program, most notably a four part docuseries by Michael Pollan and Alex Gibney titled COOKED and a feature by Gianfranco Rosi on the European migrant crisis titled FIRE AT SEA. In New York, the Museum of the Moving Image's First Look Festival, which centers around experimental documentary projects, has garnered a pair of reports from Nick Pinkerton in Artforum and Richard Porton at MUBI's Notebook, while Katharine Milbradt looked forward to the coming Winter/Spring Series of the Flaherty NYC by interviewing Lana Lin, a professor in the School of Media Studies at The New School and one of this season's programmers.
In my latest edition of What's Up Doc? over at IONCINEMA, I looked at the docs soon to make their debut at the Sundance Film Festival, as well as my Top 100 docs currently in development. Basil Tsiokos has also been outlining the non-fiction Sundance lineup, one film at a time on What (not) To Doc. And speaking of docs in development, both Hot Docs and the MacArthur Foundation released the names of projects that will be receiving grants for production.
Discussion centered around MAKING A MURDERER continues this week as Steven Avery has filed a new appeal according to Mike McPhate of The New York Times. I literally could have filled this week's entire memo with articles just about the Netflix serial, but here are the key pieces: Bronwen Dickey's claim of its emotional manipulation at Slate, Lisa Kern Griffin's New York Times reminder that its a series about justice, not truth, and Kenny Herzog's inquiry at Vulture about the lasting legal effects of the resurgence of true life crime serials. At the Los Angeles Times, Yvonne Villarreal speaks with the filmmakers, Moira Demos and Laura Ricciardi, about the possibility of a second season – "We are ready," the headline reads.
Another small screen picture garnering attention this week was Henry Hampton's Oscar nominated docuseries EYES ON THE PRIZE, which is returning to screens just in time for Martin Luther King Day. Both Meredith Blake of the Los Angeles Times and the staff at POV Blog featured the new restoration and broadcast of the highly regarded production on the American Civil Rights Movement.
Other films that piqued media interest were Michael Moore's WHERE TO INVADE NEXT, which prompted some serious discussion on school lunches in The New York Times by Bettina Elias Siegel. Riding the wave of awards and nominations, Christopher Llewellyn Reed considered THE LOOK OF SILENCE at Hammer to Nail, the Film Society of Lincoln Center posted a video of director James Crump joined by NYFF Selection Committee member Marian Masone, discussing TROUBLEMAKERS: THE STORY OF LAND ART.
Kartemquin Films continues to celebrate their 50th Anniversary, this week by streaming a pair of films from 1968, PARENTS and THUMBS DOWN. At indieWIRE, Kevin Jagernauth linked to a newly produced short on the illusive Jerry Lewis production THE DAY THE CLOWN CRIED by the BBC, THE STORY OF THE DAY THE CLOWN CRIED.
Until next week, if you have any tips or recommendations for the Memo, please contact me via email here, or on Twitter,@Rectangular_Eye.