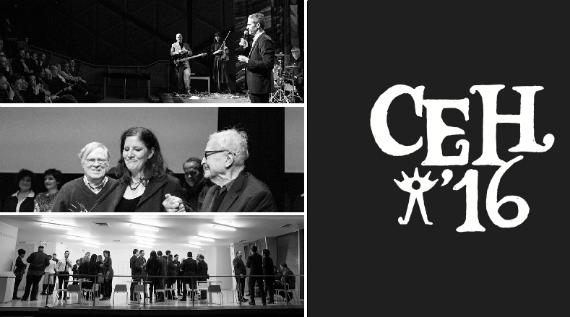 I'm in agreement with indieWIRE's Eric Kohn who proclaimed that the best awards event this week wasn't the Oscar nominations. Last Wednesday night, the 9th annual Cinema Eye Honors celebrated the best non-fiction filmmaking of this past year, awarding three of its top honors to THE LOOK OF SILENCE "for Outstanding Nonfiction Feature, Outstanding Direction for Joshua Oppenheimer and Outstanding Production for Signe Byrge Sørensen." Dave McNary reported the full list of winners at Variety, while Daniel Walber at Nonfics and Daniele Alcinii of Realscreen had their own takes on the awards.
Following the its trio of honors, THE LOOK OF SILENCE was named the following day as one of this year's Oscar nominees in an announcement by The Academy, alongside Asif Kapadia's AMY, Matthew Heineman's CARTEL LAND, Liz Garbus' WHAT HAPPENED, MISS SIMONE? and Evgeny Afineevsky's WINTER ON FIRE: UKRAINE'S FIGHT FOR FREEDOM. Brooks Barnes and Michael Cieply of The New York Times and Stephanie Merry of The Washington Post each reflected on the nominations, taking special note of the absence of Alex Gibney's GOING CLEAR and Kirby Dick's THE HUNTING GROUND, both of which were early favorites in the race. Our own Thom Powers and Raphaela Neihausen also discussed the nominees on WNYC's Documentary of the Week segment. And while the nomination announcements bring flashes of the glitz and glam of the Oscars to ones mind, indieWIRE's Bryan Glick dared to ask a very serious question regarding the expenses necessary to pursue a serious chance at awards season success – "Is the Academy hurting most documentary filmmakers?" The Directors Guild of America also released their nominations for Best Directorial Achievement in Documentary, naming Liz Garbus, Alex Gibney, Matthew Heineman, Asif Kapadia, and Jimmy Chin and Elizabeth Chai Vasarhelyi for MERU.
This week's major doc news may have been filled with award season buzz, for us here at Stranger Than Fiction it was the announcement of our 2016 Winter Season that has us most excited! Our latest season is set to kick off February 2nd with OXD: ONE EXTRAORDINARY DAY, with special guests director Craig Lowy and choreographer Elizabeth Streb in attendance for a post-screening Q&A. Season tickets are now available for purchase here.
---