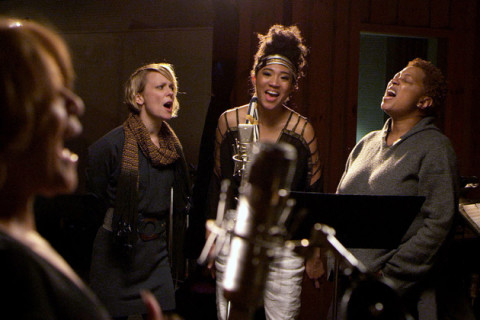 This week the Academy of Motion Picture Arts and Sciences (AMPAS) loosed the list of nominees for the Oscar awards on the world. At Nonfics.com, Christopher Campbell had coverage, along with a reaction from director Jehan Noujaim, with Adam Benzine on the news at Realscreen.  Larry Rohter of the New York Times also reported on the nominations with an eye toward the themes of politics and entertainment. At the POV blog, Tom Roston shared his impressions of the list and named snubs. Both Michelle Kung of the Wall Street Journal and Joan E. Solsman of cnet took note of the fact that THE SQUARE was the first Netflix "original" documentary to earn an Oscar nod. Paula Bernstein shared info on where nominated films could be screened online in a piece for Indiewire. And at the Thompson on Hollywood blog at Indiewire, Sheerly Avni interviewed Rithy Panh, director of doc THE MISSING PICTURE, which earned a nomination in the foreign language category.
The Sundance Film Festival also kicked off this week. At Realscreen, Kelly Anderson spoke with programmer Caroline Libresco to preview some of the docs to keep an eye on. In a piece for Indiewire's Reel Politik section, Anthony Kaufman took a look at the film THE GREEN PRINCE. And in a separate piece for the SundanceNOW blog, Kaufman wrote a piece identifying trends and players to keep an eye on at Park City.  Paula Bernstein of Indiewire wrote on the influence that Chicken & Egg Pictures has had on getting women documentary filmmakers some festival shine. Ondi Timoner previewed the docs playing at the festival in an episode of Bring Your Own Doc. Writing for Variety, Addie Morfoot noted that most festivals, including Sundance, seemed to privilege left-leaning docs over their rightward counterparts. In a piece for the Sundance website, PARIS IS BURNING director Jennie Livingston wrote on the experience of being branded a failure as a filmmaker.
At the International Documentary Association (IDA) website, Michael Galinsky interviewed Jesse Moss, director of THE OVERNIGHTERS. Kevin Ritchie of Realscreen spoke with LIFE ITSELF director Steve James. Michael Dunaway of Paste Magazine also interviewed Steve James, as did Matt Zoller Seitz at RogerEbert.com.
There were already a number of distro deals coming out of Utah. Realscreen's Barry Walsh reported on CNN Films and Lionsgate's acquisition of DINOSAUR 13. Realscreen colleague Adam Benzine had the news that Ro*co Films had nabbed international rights for four films prior to the start of the festival: MARMATO from Marc Grieco; E-TEAM from Kate Chevigny and Ross Kaufman; THE INTERNET'S OWN BOY: THE STORY OF AARON SWARTZ from Brian Knappenberger; and WHITEY: THE UNITED STATES OF AMERICA V. JAMES J. BULGER from Joe Berlinger. And Kevin Ritchie of Realscreen reported that Sundance's own Artist Services also announced that it would premiere 11 films online in a partnership with Cinedigm.
At Nonfics.com, Christopher Campbell reviewed CONCERNING VIOLENCE from Goran Hugo Olsson, giving it four stars. Drew Taylor of Indiewire property The Playlist had a review of WHITEY: THE UNITED STATES OF AMERICA V. JAMES J. BULGER from Joe Berlinger. And back at Nonfics.com, Christopher Campbell reviewed THE OVERNIGHTERS, also giving it four stars.
Stranger Than Fiction also announced its lineup for the Winter Season, set to start on Tuesday, January 28. Films hitting the IFC Center this season include FINDING THE FUNK from Nelson George; LOU REED: ROCK AND ROLL HEART from Timothy Greenberg-Sanders; MONTEREY POP from D.A. Pennebaker; BROTHERS HYPNOTIC from Rueben Atlas; THE ROAD TO FAME from Hao Wu; A GREAT DAY IN HARLEM from Jean Bach; and a special screening of THE CENTRAL PARK FIVE from directors Ken Burns, Sarah Burns and David McMahon. Tickets are available for individual shows or season passes can be bought for $99 for 9 films.
Louis Chunovic of Realscreen reported that video hosting service Vimeo had announced the launch of a $500,000 program intended to help distribute films that had seen some success via crowdfunding platforms. Paula Bernstein of Indiewire also covered the announcement.
The MacArthur Foundation this week announced that 18 documentary projects would receive grants funds totaling $2 million. Manori Ravindran had details on the grant recipients at Realscreen.
The Tribeca Film Institute Doc Fund also named its grantees this week. Tambay A. Obenson noted some of the fund's recipients in a piece at Indiewire's Shadow and Act blog, while Kelly Anderson of Realscreen also covered the news.
In an impressive piece by any standard, Jason Guerrasio presented a comprehensive oral history of HOOP DREAMS at The Dissolve.
The Directors Guild of America named the nominations for its documentary awards this week, with Gregg Kilday of The Hollywood Reporter and Christopher Campbell of Nonfics.com with details.
Writing for Variety, Dave McNary reported that the Writers Guild of America had handed director Alex Gibney an award for his script for the film WE STEAL SECRETS: THE STORY OF WIKILEAKS. Kevin Ritchie of Realscreen also had the news.
Adam Schartoff of Filmwax fame turned out a few videos over the past few weeks as segments of the BK Live show. In the first he speaks on Filmwax Radio and the Sundance Film Festival. In the second he talks to PUSSY RIOT: A PUNK PRAYER director Maxim Pozdorovkin.
In distro news unrelated to Sundance, Oscilloscope Laboratories acquired worldwide rights to the Wayne Wang documentary SOUL OF A BANQUET, with Manori Ravidran of Realscreen on the news.
The news desk at MoviesWorld.com reported that documentary filmmaker Roberto Guerra had passed away. Peru-born Guerra had most recently worked with Kathy Brew on the film DESIGN IS ONE: LELLA & MASSIMO VIGNELLI.
Lisa Hasko rounded up a number of grant opportunities available to documentary filmmakers at the IDA website.
Christopher Campbell dutifully rounded up the documentary films of note hitting theaters this week over at Nonfics.com. In a separate post at the site, he shared his home picks for the week.
At Filmmaker Magazine, Randy Astle interviewed Kate Logan, director of the film KIDNAPPED FOR CHRIST.
The Museum of Modern Art this week announced the lineup for its annual Documentary Fortnight program.
In a post at the POV blog, Heather McIntosh considered how the launch of PBS America had introduced Britain to a host of U.S. public television programming.
Back at Indiewire, Paula Bernstein spoke with MAIDENTRIP director Jillian Schlesinger on hiring a female crew to shoot her film. And in a Filmwax podcast, Adam Schartoff interviewed Schlesinger about her film.
Robert Greene rejuvenated his Shots From the Canon series at Nonfics.com by profiling LOS ANGELES PLAYS ITSELF from director Thom Andersen.
At National Geographic, BLACKFISH associate producer and co-writer Tim Zimmerman took stock of the ways that the film had affected the SeaWorld park.
Finally, Michael Rosser of Screendaily reported that the British Film Institute (BFI) had launched a pilot U.S. distro fund to help U.K. films get a toehold here.
That's it for this week. Please remember to send any tips or recommendations for the Memo via e-mail here, or by Twitter to @GuerrillaFace. Thanks and have a great week all!