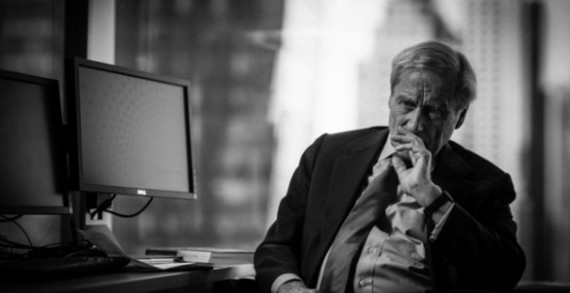 This year the Sheffield Doc/Fest Special Jury Award went to ATTACKING THE DEVIL: HAROLD EVANS AND THE LAST NAZI WAR CRIME from directors Jacqui Morris and David Morris. Writing for Indiewire, Casey Cipriani had coverage of all of the awards, as did Manori Ravindran at Realscreen. Christopher Campbell of Nonfics.com broke up his coverage of the festival into five parts, which you can find here: part 1, part 2, part 3, part 4, part 5. Filmmaker Laura Poitras also issued a statement after accepting the festival's Inspiration Award in absentia. At Realscreen, Adam Benzine spoke with THE OVERNIGHTERS director Jesse Moss. Writing for Indiewire, Paula Bernstein broke down a potential formula for winning an Oscar for best doc.
The folks at Televisual wrote a post laying out some of the themes they found in the the Sheffield Doc/Fest commissioning panels. Writing for The Hollywood Reporter, Stephen Dalton reviewed THE LAST MAN ON THE MOON from director Mark Craig. At the DocGeeks blog, Ben Unwin reviewed REGARDING SUSAN SONTAG from director Nancy Kates. Adam Benzine of Realscreen also spoke with Alex Gibney regarding his film FINDING FELA. Paula Bernstein of Indiewire covered a master class at the festival from director Joe Berlinger. Bernstein also wrote a piece on the increasing difficulty of making a living as a documentary filmmaker.
Writing for Leveled Magazine, Jamie Maleszka previewed the Human Rights Watch Film Festival. At Nonfics.com, Daniel Walber made a list of the five best films screening at the fest. And Basil Tsiokos provided an overview at his What (Not) to Doc blog.
This week Stranger Than Fiction is hosting a screening of ROMAN POLANSKI: WANTED AND DESIRED from director Marina Zenovich on Tuesday June 17 at 8 p.m. at the IFC Center in Manhattan. The film investigates the sexual assault case that embroiled the filmmaker decades ago. Following the screening film critic Scott Foundas will be in attendance for a Q&A. For more information or to purchase tickets please go here.
---