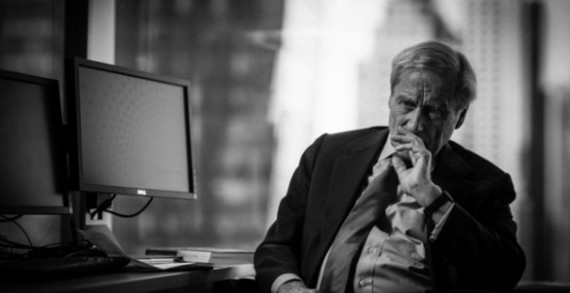 This year the Sheffield Doc/Fest Special Jury Award went to ATTACKING THE DEVIL: HAROLD EVANS AND THE LAST NAZI WAR CRIME from directors Jacqui Morris and David Morris. Writing for Indiewire, Casey Cipriani had coverage of all of the awards, as did Manori Ravindran at Realscreen. Christopher Campbell of Nonfics.com broke up his coverage of the festival into five parts, which you can find here: part 1, part 2, part 3, part 4, part 5. Filmmaker Laura Poitras also issued a statement after accepting the festival's Inspiration Award in absentia. At Realscreen, Adam Benzine spoke with THE OVERNIGHTERS director Jesse Moss. Writing for Indiewire, Paula Bernstein broke down a potential formula for winning an Oscar for best doc.
The folks at Televisual wrote a post laying out some of the themes they found in the the Sheffield Doc/Fest commissioning panels. Writing for The Hollywood Reporter, Stephen Dalton reviewed THE LAST MAN ON THE MOON from director Mark Craig. At the DocGeeks blog, Ben Unwin reviewed REGARDING SUSAN SONTAG from director Nancy Kates. Adam Benzine of Realscreen also spoke with Alex Gibney regarding his film FINDING FELA. Paula Bernstein of Indiewire covered a master class at the festival from director Joe Berlinger. Bernstein also wrote a piece on the increasing difficulty of making a living as a documentary filmmaker.
Writing for Leveled Magazine, Jamie Maleszka previewed the Human Rights Watch Film Festival. At Nonfics.com, Daniel Walber made a list of the five best films screening at the fest. And Basil Tsiokos provided an overview at his What (Not) to Doc blog.
This week Stranger Than Fiction is hosting a screening of ROMAN POLANSKI: WANTED AND DESIRED from director Marina Zenovich on Tuesday June 17 at 8 p.m. at the IFC Center in Manhattan. The film investigates the sexual assault case that embroiled the filmmaker decades ago. Following the screening film critic Scott Foundas will be in attendance for a Q&A. For more information or to purchase tickets please go here.
This week the Tribeca Film Institute named the recipients of its documentary fund. The Tracking Board had details on the recipients, as did Tambay A. Obenson at Indiewire's Shadow and Act blog.
Back at the What (Not) to Doc blog, Basil Tsiokos provided an overview of the docs screening at this year's Northside Film Festival.
Writing for Realscreen, Adam Benzine reported that the British Film Institute (BFI) Film Fund had backed three feature docs, while Alexandra Zeevalkink did the same at the DocGeeks blog.
In distro news, Barry Walsh of Realscreen reported that Dogwoof had picked up U.K. rights for THE OVERNIGHTERS. Dogwoof also posted a note on their blog about the acquisition.
A post at Iris Magazine rounded up the top five Netflix docs about women.
This week The Guardian newspaper launched an interactive web doc on the Digital Deadly Sins.
In a piece at the Docs In Progress blog, Erica Ginsberg profiled the upcoming AFI Docs festival.
The Hollywood Reporter's Scott Johnson wrote a piece on the death of SEARCHING FOR SUGAR MAN director Malik Bendjelloul. A piece at the True/False Film Fest's website shared some memories from Bendjelloul from the festival.
Anthony Kaufman of Indiewire wrote a piece on the recent wave of Syrian docs and their potential effect on American audiences..
At the Center for Media & Social Impact, Angelica Das wrote a piece about history revisionism and documentary.
Writing for Indiewire, Valentina I. Valentini wrote a piece gathering tips from Cine Gear on shooting a doc.
In this week's Filmwax podcast, Adam Schartoff spoke with filmmaker Darius Clark Monroe about his film, EVOLUTION OF A CRIMINAL.
The filmmaker Yoruba Richen gave a Ted Talk on the links between the gay rights movement and the civil rights movement. Richen was also interviewed by Craig Phillips of the Independent Lens blog about her film THE NEW BLACK.
At the Kino-Eye website, David Tames shared 10 reasons from Peter Broderick on why docs are better than fiction.
Writing for Film Comment back in May, Eric Hynes interviewed director Hubert Sauper about his film WE COME AS FRIENDS.
In a piece for the POV blog, Justine Goode wrote about the inaugural New York WILD Film Festival.
Brian Brooks of Deadline got his hands on some VOD data shared by Radius-TWC on 20 FEET FROM STARDOM and THE UNKNOWN KNOWN. An No Film School hosted a guest post from VHX about bonus content pricing that used the doc STRIPPED as a case study.
At No Film School, Oakley Anderson-Moore published a list of filmmaking grants with summer deadlines.
Writing for Indiewire, Melina Gills interviewed THE CASE AGAINST 8 filmmakers Ben Cotner and Ryan White about their film.
In a piece at T Magazine, Alex Zafiris took a look at the Agnes Vardes travelogue series FROM HERE TO THERE.
Back at the Independent Lens blog, Craig Phillips asked several filmmakers to share their favorite LGBTQ docs in honor of Pride Month.
And at the POV blog, Justine Goode interviewed filmmaker Peter Young about THE LAST OCEAN.
Finally, at the What (Not) to Doc blog, Basil Tsiokos shared an overview of docs screening at this year's Los Angeles Film Festival.
If you have tips or recommendations please send them via email here, or on Twitter to @GuerrillaFace. Thanks and have a great week all.