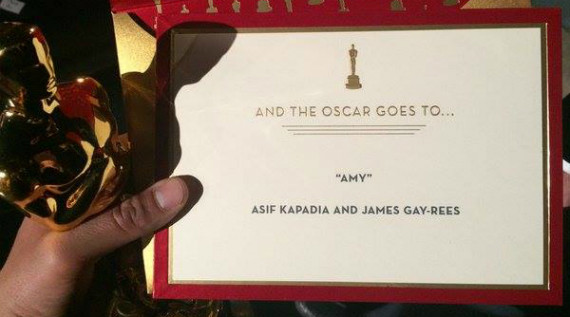 Finally, the glitz and glam of award season has settled and despite the avalanche of awards thrown at the feet of Joshua Oppenheimer for his second monolithic work of non-fiction in two years – Cinema Eye Awards, IDA Awards, Gotham Awards, and a long list of other awards from just about every major festival on the circuit – not to mention Best Documentary at the Independent Spirit Awards on Saturday afternoon, the Academy predictably cast their vote for Asif Kapadia's AMY, which managed to beat out THE LOOK OF SILENCE to win the Oscar for Best Documentary.
Though Oppenheimer lost, he appeared at the center of Eric Kohn's post-Oscar rundown at indieWIRE and in the media quite a lot leading up to Oscar night, having spoken with Errol Morris about the recent interest in true crime docs, also at indieWIRE, while his friend and subject Adi Rukun spoke out for the first time about why he risked his own life for the good of the film. Tom Roston wrote about Adi's involvement and collaboration with Oppenheimer at Doc Soup, while both indieWIRE's Chris O'Falt and the Washington Post's Adam Taylor outlined how the film has brought social change abroad and right here in the US.
Just a few days prior to Oscar night, the Doc Impact Awards named CHASING ICE, CITIZENFOUR, FOOD CHAINS, MINERS SHOT DOWN, and VIRUNGA as the 2016 winners, having made the biggest social impact on the world since their release. But as we know, awards aren't everything. A whole host of critics meditated this past week on their experiences at this year's Berlinale and the non-fiction films they found on offer, from Artforum's Travis Jeppesen, BFI's Geoff Andrew, and The Guardian's Andrew Pulver, to Ruben Demasure in MUBI's Notebook and Kevin B. Lee at Fandor's Keyframe. Also at Notebook, Locarno's Artistic Director Carlo Chatrian praised Werner Herzog and his latest doc Lo and Behold, Reveries of the Connected World, while Samuel Wigley of the BFI listed 10 films to see at this year's Borderlines Film Festival at 25 venues across Herefordshire, Shropshire and the Marches in the UK, including a handful of docs. And speaking of the UK,
A new three day documentary film festival named DOC10, presented by the Chicago Media Project and headed by Paula Froehle, Steve Cohen, Sarah Nobles, and programmed by Anthony Kaufman, will have its inaugural edition at the Music Box Theatre in Chicago from April 1st through the 3rd. Featuring just 10 films over 3 days, the festival aims to "present the full spectrum of current nonfiction filmmaking, from important social issue films and captivating music docs to engaging vérité and experimental work."
After our successful Stranger Than Fiction dual screenings of last week, we return to our normal schedule tomorrow with a special 15th Anniversary screening of Kate Davis' 2001 Sundance Film Festival Grand Jury Prize winner SOUTHERN COMFORT at the IFC Center. Tickets for this screening are still available here.
As far as theatrical screenings go, Erika Frankel's KING GEORGE and Mark Craig's THE LAST MAN ON THE MOON were this week's hot topics. After having been named WNYC's Documentary of the Week, KING GEORGE was well regarded by RogerEbert.com's Glenn Kenny, Nicolas Rapold in The New York Times, and on the opposite coast, Robert Abele in The Los Angeles Times. Craig's film also received a warm welcome from Kenny and Michael Rechtshaffen of the LA Times, but also Christopher Campbell at Nonfics, Hammer to Nail's Christopher Llewellyn Reed, Stephanie Merry of The Washington Post, Richard Roeper of the Chicago Sun-Times and even the scientifically minded Calla Cofield of Space.com, signing off stating that, "The personal becomes universal, and one man's journey to the moon can be connected to the much larger story of humanity's desire to explore the cosmos."
A few other docs received spotty coverage this past week, including a new film centering around Fats Domino called THE BIG BEAT, which was reviewed by Alan Light in The New York Times. At Nonfics, Daniel Walber put forth a trio of reviews for THE EVENT, OVER THE YEARS and FRANCE IS OUR MOTHER COUNTRY. CARTEL LAND director Matthew Heineman appeared on this week's edition of The Close-up, and lastly, at MUBI's Notebook, Matthew Harrison Tedford wrote a celebratory piece on SWEETGRASS.
If you are in search of something new to watch you are in luck, as PBS' POV is celebrating their three-decade partnership with Women Make Movies by streaming a quartet of female driven films for free, including Jennifer Dworkin's LOVE & DIANE, Judith Helfand's A HEALTHY BABY GIRL, Annie Goldson's GEORGIE GIRL, and Celeste Carrasco and Gemma Cubero del Barrio's ELLA ES EL MATADOR. Kartemquin Films also continues to celebrate their 50th Anniversary, this week by streaming WINNIE WRIGHT, AGE 11 from 1974.
I leave you this week with a plea from writer and curator Kiva Reardon at Hazlitt to keep feminist film criticism subversive, and a wonderful little tale from Eric Kohn and Chris O'Falt at indieWIRE, uncovering how the recently discovered footage of Bernie Sanders being arrested in 1963 was found by Kartemquin Films. I'll be heading to Missouri for the annual cinematic festivities at True/False on Wednesday, so the Memo will return the following week. If you happen to be heading there yourself and would like to meet up, or if you have any tips or recommendations for the Memo, please contact me via email here, or on Twitter, @Rectangular_Eye.