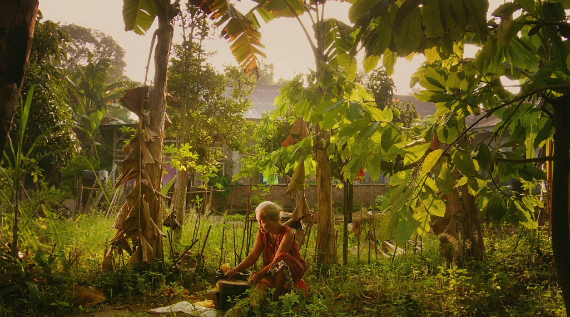 While this past week we saw the Dubai International Film Festival kick off with Basil Tsiokos writing a preview of the doc offerings screening both in competition and out at his What (not) To Doc blog and Porto/Post/Doc wrap up and award their top prize to Zhao Liang's BEHEMOTH, the Sundance Film Festival continues to hog headlines with its latest wave of title announcements. Included in the festival's newly announced 2016 Documentary Premieres program is a slew of exciting new works by the likes of Werner Herzog, Spike Lee, Heidi Ewing, Rachel Grady, Stephanie Soechtig, Liz Garbus, Chris Hegedus, and D.A. Pennebaker, according to reports by Kate Erbland at indieWIRE and Justin Chang at Variety. Additionally, the make up of the festival's doc shorts program, including new work from Jason Reitman and AJ Schnack, was also released this week. In related festival news, the 66th annual Berlin International Film Festival also announced their first five competition titles and amongst them is the ever prolific Alex Gibney with his new film ZERO DAYS.
Looking back at 2015, the awards continue to stack up. At the 28th European Film Awards, Asif Kapadia won Best Documentary for AMY, while the Online Film Critics Association (whom I am admittedly a proud member of) has named Joshua Oppenheimer's THE LOOK OF SILENCE the Best Doc of 2015. Though it's been decades since the Golden Globes acknowledged non-fiction features, at Nonfics, Christopher Campbell imagined what this week's nominations might have looked like had they decided to reinstate the Best Documentary category, noting that under seen crowd-pleasers like Ethan Hawke's SEYMOUR: AN INTRODUCTION would most likely make the cut. This week Cara Buckley debated the potential final five Oscar nominations in The New York Times, while at indieWIRE, Anthony Kaufman pulled back the curtain on the ugly wheeling, dealing and dining that makes up the Oscar race. And while not specifically dealing with a 2015 release, the Cinema Eye Honors announced that their 2016 Legacy Award would "be presented to Chris Smith's beloved 1999 documentary, AMERICAN MOVIE, the unforgettable story of a filmmaker pursuing his passion project."
When it comes to the end of the year, everyone loves lists. Who doesn't have both an opinion and a want to catch up with what they may have missed? Best of 2015 lists came in this week from Manohla Dargis, A.O. Scott, and Stephen Holden of The New York Times, Joshua Rothkopf of Time Out New York, the staff at Slate Magazine, Huck Magazine, Paste Magazine and Fandor's Keyframe, each of whom noted a variety of familiar docs, from AMY and THE LOOK OF SILENCE to CARTEL LAND and THE PEARL BUTTON. One by one, The Guardian has been listing their Top 50 films in the UK of 2015, slotting in AMY at #6 and including THE WOLFPACK, PRECINCT SEVEN FIVE, and RED ARMY. Reporting on the year's top iTunes sales, Vanity Fair's Katey Rich dissects how Apple turned documentaries like CARTEL LAND and CITIZENFOUR into digital hits.
Speaking of numbers, Cinema Blend's Laura Hurley published a piece titled "Holy Moly, A Lot Of People Watched The New Discovery Documentary," in the wake of the December 2nd primetime premiere of Louie Psihoyos' RACING EXTINCTION. According to the report, the broadcast "garnered more than 11.5 million total viewers in the United States alone. Encores over the weekend brought in another 6.6 million. International numbers are not yet available from all markets, but preliminary ratings show 6 million viewers from outside of the U.S.," setting a three year high for cable documentary feature viewers.
Theatrically, it's been a quiet week. A pair of UK releases garnered the most coverage this week, as The Guardian's Peter Bradshaw and Little White Lies' Emma Simmonds both lovingly reviewed PEGGY GUGGENHEIM: ART ADDICT, while The Guardian's Mark Kermode and Little White Lies' David Jenkins subsequently warmed up to ICE AND THE SKY. In The New York Times, Corey Kilgannon wrote at length about the recent seasonally appropriate DOC NYC selection TREE MAN, while The Los Angeles Times published Martin Tsai's thoughts on THE MESSENGER, Robert Abele's take on DREAM/KILLER and a review of JANIS: LITTLE GIRL BLUE by Andy Klein. At RogerEbert.com, Odie Henderson gave a thumbs up to ALMOST THERE, while Matt Fagerholm gave two to VERY SEMI-SERIOUS. And in the wake of the Taser exposé KILLING THEM SAFELY's VOD release, the film has gleaned some not-so-tactile criticism from unhappy Taser employees, according to reports by The Guardian's Jon Swaine.
Doc makers looking for funding and development help would do well to look into the Gucci Tribeca Documentary Fund, which just opened up for submissions, as did Kartemquin's Diverse Voices in Docs program.
A variety of exciting new docs started streaming this week, including Adam Dubin's rock doc METALLICA: FREEZE 'EM ALL and a Fader produced short centered on the musician Grimes by Brook Linder, titled ART ANGEL. This year's IDA Award winning Animated Doc Short LAST DAY OF FREEDOM by Dee Hibbert-Jones and Nomi Talisman, though originally posted online back in October, was linked to by Paula Bernstein at Filmmaker Magazine where you can read an interview with the filmmakers. The New York Times published both Kassie Bracken and Andrew Blackwell's BECOMING KRICKET and a new Op-Doc project in Flora Lichtman and Sharon Shattuck's ANIMATED LIFE: MARY LEAKEY. And finally, The Guardian published a new piece by Marc Silver, Emiliano Battista and Charlie Phillips titled THE AMAZONIAN TRIBESPEOPLE WHO SAILED DOWN THE SEINE.
As always, if you have any tips or recommendations for the Memo, please contact me via email here, or on Twitter, @Rectangular_Eye. I'll be back next week!