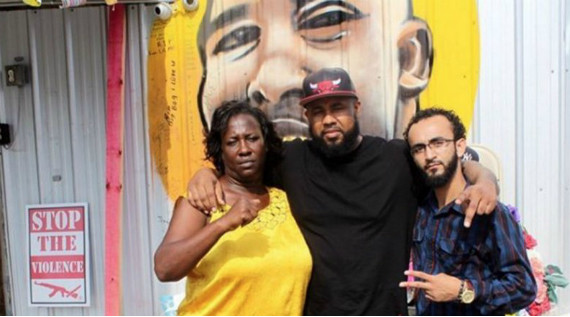 The line between art, politics and journalism are continually open to inquiry within the realm of documentary filmmaking. Those lines were valiantly breached last Wednesday at The Talkhouse when David Felix Sutcliffe, co-director of the remarkable and horrifying film (T)ERROR, posted an open letter to the doc community calling for the end of systematic targeting of citizen journalists who've documented disgraceful abuses of power by police. A formal statement composed by the International Documentary Association addressed to Department of Justice and signed by a considerable list of doc filmmakers that includes Laura Poitras, Barbara Kopple, Steve James, Joshua Oppenheimer, the entire Kartemquin team and many others, asks for the investigation of "other instances of police violence captured on video by citizens, and what consequences they may have faced" in an effort to "expand our awareness of the problem and take stock of the damages." Whether filmmaker or concerned citizen, you can show your support for the #RightToRecord by adding your name to the petition here.
While not the central theme, a handful of activist films were among the lineup of the TIFF Docs program revealed this past week, including Steve James' ABACUS: SMALL ENOUGH TO JAIL, Raoul Peck's I AM NOT YOUR NEGRO, Fernando León de Aranoa's POLITICS, INSTRUCTIONS MANUAL and Kief Davidson and Richard Ladkani's THE IVORY GAME. At Indiewire, Anne Thompson took a tour through the lineup with our own Thom Powers, whom programmed the TIFF Docs program, while Kate Erbland reported on the initial announcement. Reflecting on Toronto's A-list doc lineup, Tom Roston gave a first look of the offerings at Doc Soup, Steven Zeitchik did the same in The Los Angeles Times, and Kevin Ritchie followed suit at Realscreen. Noting the prominence of Netflix productions among the lineup, Matthew Jacobs gave the scoop on the four docs at Huffington Post, including Werner Herzog's long in production volcano film, INTO THE INFERNO. And on the topic of the Bavarian filmmaker, Herzog showed up this week at The Daily Beast, offering his appreciative thoughts on Kanye West's controversial FAMOUS music video.
The New York Film Festival also revealed their main slate, adding to their already intriguing doc lineup with Gianfranco Rosi's Golden Berlin Bear winner FIRE AT SEA and revival screenings of Barbara Kopple's Oscar winning HARLAN COUNTY, U.S.A. The latest edition of IndieWire's Screen Talk podcast discusses the lineups of both TIFF and NYFF.
Though Gillian Armstrong appeared in conversation with Christopher Llewellyn Reed at Hammer to Nail discussing WNYC's Doc of the Week – WOMEN HE'S UNDRESSED – it was the HBO doc ABORTION: STORIES WOMEN TELL by Sundance Grand Jury Prize winner Tracy Droz Tragos that was far and away the most written about doc in the past few days. Kenneth Turan called the film a "quietly powerful documentary" that "allows us to experience what often gets lost in the anger and self-righteousness of the abortion debate" in The Los Angeles Times. Both Liz Brody of Glamour and Julia Felsenthal of Vogue spoke with Droz Tragos about her Missouri bound doc which had its world premiere earlier this year at the Tribeca Film Festival. Helen T. Verongos of The New York Times, Clayton Dillard of Slate, Claudia Puig of The Wrap, Brian Tallerico of RogerEbert.com and Amy Brady of Village Voice offer their clear-eyed positive opinions of the film. Most pertinently, Noel Murray of A.V. Club distills its importance by offering the fact that the film succeeds "at what it primarily means to do, which is to take abortion out of the realm of the theoretical and make it more personal."
Various other doc coverage came through the wire in the form of reviews of UNDER THE SUN via Tomas Urbina at Vice, AN ART THAT NATURE MAKES: THE WORK OF ROSAMOND PURCELL, which A.O. Scott named a NYT Critics' Pick, TICKLED thanks to Hammer to Nail's Jessica Baxter and INGRID BERGMAN IN HER OWN WORDS via Phil Concannon at Little White Lies. Prepping for HITCHCOCK/TRUFFAUT's cable premiere, Malcolm Jones wrote a feature on the picture for The Daily Beast, while Eric Kohn reported from Locarno raving about Theo Anthony's debut RAT FILM at IndieWire.
Burgeoning doc makers might want to head over to No Film School where Bryan W. Simon shared a list of "13 Things New Filmmakers Should Consider But Rarely Do" and V Renée named "5 Ways You Can Start Today to Get Work as a Cinematographer." A select few of lucky filmmakers were named by UnionDocs as their August Documentary Intensive Fellows, while the Sundance Institute and the Time Warner Foundation selected 12 Fellows for their 2016 Artist Support Grants reports Realscreen's Daniele Alcinii.
Those looking for some new doc goodness to stream might check out Gordon Quinn's PRISONER OF HER PAST, which Kartemquin is now streaming free through the end of the week. Another option would be to check out the latest episode of AJ Schnack's NOMINATION series for Vanity Fair, featuring behind-the-scenes action at this year's Republican National Convention. Or lastly, The Playlist's Samantha Vacca dug up a rare hour long Japanese doc on Steven Spielberg.
I'll leave you this week with word from Daniel Victor of The New York Times that "A federal judge on Friday overturned the murder and sexual assault convictions of Brendan Dassey, one of the defendants whose case was the subject of the wildly popular Netflix documentary series, MAKING A MURDERER." Until next time, if you have any tips or recommendations for next week's Memo, please contact me via email here, or on Twitter, @Rectangular_Eye.