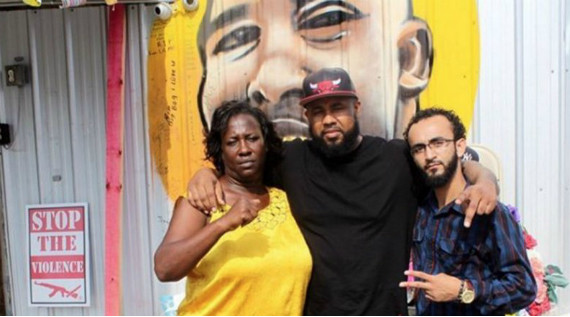 The line between art, politics and journalism are continually open to inquiry within the realm of documentary filmmaking. Those lines were valiantly breached last Wednesday at The Talkhouse when David Felix Sutcliffe, co-director of the remarkable and horrifying film (T)ERROR, posted an open letter to the doc community calling for the end of systematic targeting of citizen journalists who've documented disgraceful abuses of power by police. A formal statement composed by the International Documentary Association addressed to Department of Justice and signed by a considerable list of doc filmmakers that includes Laura Poitras, Barbara Kopple, Steve James, Joshua Oppenheimer, the entire Kartemquin team and many others, asks for the investigation of "other instances of police violence captured on video by citizens, and what consequences they may have faced" in an effort to "expand our awareness of the problem and take stock of the damages." Whether filmmaker or concerned citizen, you can show your support for the #RightToRecord by adding your name to the petition here.
While not the central theme, a handful of activist films were among the lineup of the TIFF Docs program revealed this past week, including Steve James' ABACUS: SMALL ENOUGH TO JAIL, Raoul Peck's I AM NOT YOUR NEGRO, Fernando León de Aranoa's POLITICS, INSTRUCTIONS MANUAL and Kief Davidson and Richard Ladkani's THE IVORY GAME. At Indiewire, Anne Thompson took a tour through the lineup with our own Thom Powers, whom programmed the TIFF Docs program, while Kate Erbland reported on the initial announcement. Reflecting on Toronto's A-list doc lineup, Tom Roston gave a first look of the offerings at Doc Soup, Steven Zeitchik did the same in The Los Angeles Times, and Kevin Ritchie followed suit at Realscreen. Noting the prominence of Netflix productions among the lineup, Matthew Jacobs gave the scoop on the four docs at Huffington Post, including Werner Herzog's long in production volcano film, INTO THE INFERNO. And on the topic of the Bavarian filmmaker, Herzog showed up this week at The Daily Beast, offering his appreciative thoughts on Kanye West's controversial FAMOUS music video.
The New York Film Festival also revealed their main slate, adding to their already intriguing doc lineup with Gianfranco Rosi's Golden Berlin Bear winner FIRE AT SEA and revival screenings of Barbara Kopple's Oscar winning HARLAN COUNTY, U.S.A. The latest edition of IndieWire's Screen Talk podcast discusses the lineups of both TIFF and NYFF.
---