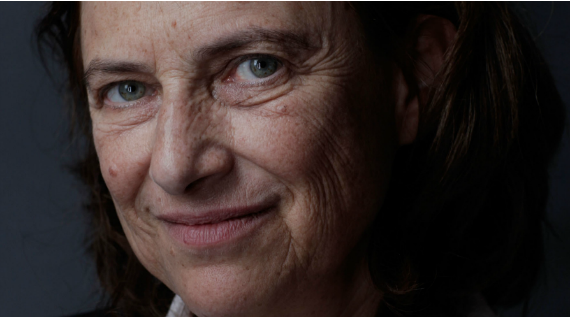 It's been a week since the groundbreaking Belgian born feminist filmmaker Chantal Akerman took her own life at the age of 65. In the wake of the news there has been an outpouring of love from the film community coming in from everywhere. Just two days after the news broke, Sight & Sound published an emotional memorial by filmmaker Robert Greene who wrote, "Akerman was an expressive, fearless filmmaker and this first exposure changed my life. Virtually every thought I've had about movies since has been influenced in some way by my first encounter with Akerman's way of seeing." The outlet also posted an introduction to her film LÀ-BAS by Nick James from back in 2006, as well as Cristina Álvarez López and Adrian Martin's primer on her films which was originally published earlier this year.
Writing in The Guardian, director Joanna Hogg and journalist Adam Roberts, who have been curating a full retrospective of her work, reflected on Akerman's singular talent, writing, "She ought not need an introduction – she is a film-maker who changed what cinema is or could be or ought to be. She strode effortlessly into the roll-call of great auteurs, her work into the lists of best films ever made." David Jenkins also wrote a piece celebrating the work of the deceased filmmaker for The Guardian. The American premiere of her latest film, NO HOME MOVIE, was last week at the New York Film Festival where Kent Jones and Amy Taubin introduced the film, indieWIRE's Tarek Shoukri reported on the devastating event, while Jones himself reflected on Akerman's passing at the Film Society of Lincoln Center's website, "The tributes have begun, as they should. And time will pass, and the shock will come to an end, and we'll look at her movies again, and… then what? We'll be shocked again. Chantal's films do not comfort. They jolt and they re-orient, they put you and me face to face with accumulating time, in whose shadow we live whether we know it or not. That's the source of their terror and their great beauty—one in the same."
More tributes were published in The New York Times by the likes of J. Hoberman, Moira Weigel, and Rachel Donadio and Cara Buckley. Richard Brody, writing his salute to Akerman in The New Yorker wrote, "If there's one thing that Akerman achieved in her films, it's the elevation of private life, of what's extraordinary about what's seemingly ordinary, into the apt matter of art. Her work is recklessly, freely personal, and she came before the audience that day in order to have a personal discussion in public. In a few harsh phrases, Akerman changed forever the way I think of—and approach—events onstage. She made me think about what I say and, with her emphasis on the intimate, the sincere, and the spontaneous, made me not overthink what I say." Curve Magazine's Victoria A. Brownworth also published a memorial piece, as did Glenn Kenny in his blog, Some Came Running, and Mark Harris at Grantland who heartbreakingly ruminated on seeing her last film, "I wonder, now, what moviegoers will make of one of its final moments — a twist, in a way, in which suddenly it is Chantal Akerman who we see, far from her mother, in her own space. It's a room of her own but also a room that seems not to belong to her, and that will eventually be defined by her absence. She draws a curtain, and we are left, now permanently, looking for an answer in the emptiness of where she used to be."
Most humbly, Stranger Than Fiction continues this week with Sundance Grand Jury Prize winner THE RUSSIAN WOODPECKER, which The Guardian's Charlie Phillips called "a rollicking ride of masterly narrative construction." Director Chad Gracia will be on hand for a post-screening Q&A. Tickets are still available here.
While Akerman's death weighed heavy over the New York Film Festival's proceedings, Paul Thomas Anderson's JUNUN made its world premiere to favorable reviews from Washington Post's Jake Coyle, Nick Schager at Variety and David Jenkins at Little White Lies. Now available to watch on MUBI, the film is the first major film release for the cinephile focused streaming company. Reporting for Fast Company, KC Ifeanyi spoke with MUBI founder and CEO Efe Cakarel about how this new platform release came into being. Other reviews coming out of NYFF included a pair of pieces on Michael Moore's WHERE TO INVADE NEXT from Odie Henderson at Movie Mezzanine and Daniel Walber at Nonfics. Walber also reviewed Walter Salles' JIA ZHANGKE: A GUY FROM FENYANG.
Meanwhile, IDFA announced their feature competition line-up, DOC NYC released their Oscar predicting 15 film short list program and their Robert and Anne Drew Award honorees in distribution executive Tom Quinn and filmmaker Kim Longinotto, and DOK Leipzig released their full slate. At What (not) To Doc, Basil Tsiokos wrote an overview of the non-fiction offerings at the now-in-progress Hamptons International Film Festival.
Selected as WNYC's Documentary of the Week, Lyric R. Cabral and David Felix Sutcliffe's (T)ERROR has finally reached theaters after its existence was threatened by mounting legal expenses. In his review of the film for Vulture, Bilge Ebiri wrote, "(T)ERROR, like the punctuation in its title suggests, goes from being a tense procedural and absorbing character study to an astonishing, real-life satire about the surveillance state. You won't know whether to laugh or cry." At indieWIRE, Rodrigo Perez called the film "deeply intimate and remarkable," while The New York Times' Ken Jaworowski and RogerEbert.com's Brian Tallerico also covered the film.
Having hit Netflix this past week, Evgeny Afineevsky's WINTER ON FIRE: UKRAINE'S FIGHT FOR FREEDOM continues to draw attention, receiving reviews from Kenneth Turan in The Los Angeles Times, Godfrey Cheshire on RogerEbert.com and indieWIRE's Ken Guidry. Rodney Ascher's THE NIGHTMARE also reached British theaters last week and was subsequently covered by David Jenkins in Little White Lies and The Guardian's Peter Bradshaw. Other docs reviewed this week included Bryan Carberry and J. Clay Tweel's FINDERS KEEPERS, by Donna K. at Hammer to Nail, Abigail Disney's THE ARMOR OF LIGHT, by Sarah Pulliam Bailey in The Washington Post, and Ricki Stern and Annie Sundberg's IN MY FATHER'S HOUSE, which was named a NYT Critics' Pick by Jeannette Catsoulis and written about by Mark Jenkins in The Washington Post. And while not reviewed, HE NAMED ME MALALA director Davis Guggenheim was interviewed by Michael O'Sullivan, also of The Washington Post.
Several notable shorts popped up online this week, including the third piece by the newly founded Field of Vision doc unit, THE ABOVE by director Kirsten Johnson. Op-Docs published Shiho Fukada's STRAY BULLET, while elsewhere on The New York Times website both Brent and Craig Renaud's BETWEEN BORDERS: AMERICAN MIGRANT CRISIS and Johan Bromwich's STRETCH AND BOBBITO: RADIO THAT CHANGED LIVES were posted.
This week I leave you with an excellent in-depth article by James Wolcott in Vanity Fair plainly titled, "Why No Documentary Will Be Able to Truly Capture the 2016 Presidential Contest." Until next week, if you have any tips or recommendations for the Memo, please contact me via email here, or on Twitter, @Rectangular_Eye. I look forward to hearing from you!