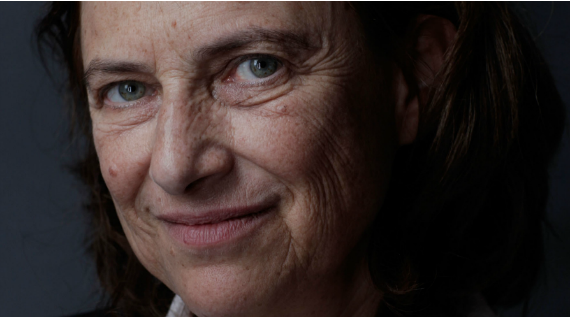 It's been a week since the groundbreaking Belgian born feminist filmmaker Chantal Akerman took her own life at the age of 65. In the wake of the news there has been an outpouring of love from the film community coming in from everywhere. Just two days after the news broke, Sight & Sound published an emotional memorial by filmmaker Robert Greene who wrote, "Akerman was an expressive, fearless filmmaker and this first exposure changed my life. Virtually every thought I've had about movies since has been influenced in some way by my first encounter with Akerman's way of seeing." The outlet also posted an introduction to her film LÀ-BAS by Nick James from back in 2006, as well as Cristina Álvarez López and Adrian Martin's primer on her films which was originally published earlier this year.
Writing in The Guardian, director Joanna Hogg and journalist Adam Roberts, who have been curating a full retrospective of her work, reflected on Akerman's singular talent, writing, "She ought not need an introduction – she is a film-maker who changed what cinema is or could be or ought to be. She strode effortlessly into the roll-call of great auteurs, her work into the lists of best films ever made." David Jenkins also wrote a piece celebrating the work of the deceased filmmaker for The Guardian. The American premiere of her latest film, NO HOME MOVIE, was last week at the New York Film Festival where Kent Jones and Amy Taubin introduced the film, indieWIRE's Tarek Shoukri reported on the devastating event, while Jones himself reflected on Akerman's passing at the Film Society of Lincoln Center's website, "The tributes have begun, as they should. And time will pass, and the shock will come to an end, and we'll look at her movies again, and… then what? We'll be shocked again. Chantal's films do not comfort. They jolt and they re-orient, they put you and me face to face with accumulating time, in whose shadow we live whether we know it or not. That's the source of their terror and their great beauty—one in the same."
More tributes were published in The New York Times by the likes of J. Hoberman, Moira Weigel, and Rachel Donadio and Cara Buckley. Richard Brody, writing his salute to Akerman in The New Yorker wrote, "If there's one thing that Akerman achieved in her films, it's the elevation of private life, of what's extraordinary about what's seemingly ordinary, into the apt matter of art. Her work is recklessly, freely personal, and she came before the audience that day in order to have a personal discussion in public. In a few harsh phrases, Akerman changed forever the way I think of—and approach—events onstage. She made me think about what I say and, with her emphasis on the intimate, the sincere, and the spontaneous, made me not overthink what I say." Curve Magazine's Victoria A. Brownworth also published a memorial piece, as did Glenn Kenny in his blog, Some Came Running, and Mark Harris at Grantland who heartbreakingly ruminated on seeing her last film, "I wonder, now, what moviegoers will make of one of its final moments — a twist, in a way, in which suddenly it is Chantal Akerman who we see, far from her mother, in her own space. It's a room of her own but also a room that seems not to belong to her, and that will eventually be defined by her absence. She draws a curtain, and we are left, now permanently, looking for an answer in the emptiness of where she used to be."
Most humbly, Stranger Than Fiction continues this week with Sundance Grand Jury Prize winner THE RUSSIAN WOODPECKER, which The Guardian's Charlie Phillips called "a rollicking ride of masterly narrative construction." Director Chad Gracia will be on hand for a post-screening Q&A. Tickets are still available here.
---