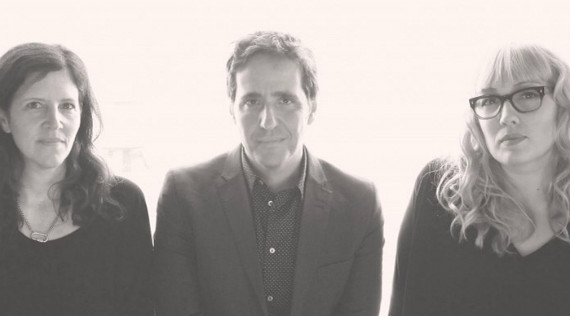 Phew. I've returned, a bit winded from another rather joyous outing in Toronto, having copiously feasted on the year's biggest and best selection of films just about anywhere. And in my relative absence from the happenings of online cinema news, a tsunami of exciting announcements, festival coverage and more has hit the net – most essentially, The Intercept's launch of Field of Vision, a new documentary unit co-created by filmmakers Laura Poitras, AJ Schnack and former Hot Docs Director of Programing Charlotte Cook. Variety's Dave McNary had the exclusive on the arrival of the group, while Eric Hynes interviewed the creative trio about their intentions for Field of Vision at The Intercept itself. Paula Bernstein of indieWIRE also spoke with them about how the project hopes to impact documentary filmmaking, as did Manori Ravindran for Realscreen. According to Varun Nayar at Tech Times, "2015's inaugural season is set to begin on Sept. 29, where Poitras will look at the man behind Wikileaks, Julian Assange, documenting his progress and his time spent in political asylum in London's Ecuadorian embassy."
Still riding the waves of CITIZENFOUR, Laura Poitras won the Emmy Award for Exceptional Merit in Documentary Filmmaking, alongside Andrew Jarecki, who won the Emmy for Outstanding documentary or nonfiction series award for THE JINX, and Alex Gibney, who took home the prize for Outstanding documentary or nonfiction special for GOING CLEAR, reports Stephanie Merry in The Washington Post. Last week also saw the release of the European Film Awards' first doc shortlist, which includes Asif Kapadia's AMY, THE LOOK OF SILENCE from director Joshua Oppenheimer and Sean McAllister's A SYRIAN LOVE STORY, according to Scott Roxborough of The Hollywood Reporter. Similarly, Manori Ravindran of Realscreen reports that Cinema Eye Honors also announced their doc shorts finalists, naming David Darg's BODY TEAM 12 and Kitty Green's THE FACE OF UKRAINE: CASTING OKSANA BAIUL amongst others.
Yesterday saw the conclusion of this year's Toronto International Film Festival. TIFF's People's Choice Award went to Evgeny Afineevsky's WINTER ON FIRE: UKRAINE'S FIGHT FOR FREEDOM, while the prize for the festival's new juried Platform program was awarded to Alan Zweig's HURT. Zweig's film was well regarded in a pair of reviews from Adam Nayman in Cinema Scope and Daniele Alcinii at Realscreen. New films from established auteurs like Frederick Wiseman's IN JACKSON HEIGHTS and Barbara Kopple's MISS SHARON JONES! were warmly received by David Jenkins at Little White Lives and Kevin Ritchie at Realscreen, respectively. Jenkins also reviewed Tsai Ming-Liang's conversational retrospective film, AFTERNOON, as did Variety's Guy Lodge and Michael Sicinski for Cinema Scope. And though Beatrice Verhoeven of The Wrap reports that AMAZING GRACE, which was pulled from the festival, can't legally be screened for 30 days, AV Club's Sam Barsanti says the film was shown to potential distributors in secret, showing there is yet potential for a future release.
Other films covered at the festival included Sergei Loznitsa's followup to MAIDEN, THE EVENT, having been reviewed by Sicinski, as well as Jonathan Romney in Screen Daily. Laurie Anderson's HEART OF A DOG received a lukewarm reception from Boris Nelepo in Cinema Scope, while I on the other hand raved about the film at IONCINEMA.com. I also reviewed Michael Moore's refreshingly hopeful top secret project WHERE TO INVADE NEXT, was over the moon for Geneviève Dulude-De Celles' feature debut WELCOME TO F.L. and was somewhat disappointed with George Amponsah's incendiary THE HARD STOP. Additionally. The Guardian's Henry Barnes covered Avi Lewis' THIS CHANGES EVERYTHING, Daniel Walber reviewed Mina Shum's NINTH FLOOR and Maria Nieves and Juan Carlos Copes's OUR LAST TANGO at Nonfics, Deborah Young reflected on Pietra Brettkelly's Venice debuted A FLICKERING TRUTH in The Hollywood Reporter, Kenji Fujishima reviewed Alexander Sokurov's essayistic history lesson FRANCOFONIA at Movie Mezzanine and for The Hollywood Reporter Leslie Felperin wrote warmly about Ido Haar's THRU YOU PRINCESS.
Morgan Neville's KEITH RICHARDS: UNDER THE INFLUENCE also made its debut at TIFF and has gleaned quite a lot of attention having already hit Netflix over the weekend. Rolling Stone's Dan Epstein listed ten things he learned from the film, Dan Hyman did likewise for Esquire, Flavorwire's Matthew Ismael Ruiz wrote at length on the film, and Realscreen's Barry Walsh reported on a conversation between Richards, Neville and Thom Powers at the TIFF Press Conference.
In other festival news, the New York Film Festival and the Film Society of Lincoln Center will co-host a tribute to the late legendary documentarian Albert Maysles on October 4th. In the event press release, festival director Kent Jones affectionately stated that "Al Maysles's touch with the camera is as distinctive as Richter's on the piano or Miles Davis's with his horn." Noah Baumbach and Jake Paltrow's DE PALMA, which is set to screen at the New York Film Festival later this month was previewed by Flavorwire's Jason Bailey, shortly after its Venice premiere. At What (not) To Doc, Basil Tsiokos wrote an overview of the non-fiction offerings at New York's Urbanworld Film Festival, which kicks off this Wednesday. Lastly, filmmaker Jason Osder gushed about his love for Kosovo's DokuFest at indieWIRE.
Scott Christopherson and Brad Barber's PEACE OFFICER was selected as WNYC's Doc of the Week by our own Thom Powers and Raphaela Neihausen, while Ben Kenigsberg went on to call it "disturbing and sometimes eye-opening" in The New York Times. The Los Angeles Times ran a pair of pieces on the film, a feature by Jeffrey Fleishman and a review by Michael Sragow. Matt Zoller Seitz also lovingly wrote about the film for RogerEbert.com. Amy Berg's troubling PROPHET'S PREY finally hit theaters, gleaning a pair of reviews from Manohla Dargis of The New York Times and RogerEbert.com's Brian Tallerico. Other coverage that cropped up included a review of Clay Tweel and Bryan Carberry's bizarro FINDERS KEEPERS by Melena Ryzik in The New York Times, a piece on Sara Hirsh Bordo's A BRAVE HEART: THE LIZZIE VELASQUEZ STORY by Variety's Ella Taylor and an in-depth essay by Heather McIntosh on Maria Finitzo's IN THE GAME found on POV's Documentary Blog. And most excitedly, indieWIRE's Tambay A. Obenson reports that Lyric R. Cabral and David Felix Sutcliffe's (T)ERROR will indeed have a theatrical release after a successful Kickstarter campaign earlier this month raised funds to cover mounting legal fees that threatened the livelihood of the film. A limited release is now slated for next month.
A pair of pieces appeared this week that argued that documentary film has finally reached the mainstream via big and small screen fictional adaptations. At The Guardian, Catherine Shoard looked toward Oscar season and saw a swath of glossy doc remakes, while at The Huffington Post, Lara Zarum argues that the success of the DOCUMENTARY NOW! series is proof that docs now have pop culture relevance.
I'll leave you this week with the latest issue of the online film journal Senses of Cinema which features a major section of articles devoted to Documentaries in Asia, featuring a set of incredible pieces by Bérénice Reynaud, Dan Edwards, Ma Ran, Markus Nornes, Olivia Khoo, Shweta Kishore, Anne Rutherford and Laleen Jayamanne, not to mention an additional piece by Wheeler Winston Dixon on Barbara Hammer's WELCOME TO THIS HOUSE: A FILM ON ELIZABETH BISHOP. As usual, it's pretty stacked.
As usual, if you have any tips or recommendations for the Memo, please contact me via email here, or on Twitter, @Rectangular_Eye. I look forward to hearing from you!