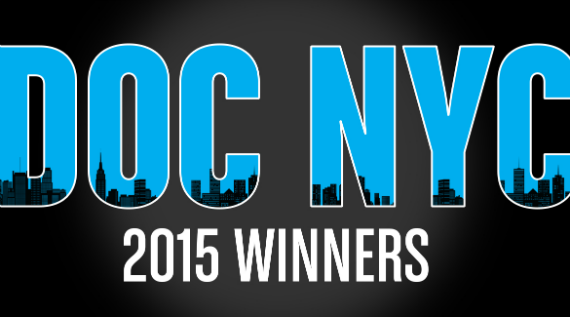 After a week of social media madness as part of the DOC NYC team, I've returned to Stranger Than Fiction feeling invigorated and up to date, ready to report the latest in non-fiction goodness. And speaking of DOC NYC, the festival wrapped up last Thursday after 8 days of documentary celebration, from the Visionaries Tribute at which Frederick Wiseman, Jon Alpert and Barbara Kopple each received Lifetime Achievement Awards, to the final awards ceremony at which MOTLEY'S LAW by director Nicole Horanyi and CLASS DIVIDE by director Marc Levin took home the Grand Jury Prizes. Jeremy Gerard of Deadline and Zack Sharf of indieWIRE both reported on the awards. The festival's week long industry conference DOC NYC PRO popped up on and off throughout the week via Aubrey Page's indieWIRE report of the opening Morning Manifesto featuring all 15 of the DOC NYC Short List filmmakers, Kevin Ritchie's coverage of Reaching Your Audience Day and Michele Stephenson's Morning Manifesto at Realscreen, as well as Ryan Anielski's outline of Abigail Disney's keynote on doc funding at indieWIRE. A full list of additional DOC NYC coverage can be found here.
Wrapping up just prior to DOC NYC, Copenhagen's CPH:DOX awarded the DOX:Award to Robert Machoian and Rodridgo Ojeda-Beck's GOD BLESS THE CHILD, the NORDIC:DOX to Mika Taanila and Jussi Eerola's RETURN OF THE ATOM, the FACT:AWARD to Hemal Trivedi and Mohammed Ali Naqvi's AMONG THE BELIEVERS, and the NEW:VISION Award to Rosa Barba's BENDING TO EARTH and Ali Cherri's THE DIGGER. Demetrios Matheou wrote up an overview of the festival's winners and disappoints over at indieWIRE. Looking forward, the world's largest non-fiction festival kicked off in Amsterdam on Wednesday. Variety's Jennie Punter wrote up a preview of this year's IDFA, while Basil Tsiokos broke the massive line-up into a pair of posts at What (not) To Doc. But, IDFA is not the only doc festival left on this year's docket. Portugal's still fresh-faced Porto/Post/Doc announced the lineup for the festival's second edition. Cineuropa's Vitor Pinto reported on the announcement.
After the DOC NYC takeover of the IFC Center last week, Stranger Than Fiction returns for its final screening of the Fall Season tomorrow with DANNY SAYS. Director Brendan Toller and producer Pamela Lubell will both be on hand for a post-screening Q&A. Tickets are still available here.
As the fall festival season starts to wind down and awards season gears up, Variety's Kristopher Tapley has put together an outline of the documentary shorts Oscar contenders. Meanwhile at The Wrap, Steve Pond discussed his thoughts on the wealth of musical doc features that could compete for an Oscar this year, noting JANIS: LITTLE GIRL BLUE, AMY and MONTAGE OF HECK, among several others. And despite it having happened on my week away from the Memo, I would be remiss not to mention that Cinema Eye has announced its list of 38 feature films and 5 short subject nominees for their 9th annual Non-Fiction Awards, as well as the nominees for the 2016 Heterodox Award which "honors a narrative fiction film that imaginatively incorporates nonfiction strategies, content and/or modes of production." Past Heterodox winners include Jem Cohen's MUSEUM HOURS and Carlos Reygados' POST TENEBRAS LUX.
Veering away from the glitz and glam of awards and the fever of the festival circuit, this week was rather quiet for doc theatrical releases. Camilla Nielsson's DEMOCRATS attracted the most attention, gleaning positive reviews from Matt Fagerholm at RogerEbert.com, Daniel Walber at Nonfics, Eric Hynes in Film Comment and Glenn Kenny of The New York Times, who named the film a NYT Critics' Pick. On the other side of the Atlantic, David Evans' MY NAZI LEGACY received love from both Owen Bowcott in The Guardian and Sophie Monks Kaufman of Little White Lies, while Evans himself was interviewed by Simran Hans for the BFI. Kaufman also reviewed Chad Gracia's THE RUSSIAN WOODPECKER, while Gabriel Clarke and John McKenna's STEVE MCQUEEN: THE MAN & LE MANS received a pair of reviews from Peter Bradshaw in The Guardian and Bekzhan Sarsenbay in Little White Lies.
Other docs in the midst of their theatrical runs that were reviewed this week included Tonje Hessen Schei's DRONE, which saw pieces published about it by Neil Genzlinger in The New York Times and Michael Rechtshaffen in The Los Angeles Times. Leah Wolchok's VERY SEMI-SERIOUS was chosen by Glenn Kenny as another NYT Critics' Pick, while at RogerEbert.com the writer praised Mor Loushy's CENSORED VOICES. At the POV Blog, Tom Roston raved about DOC NYC Short Lister CARTEL LAND by Matthew Heineman. And last but not least, Nelson George, director of A BALLERINA'S TALE, wrote a piece on Samba Gadjigo and Jason Silverman's SEMBENE! at The Talkhouse.
Continuing to support the development of quality documentary projects, the Sundance Institute Documentary Film Program announced a list of 33 projects to receive production support in 2015, including new projects by Sam Green, Roger Ross Williams, and Jeff Orlowski. Both indieWIRE's Zack Sharf and Realscreen's Daniele Alcinii reported on the announcement.
A pair of must-watch docs are hit the net this week in Kelly Duane de la Vega & Katie Galloway's ERIC & "ANNA", available to screen over at Field of Vision, and Michael Epstein & Dyllan McGee's ONCE AND FOR ALL, which had its World Premiere as DOC NYC's closing night film last Thursday.
Until next week, if you have any tips or recommendations for the Memo, please contact me via email here, or on Twitter, @Rectangular_Eye. I look forward to hearing from you!