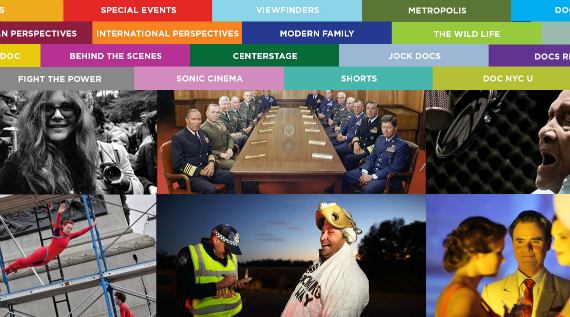 With both the New York Film Festival and the BFI London Film Festival having just recently concluded on either side of the Atlantic, it seemed only fitting that DOC NYC and the Jihlava International Documentary Film Festival announce their complete line-ups this week to help keep our fall festival sugar rush going. Closing out the BFI London Film Festival, Jennifer Peedom took home the Grierson Award for Best Documentary for her mountain climbing doc SHERPA, while Daniel Walber wrote a rundown of the best docs at this year's NYFF at Nonfics.
A few weeks back DOC NYC announced that Kim Longinotto would be among this year's Visionaries Tribute honorees, receiving the Robert and Anne Drew Award for observational filmmaking. This week Realscreen's Kevin Ritchie reported that Longinotto would also be the recipient of this year's BBC Grierson Trustees' Award. The International Documentary Association also released the names of the honorees for the 31st Annual IDA Documentary Awards, including Career Achievement Award winner Gordon Quinn, Founder and Artistic Director of Kartemquin Films, Pioneer Award honoree Ted Sarandos, the Chief Content Officer at Netflix, Amicus Award winners Tony Tabatznik and the Bertha Foundation, and the much deserving Emerging Documentary Filmmaker Award winners Lyric R. Cabral and David Felix Sutcliffe for their work on (T)ERROR.
In other festival news, DOC NYC's Director of Programming, Basil Tsiokos previewed the non-fiction fare on offer at the upcoming New Orleans Film Festival, DocsDF: The International Documentary Film Festival of Mexico City, and the Chicago International Film Festival at What (not) To Doc.
This week Stranger Than Fiction continues with the New York premiere of THE WANTED 18, Palestine's official entry for the Best Foreign Language Film Academy Award! Director Amer Shomali in attendance for a post-screening Q&A. Tickets are still available here.
Thom Powers and Raphaela Neihausen selected Nelson George's A BALLERINA'S TALE as WNYC's Documentary of the Week, having opened in limited release on Friday. The film was reviewed by Scott Tobias at Variety and Brian Seibert in The New York Times, both essentially summing it up as a worthy story that only goes skin deep. Elsewhere, the most lauded films of the week seemed to be Laurie Anderson's essayistic HEART OF A DOG and Khalik Allah's enigmatic FIELD NIGGAS, both of which received extensive coverage leading up to their limited releases this past weekend.
Jonathan Romney named HEART OF A DOG as Film Comment's Film of the Week, writing a loving feature on the film, while Violet Lucca flanked with an extensive interview with Anderson for the same publication. Phillip Lopate also spoke with Anderson in a piece published at indieWIRE. At ReverseShot, Michael Koresky called the film "very beautiful", while Alex Ross related her new Park Avenue Armory installation "Habeas Corpus" to her work on HEART OF A DOG in The New Yorker.
Khalik Allah's FIELD NIGGAS was selected as a NYT Critics' Pick by Glenn Kenny, who wrote, "His film is so beautifully constructed that nothing in it ever seems obvious. In his poetic way, and his eventual approach to the metaphysical, he makes his case. While the movie's multiple images are never less than numinous, and its rhythms sometimes skirt the strangely seductive, this astonishing movie is the opposite of hypnotic." The Guardian's Jordan Hoffman agrees, calling the film "both gorgeous and achingly sad." Daniel Walber also warmly regarded the film over at Nonfics. At Vice, Ashley Clark spoke with the filmmaker about his doc feature debut.
Colin Hanks' cinematic memorial to Tower Records, ALL THINGS MUST PASS, received a trio of reviews this past week from Andy Webster in The New York Times, AV Club's Alex McCown and Kevin Jagernauth at indieWIRE. Also at indieWIRE, director Chad Gracia wrote a piece outlining the many difficulties he encountered while trying to make THE RUSSIAN WOODPECKER, which we screened here at Stranger Than Fiction last week.
Other reviews that popped up this week included Sam Davies' article on Paul Thomas Anderson's JUNUN at Sight & Sound, Alexandra Topping's piece on HE NAMED ME MALALA in The Guardian, Sarah Seltzer's assessment of PROPHET'S PREY at Flavorwire and David Jenkins' review of CENSORED VOICES at Little White Lies. Louis Theroux also wrote a piece about how his film MY SCIENTOLOGY MOVIE came into being for The Guardian, while Jamie Maleszka interviewed Laura Israel about DON'T BLINK: ROBERT FRANK for Nonfics.
Reporting for indieWIRE, Paula Bernstein shared the good news that Film Independent's Documentary Lab is now accepting submissions through the deadline of December 7, 2015. In the same vein, Manori Ravindran reported on the documentaries selected for the IDFA Forum in the Netherlands next month, while Cineuropa's Vitor Pinto reported that the Netherlands Film Fund has announced the results of the latest round of its Production Incentive scheme which includes six documentary features.
Several new doc shorts appeared online this week, including Joshua Z. Weinstein's Op-Doc published LULLABY, Sky Dylan-Robbins' CATS OF THE URBAN WILD which popped up at The New Yorker, and the latest piece by Field of Vision, Heloisa Passos' BIRDIE. Complimenting BIRDIE, Tom Roston wrote on his initial reactions to the first wave of Field of Vision shorts at the POV Blog. And at indieWIRE, Gary Garrison gave the heads up that Michael Epstein's LENNONYC, his contribution to the AMERICAN MASTERS series, has found its way online for free.
I'll leave you this week with a pair of additional reflections on Chantal Akerman's unexpected passing – one piece from Mark Lukenbill at Hammer To Nail, the other via video essay by Scout Tafoya at Fandor. Until next week, if you have any tips or recommendations for the Memo, please contact me via email here, or on Twitter, @Rectangular_Eye. I look forward to hearing from you!