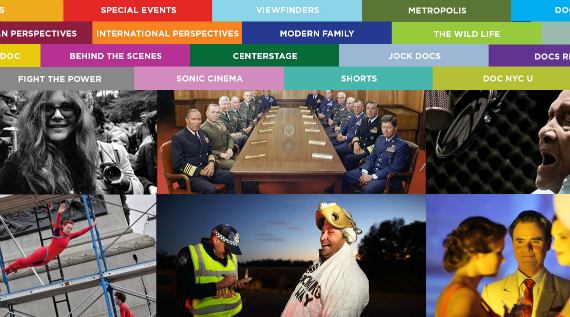 With both the New York Film Festival and the BFI London Film Festival having just recently concluded on either side of the Atlantic, it seemed only fitting that DOC NYC and the Jihlava International Documentary Film Festival announce their complete line-ups this week to help keep our fall festival sugar rush going. Closing out the BFI London Film Festival, Jennifer Peedom took home the Grierson Award for Best Documentary for her mountain climbing doc SHERPA, while Daniel Walber wrote a rundown of the best docs at this year's NYFF at Nonfics.
A few weeks back DOC NYC announced that Kim Longinotto would be among this year's Visionaries Tribute honorees, receiving the Robert and Anne Drew Award for observational filmmaking. This week Realscreen's Kevin Ritchie reported that Longinotto would also be the recipient of this year's BBC Grierson Trustees' Award. The International Documentary Association also released the names of the honorees for the 31st Annual IDA Documentary Awards, including Career Achievement Award winner Gordon Quinn, Founder and Artistic Director of Kartemquin Films, Pioneer Award honoree Ted Sarandos, the Chief Content Officer at Netflix, Amicus Award winners Tony Tabatznik and the Bertha Foundation, and the much deserving Emerging Documentary Filmmaker Award winners Lyric R. Cabral and David Felix Sutcliffe for their work on (T)ERROR.
In other festival news, DOC NYC's Director of Programming, Basil Tsiokos previewed the non-fiction fare on offer at the upcoming New Orleans Film Festival, DocsDF: The International Documentary Film Festival of Mexico City, and the Chicago International Film Festival at What (not) To Doc.
This week Stranger Than Fiction continues with the New York premiere of THE WANTED 18, Palestine's official entry for the Best Foreign Language Film Academy Award! Director Amer Shomali in attendance for a post-screening Q&A. Tickets are still available here.
---