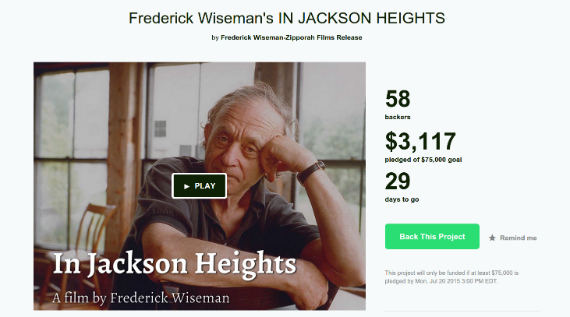 Among the deluge of festival reports and theatrical reviews that came in this past week, the most interesting tidbit may be the announcement that docu legend Frederick Wisemen has taken to Kickstarter in hopes of raising funds to complete his 40th feature film, IN JACKSON HEIGHTS. The campaign page features a short video of the director himself pitching his project, as well as the first trailer for the film. Manori Ravindran reported on Wiseman's first foray into the crowdfunding over at Realscreen, as did Sarah Salovaara for Filmmaker Magazine.
Though the Sheffield Doc/Fest having wrapped a couple weeks back, both Cineuropa's Naman Ramachandran and Realscreen's Manori Ravindran reported early this past week that Joshua Oppenheimer's THE LOOK OF SILENCE took home the festival's Audience Award, while Sean MacAllister's A SYRIAN LOVE STORY, reviewed by Camillo De Macro at Cineuropa, took home the Grand Jury Prize. De Marco also wrote a piece on the awards handed out at this year's Bologna Biografilm Festival, including the Unipol Award for Best Film which was given to Patricio Guzman for THE PEARL BUTTON. Back stateside, as reported by Kevin Ritchie at Realscreen, Mo-Young Jin's MY LOVE, DON'T CROSS THAT RIVER won the LA Film Fest Documentary prize. Ritchie also covered the 10 films shortlisted for next year's Cinema Eye Awards for television projects, which include Alex Gibney's GOING CLEAR, Alex Winter's DEEP WEB and Jose Antonio Vargas' DOCUMENTED.
AFI Docs kicked off Wednesday and wrapped up last night in Washington, DC. In The Washington Post, Ann Hornaday wrote a substantial preview of the festival that was marked by its truthful, but accusatory headline, "In the Golden Age of documentaries, the medium could use more artistry". At Keyframe, David Hudson kept a substantial round-up of the festival's press coverage, while Chad Gracia's Sundance prize winner THE RUSSIAN WOODPECKER received some attention from Manori Ravindran in Realscreen and Camillo De Marco at Cineuropa. Prior the fest, Basil Tsiokos previewed the non-fiction offerings at not just AFI Docs, but BAMcinemaFest, Frameline and the Edinburgh International Film Festival, each at What (not) to Doc.
Our own Raphaela Neihausen and Thom Powers selected LIFE IS SACRED by director Andreas Dalsgaard, which screened over the weekend at the Human Rights Watch Film Festival, as this week's WNYC Documentary of the Week. Picking his own film of the week, Richard Brody chose the Maysles classic GREY GARDENS for The New Yorker.
Hitting select theaters this Wednesday and Netflix shortly thereafter sometime on Friday, Liz Garbus' Sundance premiered WHAT HAPPENED, MISS SIMONE? has garnered some early attention from the likes of Salamshah Tillet in The New York Times and Rebecca Keegan in the LA Times. Slant's Clayton Dillard, The L Magazine's Elise Nakhnikian and Jim Farber in the New York Daily News each previewed Garbus' latest.
Crystal Moselle's THE WOLFPACK continues to glean attention as its theatrical run continues. In response to the flood of reviews that hit the net last week, Flavorwire's Jason Bailey wrote a piece critiquing the critical response to the film, while more reviews have come in from the likes of IONCINEMA's Amanda Yam, Michael O'Sullivan in The Washington Post and Kenneth Turan in the LA Times. In addition, Tim Grierson spoke to the film's young subjects about how their lives have changed for Rolling Stone and Moselle appeared on this past week's episode of The Close-up to talk about her film.
A trio of other film's hit theaters this past week in Shan Nicholson's RUBBLE KINGS, Marc Silver's 3½ MINUTES, 10 BULLETS and Paul Cowan and Amer Shomali's THE WANTED 18. Daniel M. Gold reviewed Nicholson's film in The New York Times, as did Simon Abrams for RogerEbert.com, Andrew Lapin for The Dissolve, Frank Scheck in The Hollywood Reporter and Martin Tsai in the LA Times. Matt Zoller Seitz wrote an admiring piece on Silver's film for RogerEbert.com, while Nonfics' Daniel Walber and The Dissolve's Mike D'Angelo each submitted their own reviews of the film. Though I thought THE WANTED 18 was a bit underwhelming when I saw it last year on the festival circuit, the film has garnered a swath of positive responses from RogerEbert.com's Glenn Kenny, The Dissolve's Tina Hassannia and Martin Tsai of the LA Times.
Film Comment's David Gregory Lawson published a wonderfully in depth interview with genre blending directors João Pedro Rodrigues and João Rui Guerra da Mata about their process, while Benjamin Lee spoke with British filmmaker John Akomfrah for The Guardian about filmmaking and race following a retrospective of his work at the Sheffield Doc/Fest. And at The Playlist, Kevin Jagernauth previewed Davis Guggenheim's new film on the Nobel Peace Prize Laureate Malala Yousafzai, HE NAMED ME MALALA.
While Lisbon Docs announced, via Vitor Pinto at Cineuropa, the launch of a new development workshop "set to take place on 20-21 July, as a kind of prelude to the main Lisbon Docs forum, which will be held from 10-15 October, in parallel with the DocLisboa Film Festival", simply titled The Lab, Indiewire's Ryan Lattanzio reported the announcement of the films selected for Sundance's Documentary Edit and Story Labs.
One of the best reads of the week was to be had in the latest publication of Necsus, Cristina Álvarez López and Adrian Martin ruminated on "the audiovisual essay as art practice", while another at Little White Lies, saw Sophie Monks Kaufman wonder aloud, "How Can Films Change The World?"
I'll leave you this week with the first trailer of Bill Hader and Fred Armisen's raucaus looking comedic docu-tribute series, DOCUMENTARY NOW!, which will hit IFC on August 20th. I can't wait.
Until next week, if you have any tips or recommendations for the Memo, please contact me via email here, or on Twitter, @Rectangular_Eye. I look forward to hearing from you!