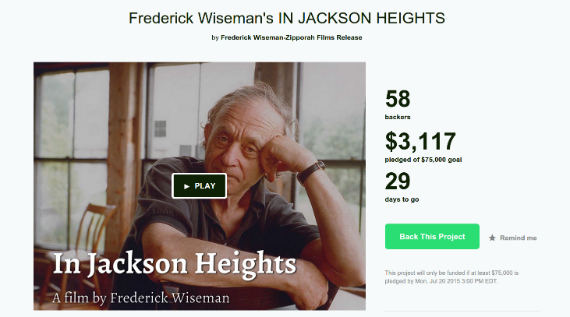 Among the deluge of festival reports and theatrical reviews that came in this past week, the most interesting tidbit may be the announcement that docu legend Frederick Wisemen has taken to Kickstarter in hopes of raising funds to complete his 40th feature film, IN JACKSON HEIGHTS. The campaign page features a short video of the director himself pitching his project, as well as the first trailer for the film. Manori Ravindran reported on Wiseman's first foray into the crowdfunding over at Realscreen, as did Sarah Salovaara for Filmmaker Magazine.
Though the Sheffield Doc/Fest having wrapped a couple weeks back, both Cineuropa's Naman Ramachandran and Realscreen's Manori Ravindran reported early this past week that Joshua Oppenheimer's THE LOOK OF SILENCE took home the festival's Audience Award, while Sean MacAllister's A SYRIAN LOVE STORY, reviewed by Camillo De Macro at Cineuropa, took home the Grand Jury Prize. De Marco also wrote a piece on the awards handed out at this year's Bologna Biografilm Festival, including the Unipol Award for Best Film which was given to Patricio Guzman for THE PEARL BUTTON. Back stateside, as reported by Kevin Ritchie at Realscreen, Mo-Young Jin's MY LOVE, DON'T CROSS THAT RIVER won the LA Film Fest Documentary prize. Ritchie also covered the 10 films shortlisted for next year's Cinema Eye Awards for television projects, which include Alex Gibney's GOING CLEAR, Alex Winter's DEEP WEB and Jose Antonio Vargas' DOCUMENTED.
AFI Docs kicked off Wednesday and wrapped up last night in Washington, DC. In The Washington Post, Ann Hornaday wrote a substantial preview of the festival that was marked by its truthful, but accusatory headline, "In the Golden Age of documentaries, the medium could use more artistry". At Keyframe, David Hudson kept a substantial round-up of the festival's press coverage, while Chad Gracia's Sundance prize winner THE RUSSIAN WOODPECKER received some attention from Manori Ravindran in Realscreen and Camillo De Marco at Cineuropa. Prior the fest, Basil Tsiokos previewed the non-fiction offerings at not just AFI Docs, but BAMcinemaFest, Frameline and the Edinburgh International Film Festival, each at What (not) to Doc.
---