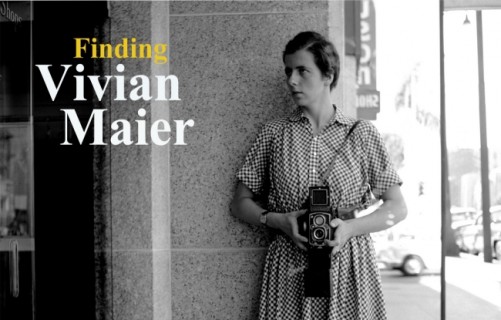 This week the film FINDING VIVIAN MAIER from directors John Maloof and Charlie Siskel hit theaters. In a piece for The Hollywood Reporter, Chris O'Falt relayed the story of how the film came to be made. Writing for Ion Cinema, Jordan M. Smith reviewed the film, as did Scott Tobias at The Dissolve. Anthony Kaufman, writing for Indiewire, questioned the ethical implications of making a film about the reclusive Maier.
The PBS television show POV announced the second portion of its lineup for its upcoming season, which includes festival darlings AFTER TILLER and THE ACT OF KILLING. Kevin Ritchie of Realscreen also reported on the lineup.
Filmmaker Magazine writer Scott Macaulay wrote a piece this week on whether filmmakers should also stream their festival premiers on VHX, taking a cue from the Steve James film LIFE ITSELF. Also at Filmmaker Magazine, Michael Murie interviewed 20 FEET FROM STARDOM director of photography Nicola Marsh.
In a post at Indiewire, Melina Gills rounded up a list of 10 approaching deadlines for documentary film grants.
Adam Benzine of Realscreen recapped a DOC Institute masterclass from filmmaker Steve James, sharing five tips for documentarians gleaned from the event. Over at Filmmaker Magazine, Allan Tong also provided coverage of the event.
On Tuesday, April 1 at 7pm Eastern Standard Time, POV will be hosting a Twitter doc chat on how to balance a day job and work on a documentary film at the same time.
Randy Astle of Filmmaker Magazine interviewed THE GRAY SEASONS director Robert Herrera on his distribution strategy, and the role an app played in the process.
At the Wall Street Journal's Speakeasy blog, John Jurgenson reported on some music docs on James Brown and Bjork being featured at this year's Tribeca Film Festival. Realscreen's Kevin Ritchie also had the news.
Writing for Realscreen, Adam Benzine reported on the doc lineup at Sundance London, set to take place April 25 -27.
In distro news, Manori Ravindran of Realscreen reported that Netflix had nabbed VOD rights to PRINT THE LEGEND, a film about 3D printing, as did Todd Spangler of Variety. Realscreen's Kevin Ritchie had the news that Oscilloscope Laboratories had acquired North American rights to ART AND CRAFT, which was set to premiere at the Tribeca Film Festival, while Gregg Kilday of The Hollywood Reporter had the same news. Back at Realscreen, Kevin Ritchie reported that Magnolia Pictures had bought U.S. theatrical and VOD rights to Joe Berlinger's new film, WHITEY: THE UNITED STATES OF AMERICA V. JAMES BULGER. Taylor Linsday of Indiewire had the same news.
Manori Ravindran of Realscreen reported on the finalists selected for the MIPDoc International Pitch, set to take place at the Cannes Film Festival.
The POV blog pulled out seven funding tricks gleaned from several posts made by "story doctor" Fernanda Rossi.
At the Documentaries & The Law blog at Penn Law, Tom Isler wrote on the ongoing implications of Chevron Corp. v. Berlinger, in which the oil company attempted to compel filmmaker Joe Berlinger to hand over footage shot during the making of his film CRUDE.
This week, Christopher Campbell of the Nonfics.com site wrote a post on some of the docs hitting theaters this week. In an earlier post, Campbell had shared his list of top home picks for the week.
In a piece at George Washington Today, Brittney Dunkins covered the D.C. Interactive Doc Summit recently hosted by George Washington University and non-profit Docs In Progress.
In a series of four blog posts written for the New York Times, filmmaker Errol Morris wrote on the certainty of Donald Rumsfeld, the subject of his new film THE UNKNOWN KNOWN.
Writing for Indiewire, Eric Kohn reviewed the film MISTAKEN FOR STRANGERS from director Tom Berninger, which is (ostensibly) about the band The National.
Over at Nonfics.com, Daniel Walber reviewed STOP THE POUNDING HEART from director Roberto Minervini. Walber also reviewed MOUTON, a film by directors Gilles Deroo and Marianne Pistone. And Ben Godar wrote on JODOROWSKY'S DUNE and TIM'S VERMEER and their examination of the creative impulse.
In a post at Indiewire, Sam Adams recapped his experience at this year's True/False Film Festival and highlighted a video of a panel discussion among critics that took place there. And in a piece for Mubi.com, Ben Sachs also wrote on his experiences in Columbia, Missouri.
Nonfics.com's Daniel Walber wrote a post on five women documentary pioneers, and Christopher Campbell penned a piece on 10 great docs about women's history.
Writing for the International Documentary Association (IDA) website, Pat Aufderheide shared a list of her takeaways from this year's South by Southwest Film Festival.
Karen Chu of The Hollywood Reporter had the news that HBO planned to launch a doc channel in China to distribute content made by state-run media company China Central Television (CCTV).
In a piece at Capital New York, Alex Weprin previewed the upcoming season of Morgan Spurlock's show on CNN, "Inside Man."
Kirsten of the Kirstenstudio website had coverage of a New York Women in Film and Television (NYWIFT) on how to craft a documentary fundraising trailer.
Please send any tips or recommendations for the Memo via e-mail here, or by Twitter to @GuerrillaFace. Thanks and have a great week everyone!