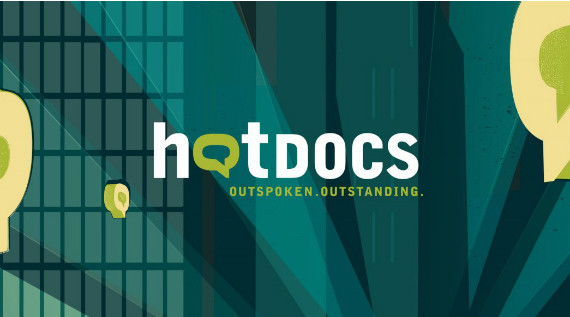 Over the last 11 days, North America's largest documentary film festival and doc conference, Toronto's beloved Hot Docs, hosted 452 public screenings of 210 films on 17 screens throughout the city. Today they announced that directors Michael Beach Nichols and Christopher K. Walker were awarded the 2015 Filmmaker-to-Filmmaker Award for their Sundance preemed white supremacist portrait WELCOME TO LEITH, while the Phillip Baribeau's UNBRANDED took home this year's Audience Award. Reflecting on the offerings of this year's Hot Docs, Indiewire's Anthony Kaufman wrote a piece explaining exactly what makes Hot Docs such a spotlight for under-appreciated films, as well as an outline of his favorite eight discoveries from the festival. At Doc Soup, Tom Roston also wrote up his discoveries of the past week – both writers making note of Kristof Bilsen's THE ELEPHANT'S DREAM and Andreas Koefoed's THE ARMS DROP.
While the public and much of the press take in as many films as is humanly possible in the 11 day stretch (I think the most I've manage to see is 45?!), hundreds of people in the industry descend upon the famed Hot Docs Forum to watch filmmakers pitch their projects in hopes of securing funds for production. Extending his coverage of Hot Docs, Anthony Kaufman wrote up a feature on his top eight pitches from the forum as well as tips for first time filmmakers at Indiewire, while Realscreen's Manori Ravindran covered the forum over the course of three days – the highlight possibly being doc legend Frederick Wiseman's first ever pitch for his new film IN JACKSON HEIGHTS, which, from the sounds of it was more like public performance than pleading pitch. While Wiseman was there in hopes of funding, he was also on hand to take part in a live discussion along with his long-time producer and distributor Karen Konicek and CBC journalist Piya Chattopadhyay. Kevin Ritchie recounted the various lessons learned from the live chat over at Realscreen.
Back in 2012, we here at Stranger Than Fiction showed Andrew Berend's DELTA BOYS. So, we are extremely pleased to welcome back Berend with his latest film MADINA'S DREAM, which tells the story of rebels and refugees fighting to survive in Sudan's Nuba Mountains and will screen tomorrow at 8pm at the IFC Center as part of our Spring Season of Stranger Than Fiction. Berends will be on hand for a post-screening Q&A. Ticketing information and more details on the screening can be found at the link.
Just as Hot Docs was beginning to get its groove on last week, the Tribeca Film Festival was coming to a close. Daniel Walber wrote a rundown of his favorite films from the festival for Nonfics, as did Tanner Tafelski at the MUBI Notebook. Basil Tsiokos posted a pair of festival outlines, one for this year's Nantucket Film Fest and the other of Vancouver's DOXA 2015, at What (not) To Doc. At Hammer to Nail, Don R. Lewis gave a rundown of his first day at the Julien Dubuque International Film Fest, which included Dubuque native Louie Psihoyos's latest film RACING EXTINCTION. This week, it was also announced that for the first time in quite a long time, a doc would close Cannes Film Festival – Luc Jacquet's ICE AND THE SKY. Cineuropa's Fabien Lemercier and The Dissolve's Kate Erbland both reported on the news.
In a wonderful turn of events for film preservation, Kartemquin announced this week on their website that they are committing to further archival preservation investment for there films. And while DOC NYC and IDA's first ever Documentary Preservation Summit took place over a month ago now, a thorough recap of the event has been posted by Jasmin Chang at DOC NYC's website, including full length videos of various panels and discussions that took place over the two day event at the IFC Center.
Last Thursday IDA dropped the news that POV's long standing Executive Producer would be leaving the PBS mainstay to join IDA as their new Executive Director. Barry Walsh reported the news for Realscreen, while Julianna Cummins covered the announcement that the Canadian Broadcasting Corporation (CBC) is joining the fight for docs in primetime by creating a new non-fiction strand, CBC Docs.
With Albert Maysles's IRIS finally hitting theaters this week, the film continues to be the talk of internet town, garnering coverage from Manohla Dargis in the New York Times, Richard Brody in The New Yorker, Farihah Zaman at The Talk House, Tasha Robinson at The Dissolve, Joshua Brunsting at Criterion Cast and Kimber Myers at The Playlist. Prior to his untimely death, Maysles and his subject Iris Apfel took part in a Q&A with programmer Marian Masone following a screening of the film at last year's New York Film Festival. Their conversation can now be found as one part of this week's The Close-Up podcast.
Brett Morgen's much anticipated KURT COBAIN: MONTAGE OF HECK premieres on HBO this week. Steven Hyden wrote a lengthy piece on Morgen's new film for Grantland, as did Judy Berman for Flavorwire. NPR's Rachel Martin spoke with Morgen for a lengthy piece on Weekend Edition, available both as audio or text. Isabel Slone also put together a fun countdown of the best Kurt Cobain films for The Hairpin, including this latest addition.
Other interviews around the web this week include one at Sight & Sound by Ela Bittencourt, who earlier this year curated True/False Fest's Neither/Nor series which centered on Polish cinema (read the elegantly written 48 page program monograph here), interviewed the Polish documentarian Jacek Petrycki. Jonathan Marlow interviewed Joshua Oppenheimer about his experiences making THE LOOK OF SILENCE over at Fandor, while Sean Axmaker gave a thorough invistigation into the filmmaker's earlier short films for the same outlet. And in MUBI's Notebook, Matthew Harrison Tedford interviewed Jenni Olsen about her latest film, THE ROYAL ROAD.
A new short by David Borenstein titled RENT-A-FOREIGNER IN CHINA was posted online as part of the ongoing Op-Docs program at the New York Times, while in the latest issue of The Seventh Art, a new video essay by Christopher Heron, Brian Robertson and David J Phillips ruminates on Ann Hui's BOAT PEOPLE.
I'll leave you this week with a link to the latest of my monthly doc development tracking pieces, What's Up Doc?, which looks at my top 100 most anticipated docs currently in the works, as well as a pair of wonderful non-fiction think pieces – one by Robert Greene on the social implications of documentary literacy for Sight & Sound – the other by Tom Roston on the ethics of celebrity making in documentary filmmaking in The Guardian.
As usual, until next week, if you have any tips or recommendations for the Memo, please contact me via email here, or on Twitter, @Rectangular_Eye. I look forward to hearing from you!