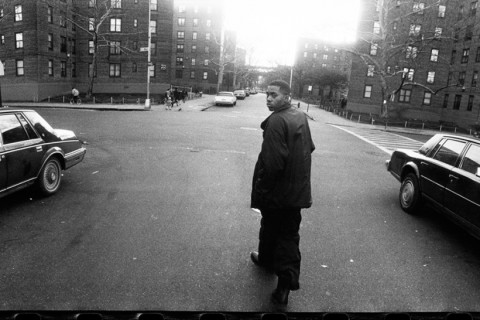 The Tribeca Film Festival this week named the documentary TIME IS ILLMATIC about the seminal hip-hop album Illmatic by Nas as its opening film. Manori Ravindran of Realscreen had a report, as did Mekado Murphy of the New York Times and Nigel M. Smith of Indiewire.
The team of Joshua Oppenheimer, Errol Morris and Werner Herzog on Sunday hosted a Reddit AMA intended to focus on Oppenheimer's film THE ACT OF KILLING. Nick Fraser of BBC Storyville sparked some controversy with a piece in the Guardian advocating that the film not win an Oscar. At Variety, Tim Gray spoke with Morris about the film, while the BBC's Tim Masters spoke with Oppenheimer, who told him he feared returning to Indonesia, in advance of the Oscars.
At the New York Times, Lauren Sandler wrote about the ties between True/False and a local church in Columbia, Missouri. Tom Roston of the POV blog interviewed filmmaker Robert Greene about his new film ACTRESS, as well as the True/False Film Festival, where the film will screen. Aarik Danielson of the Columbia Daily Tribune also spoke with Greene about his film. Over at KBIA, Abbie Fentress Swanson interviewed director Jessica Oreck about her film THE VANQUISHING OF THE WITCH BABA YAGA, also a True/False selection.
This week Stranger Than Fiction is hosting A GREAT DAY IN HARLEM, a film about a photo taken of a collection of some of the greatest jazz musicians in history, on Tuesday, February 25 at 8 p.m. at the IFC Center in Manhattan. Following the screening there will be a Q&A with the film's producer Matthew Sieg and editor Susan Peehl. For more information or to buy tickets please go here.
The New Directors/New Films announced its lineup this week. Kevin Ritchie of Realscreen had details on the docs screening at the program.
Al Jazeera America this week announced that it would host new documentary series from directors Joe Berlinger and Alex Gibney. Brian Steinberg of Variety reported on the news, as did Alison Willmore of Indiewire.
Writing for Realscreen, Kevin Ritchie turned out a piece about documentary films that found their genesis in non-fiction books.
At Cultural Weekly, Sophia Stein interviewed RICH HILL editor Jim Hession about the role he played in the film's construction.
Over at the International Documentary Association (IDA) website, Katie Bieze profiled The Documentary Center at George Washington University by speaking with founder Nina Gilden Seavey. Also, Michael Galinsky recapped some of the films that screened at the Sundance Film Festival and the Slamdance Film Festival this year. And Lauren Cardillo had a report on this year's Realscreen Summit.
Derrick J. Lang of the Associated Press interviewed filmmaker Danfung Dennis about his new film ZERO POINT, intended to be released on the virtual reality platform Oculus Rift.
At Nonfics.com, Christopher Campbell shared his top home picks for the week. In a separate post, he named some of the top theatrical releases of the past seven days.
In a piece for the POV blog, Shannon Carroll rounded up some of the best and worst advice documentary filmmakers had received during their careers.
The Sheffield Doc/Fest this week posted a video of a masterclass from editor Walter Murch on their YouTube page.
Writing for Canada's POV Magazine, Marc Glassman reviewed TIM'S VERMEER from director Teller.
The DOC NYC festival is now accepting submissions for films in three categories: Competition Features, Competition Shorts and Non-competition Features. The winning short film will qualify for consideration in the Documentary Short Subject category of the Annual Academy Awards® without the standard theatrical run, provided the film otherwise complies with the Academy rules.
The Oscar-winning director Robert Fresco, who directed CZECHOSLOVAKIA 1968, passed away earlier in February. Margalit Fox of the New York Times penned an obit.
Chiemi Karasawa's new film ELAINE STRITCH: SHOOT ME earned some praise from reviewers this week. At Nonfics.com, Daniel Walber gave the film four stars, while Eric Kohn also showered praise at Indiewire.
In a post at KFTV, Andy Fry wrote up a guide to crowdfunding.
The Huffington Post produced a list of the top 25 art or culture docs available on Netflix.
The Bring Your Own Doc web show hosted by Ondi Timoner released an episode featuring filmmakers Heidi Ewing and Rachel Grady that took place at Brooklyn's UnionDocs.
In his weekly Docutopia post, Anthony Kaufman found little to praise formally in the Oscar-nominated short doc films for this year.
In a piece for Indiewire, Robert Cameron Fowler shone a light on WE ARE THE GIANT, which he argued got lost in the mix at Sundance.
Dave McNary of Variety reported that Noah Cowen had been named the executive director of the San Francisco Film Society, replacing Ted Hope.
In his latest Filmwax Radio podcast, Adam Schartoff spoke with Richard Lorber, CEO of distro outfit Kino Lorber, along with filmmakers Joshua Weinstein and Jean Tsien.
At the Indiewire blog The Playlist, Oliver Lyttleton picked out 10 great documentaries that never were nominated for an Oscar.
In distro news, Icarus Films announced that it had acquired North American distribution rights for the film SOL LEWITT, about the conceptual artist.
The Rated SR Socially Relevant Film Festival, which focuses on social issue films, is being inaugurated this year on March 14 at the Quad Cinema in New York City.
Please send any tips for the Memo by e-mail here, or via Twitter to @GuerrillaFace. Thanks and have a great week everyone.