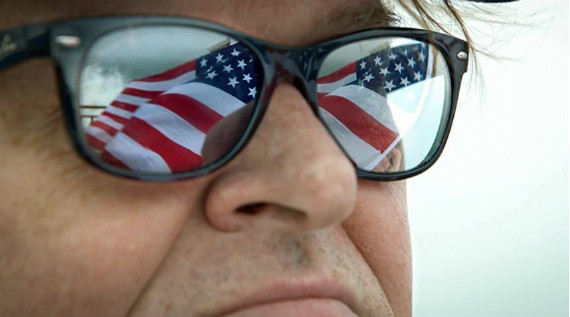 In the same week that Rebecca Sun reported the disheartening news that Slated's new "analysis of nearly 1,600 features reveals a 'trust gap' when it comes to movies made by women", The Academy of Motion Pictures released its complete Class of 2016, inviting a record "683 new members: 46 Percent Female and 41 Percent People of Color" according to Gregg Kilday of The Hollywood Reporter. Meanwhile, POV and The New York Times disclosed that they would be collaborating on a new interactive documentary project about race and are currently "seeking pitches from potential mediamakers, with applications due by Monday, July 25," reports IndieWire's Michael Nordine.
Though, The Hollywood Reporter's Gregg Kilday, the Palm Springs International ShortFest's jury named Maxim Pozdorovkin's CLINICA DE MIGRANTES: LIFE, LIBERTY AND THE PURSUIT OF HAPPINESS the best documentary of the festival, while the audience declared Annie O'Neil and Jessica Lewis' PHIL'S CAMINO to be their favorite, festival circuit happenings were a bit low-key this past week. Always looking ahead, Basil Tsiokos surveyed the doc offerings at the upcoming Karlovy Vary International Film Festival in the Czech Republic, noting Manuel Abramovich's SOLAR, Leire Apellaniz's THE LAST SUMMER and Alice Diop's ON CALL among others. Looking back a couple weeks, Christopher Llewellyn Reed reviewed a quartet of films from this year's edition of AFI Docs for Hammer To Nail, including Werner Herzog's LO AND BEHOLD, REVERIES OF THE CONNECTED WORLD,  Bonni Cohen and Jon Shenk's AUDRIE & DAISY, Nicole Lucas Haimes' CHICKEN PEOPLE, and Alex Gibney's ZERO DAYS. Gibney and his production company was also the topic of much discussion by Boris Kachka over at Vulture. The piece convincingly argues that the filmmaker's studio-like Jigsaw Productions is steadily shifting how investigative documentaries are made and marketed.
Our own Raphaela Neihausen and Thom Powers named Roger Ross Williams' Sundance favorite LIFE, ANIMATED as WNYC's Documentary of the Week. The film has been warmly received by Jeannette Catsoulis in The New York Times, as well as Kenneth Turan in The Los Angeles Times and Sheila O'Malley at RogerEbert.com. At Film Comment, Michael Sragow wrote at length about the film in his Deep Focus column, alongside Spielberg's THE BFG. Williams spoke with Carlos Aguilar in MovieMaker, as well as Thom Powers in the latest episode of the Pure Nonfiction podcast.
Josh Kriegman's WEINER received some critical love from Henry Barnes in The Guardian, while at FiveThirtyEight, Setrige Crawford broke down the much talked about O.J.: MADE IN AMERICA series shot-by-shot, revealing that despite it's wide-scope perspective, the trial still received the most screen time among its various subjects. Penny Lane's NUTS! was warmly reviewed by Joshua Brunsting at Criterion Cast, Robert S. Boynton reflected on UNDER THE SUN for The New York Times, Josh Eisen reviewed LIVING WITH GIANTS for Nonfics and Amy Goodman of Democracy Now! interviewed Josh Fox about his new film HOW TO LET GO OF THE WORLD.
For the budding filmmaker, No Film School published a piece by Dan Mirvish titled "20 Life-Saving Tips for Indie Filmmaking from the Co-Founder of Slamdance." Additionally, the Independent Television Service (ITVS) is now accepting applications to its funding Open Call.
And in late breaking and heartbreaking news, Andrew Pulver of The Guardian is reporting that Abbas Kiarostami, the Palme d'Or-winning Iranian filmmaker of such nonfiction mashing masterpieces as CLOSE-UP, has died at the age of 76 from gastrointestinal cancer. More remembrances will surely file in over the coming week. With that tragic news, I'm signing off for the week. If you have any tips or recommendations for next week's Memo, please contact me via email here, or on Twitter, @Rectangular_Eye.