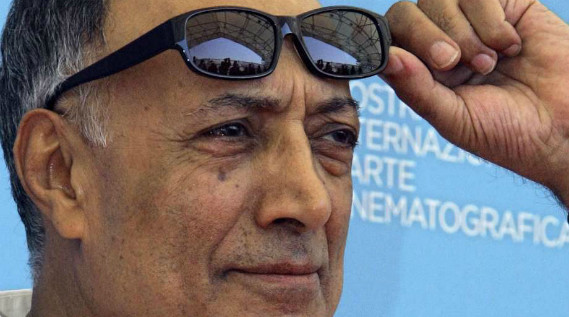 This past week has put me, and likely many of you, through the emotional ringer. With multiple police shootings of unarmed black Americans (be sure to read Jude Dry's IndieWire piece on "How Black Lives Matter Created The Accidental Documentarians" and Sam Adams' follow-up "These Are the Documentaries We Need to See"), the atrocities of police assassinations, and Abbas Kiarostami's untimely death at the uncaring hands of cancer, it's been a pretty horrendous week. So, let's begin with a lineup of therapeutic, moving memorial pieces to the Iranian master, beginning with a pair of remembrances at IndieWire from fellow filmmakers Jafar Panahi and Ramin Bahrani, as well as admiring Sight & Sound critics Geoff Andrews and Ehsan Khoshbakht. The New Yorker's Richard Brody contributed to the chorus of praise and respect, as did Tina Hassannia at The Globe and Mail, and Peter Bradshaw of The Guardian.
Even outside the context of the greater cultural situation, race and sex surfaced as a hot topic this week, headlined by a piece that appeared in the Los Angeles Times by Rebecca Keegan on "Why the second movie is the biggest hurdle to becoming a filmmaker — especially for women and minorities." On the brighter side of things, IndieWire's Michael Nordine reported that London's National Film and Television School has launched a series of new initiatives to foster female directors, while Screen Daily's Michael Rosser broke the news that female directors sweep the East End Film Festival awards, including Rokhsareh Ghaem Maghami who won the award for Best Documentary for SONITA.
In other festival news, Basil Tsiokos laid out the doc offerings of both LA's Outfest and the 33rd Jerusalem Film Festival at What (not) To Doc, while Stephen A. Russell selected his top picks of the Melbourne Documentary Film Festival at SBS. Looking back at the Sheffield Doc/Fest, Ben Nicholson wrote at length in Sight & Sound about the wide variety of films to be found this year. And also in Sight & Sound, filmmakers Penny Woolcock and Ross McElwee discussed their distaste for film festival going. And for doc filmmakers, this week is the final week DOC NYC is accepting submissions for this year's edition – due date is Friday, July 15th.
---