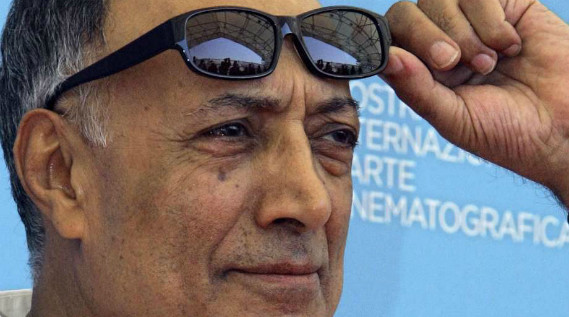 This past week has put me, and likely many of you, through the emotional ringer. With multiple police shootings of unarmed black Americans (be sure to read Jude Dry's IndieWire piece on "How Black Lives Matter Created The Accidental Documentarians" and Sam Adams' follow-up "These Are the Documentaries We Need to See"), the atrocities of police assassinations, and Abbas Kiarostami's untimely death at the uncaring hands of cancer, it's been a pretty horrendous week. So, let's begin with a lineup of therapeutic, moving memorial pieces to the Iranian master, beginning with a pair of remembrances at IndieWire from fellow filmmakers Jafar Panahi and Ramin Bahrani, as well as admiring Sight & Sound critics Geoff Andrews and Ehsan Khoshbakht. The New Yorker's Richard Brody contributed to the chorus of praise and respect, as did Tina Hassannia at The Globe and Mail, and Peter Bradshaw of The Guardian.
Even outside the context of the greater cultural situation, race and sex surfaced as a hot topic this week, headlined by a piece that appeared in the Los Angeles Times by Rebecca Keegan on "Why the second movie is the biggest hurdle to becoming a filmmaker — especially for women and minorities." On the brighter side of things, IndieWire's Michael Nordine reported that London's National Film and Television School has launched a series of new initiatives to foster female directors, while Screen Daily's Michael Rosser broke the news that female directors sweep the East End Film Festival awards, including Rokhsareh Ghaem Maghami who won the award for Best Documentary for SONITA.
In other festival news, Basil Tsiokos laid out the doc offerings of both LA's Outfest and the 33rd Jerusalem Film Festival at What (not) To Doc, while Stephen A. Russell selected his top picks of the Melbourne Documentary Film Festival at SBS. Looking back at the Sheffield Doc/Fest, Ben Nicholson wrote at length in Sight & Sound about the wide variety of films to be found this year. And also in Sight & Sound, filmmakers Penny Woolcock and Ross McElwee discussed their distaste for film festival going. And for doc filmmakers, this week is the final week DOC NYC is accepting submissions for this year's edition – due date is Friday, July 15th.
Heidi Ewing and Rachel Grady's NORMAN LEAR: JUST ANOTHER VERSION OF YOU finally reached theaters on Friday, gleaning warm reviews from Andy Webster in The New York Times, Christopher Campbell at Nonfics and Joshua Brunsting at Criterion Cast. The film was also selected as WNYC's Documentary of the Week, received an Op-Docs preview in the form of a short called NOT DEAD YET, and Ewing and Grady appeared in conversation with Thom Powers on the latest episode of Pure Nonfiction. Reflecting on their previous work, Josiah Hesse published a piece in The Guardian looking at the lives of the kids who appeared in their film JESUS CAMP, 10 years later.
The most written about film this past week was most definitely Alex Gibney's frightening ZERO DAYS, which Stephen Holden named a NYT Critics' Choice, while Flavorwire's Jason Bailey proclaimed that it the summer's scariest film. Other pieces cropped from NPR's David Shapiro, Film Comment's Michael Sragow, and two at the Los Angeles Times by Justin Chang and Steven Zeitchik. And at Hammer to Nail, Christopher Llewellyn Reed sat down with the director at AFI DOCS to discuss his latest piece of cinematic journalism.
Other reviews that appeared this week include a pair of rave reviews of Vitaliy Manskiy's UNDER THE SUN from IndieWire's Eric Kohn and The New York Times' Glenn Kenny, Guy Lodge's take on Alma Har'el's LOVETRUE at Variety, Claudia Puig's glowing review of NUTS! for The Wrap, and Amelia Gentleman's piece on the BBC series EXODUS in The Guardian. At Hammer to Nail, Christopher Llewellyn Reed stacked up another pair of reviews for THE WITNESS and DO NOT RESIST, while two pieces on Judd Apatow's new 30-for-30 film DOC & DARRYL turned up twice in The New York Times via Neil Genzlinger and Richard Sandomir, as well as in the Los Angeles Times thanks to Steven Zeitchik.
As Pokémon Go has taken over the world of augmented reality gaming, i-Docs has published its 2016 panel, "VR – Inventing the Medium," to be watched online in full. And thanks to doc director Tony Kaye, Paul McCartney now appears in the world of VR docs via his new piece EARLY DAYS, over at Pitchfork.
I'll leave you this week with Manori Ravindran's pivotal two part piece at Realscreen detailing the personal financial realities of documentary filmmaking and John Anderson's complimentary examination of doc financing found in The New York Times. As usual, if you have any tips or recommendations for next week's Memo, please contact me via email here, or on Twitter, @Rectangular_Eye.