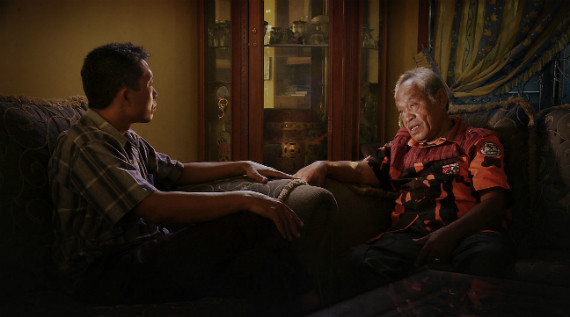 After an extensive festival run that garnered a unanimous flood of exultant praise, Joshua Oppenheimer's THE LOOK OF SILENCE is just finally reaching domestic theaters. The New York Times ran a trio of stories on the film this week – a review by A.O. Scott in which he compares Oppenheimer's work to Claude Lanzmann's monumental holocaust doc, SHOAH, a piece by Cara Buckley in which she reports on the uncertain futures of the Indonesians who helped in the production of the film, and an interview by Adam Shatz in which Oppenheimer, reflecting on ever going back to Indonesia states, "I could probably get into Indonesia without incident. I'm just not sure I would get out alive again."
Our own Thom Powers and Raphaela Neihausen selected the film as WNYC's Documentary of the Week, while, at indieWIRE, Anthony Kaufman wrote a piece that questioned whether or not The LOOK OF SILENCE has already claimed the title of Best Documentary of the Year. Adding critical depth to the conversations surrounding Oppenheimer's latest, Flavorwire's Jason Bailey, LA Times' Janet Kinosian, and Movie Mezzanine's Jake Cole each wrote lengthy reflections on the film. Eric Hynes also composed some astute thoughts on the film at Reverse Shot, as did Tony Pipolo at Artforum and Dana Stevens for Slate. Writing at Doc Soup, Tom Roston recommended some things to watch before seeing Oppenheimer's new film, while Joshua Brunsting reviewed the film for Criterion Cast and Glenn Kenny did the same for RogerEbert.com. Oppenheimer himself has been on the press tour, speaking with everyone under the sun including indieWIRE's Ryan Lattanzio, The L Magazine's Elise Nakhnikian, Jamie Maleszka for Nonfics, and even me, for IONCINEMA. Rounding out the film's coverage, Sight & Sound published a piece by Robert Greene comparing the politically motivated filmmaking techniques of Joshua Oppenheimer and Adam Curtis.
Laura Poitras made news this week by announcing that, with the help of the Electronic Frontier Foundation, she is suing the U.S. Government, demanding, according to Jenna McLaughlin's report in The Intercept, "that the Department of Justice, the Department of Homeland Security, and the Office of the Director of National Intelligence release any and all documentation pertaining to her tracking, targeting and questioning while traveling between 2006 and 2012." Eriq Gardner and Ben Child also reported on the news for The Hollywood Reporter and The Guardian, respectively. The Electronic Frontier Foundation have published Poitras' FOIA complaint in full, for those interested.
While Poitras continues to fight for the rights of fellow journalists and documentary filmmakers, the 67th Primetime Emmy Awards announced their nominees, which include GOING CLEAR, MONTAGE OF HECK, THE JINX, CITIZENFOUR, HOT GIRLS WANTED and THE GREAT INVISIBLE, among others. Barry Walsh, writing for Realscreen, reported on the occasion.
The Karlovy Vary Film Festival wrapped up last week, bringing reviews of Mark Cousins' latest film I AM BELFAST from Variety's Peter Debruge and The Hollywood Reporter's Stephen Dalton, as well as reviews of Julien Temple's HE ECSTASY OF WILKO JOHNSON by Mark Kermode in The Guardian, Geoffrey Macnab in The Independant and indieWIRE's Jessica Kiang. Meanwhile, the programs of the 68th edition of the Locarno International Film Festival and the Sarajevo Film Festival were both announced, reports Muriel Del Don and Vladan Petkovic in Cineuropa. Cineuropa's Vitor Pinto also posted that DocLisboa 2015 will feature a retrospective of Serbian director Želimir Žilnik and spotlight the careers of Robert Gardner and Anne Charlotte Robertson.
Following news that KURT COBAIN: MONTAGE OF HECK will be heading back to theaters next month, Ryan Lattanzio reported in indieWIRE that Alex Gibney's incendiary exposé, GOING CLEAR, will also be coming back to domestic theaters in the fall, but in the meantime is fighting the good fight overseas, continuously under fire from the Church of Scientology.
Kristina Goolsby and Ashley York's TIG hit Netflix this past week and received quite a bit of press coverage with its release, including reviews from Slate's June Thomas, Vogue's Julia Felsenthal, Flavorwire's Alison Herman and Jason Zinoman in The New York Times. The film was also covered by Mary McNamara for the LA Times, Alyssa Rosenberg in the Washington Post, Oliver Lyttelton for indieWIRE and Dylan Matthews at Vox, who called the film "a remarkably personal, revealing, and serious exploration of what it takes to mine humor from tragedy."
Asif Kapadia's AMY continues to do well theatrically and has helped inspire a piece in The Guardian by Jeremy Allen proclaiming that we are in the midst of a golden age of the musical doc. In addition, Lidija Haas wrote a wonderful critique of AMY for the London Review of Books in which she argues that the film "also shows that she didn't always want to punish herself. Kapadia's film contains its inverse, an alternative reality in which Winehouse rallied into another life."
Other reviews that popped up this week included a piece by Nicholas Bell on A POEM IS A NAKED PERSON at IONCINEMA, a luminous reevaluation of Shirley Clarke's ORNETTE: MADE IN AMERICA in the Village Voice by Stephanie Zacharek, a new review of Wim Wenders' THE SALT OF THE EARTH by Nick Newman at Little White Lies and Richard Kuipers' review of Jennifer Peedom's SHERPA for Variety.
Last week, D.A. Pennebaker turned 90. To celebrate, Jonathan Marlow posted a pair of lengthy interviews with the legendary direct cinema pioneer over at Keyframe. Another non-fiction legend, Frederick Wiseman, was also interviewed by David Ehrlich for Little White Lies. And lastly, LA Times' Tre'vell Anderson spoke with DO I SOUND GAY? director, David Thorpe.
Always helpful, indieWIRE had Doug Block write a guest column of six tips for getting your subjects to open up on camera, while Patricia Aufderheide wrote a piece urging filmmakers not to worry too much about fair use policy. At Nonfics, Christopher Campbell published a piece comparing cash collecting viral videos to "checkbook docs".
If you are looking for something new to watch, Katie Galloway and Kelly Duane de la Vega published an excerpt from their upcoming feature THE RETURN (which currently has a Kickstarter campaign in full swing) as an Op-Doc short, titled A RIDE HOME FROM PRISON. In addition, indieWIRE's Sergio featured Antonia Opiah's freely available doc web series, PRETTY.
I'll sign off this week with a pair of pieces that, in the wake of the sudden shuttering of The Dissolve, ruminate on the current state of film criticism. At his blog, Mike D'Angelo wrote a piece defending the use of first person prospective in film reviews, while at Filmmaker Magazine, Vadim Rizov composed a searing piece calling for more serious criticism along the lines of what was fostered by The Dissolve and continues elsewhere, rather than "the same ephemeral casting rumors" that spam our feeds on a daily basis.
As usual, if you have any tips or recommendations for the Memo in the meantime, please contact me via email here, or on Twitter, @Rectangular_Eye. I look forward to hearing from you!