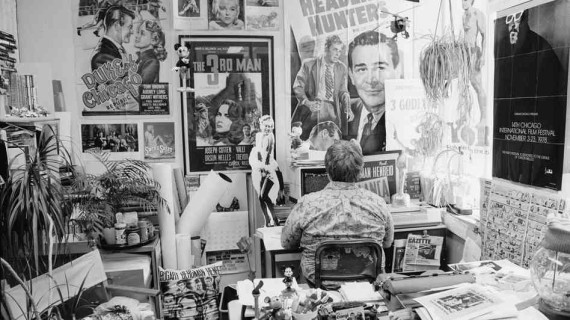 This week the Steve James-directed doc LIFE ITSELF about the late film critic Roger Ebert hit theaters. In a post for the Chicago Reader, Ben Sachs interviewed Steve James; Eric Kohn of Indiewire did the same. At the Chicago Sun-Times, Mike Thomas also spoke with James. Adam Schartoff dedicated an entire episode of his Filmwax Radio podcast to speaking with James. Writing for Nonfics.com, Christopher Campbell gave the film five stars and called it "a perfect biography of Roger Ebert." Back at Indiewire, Sam Adams rounded up some highlights from a Reddit AMA held by James and Ebert's partner Chaz Ebert. At RogerEbert.com, Odie Henderson had another interview with James, as did Brandon Harris of Filmmaker Magazine. At the Sundance Institute's website, James spoke with Nate von Zumwalt about the importance of film preservation. And at Ascap.com, Etan Rosenbloom spoke with LIFE ITSELF composer Joshua Abrams.
Premium cable network HBO announced that it would set aside Monday nights for doc airings. At Realscreen, Kevin Ritchie covered the news, as did Jessica Rawden of CinemaBlend. Rick Kissel at Variety also covered the development.
For Indiewire, Paula Bernstein spoke with documentary filmmaker Doug Block about why he was not as insistent on theatrical distribution for his latest film 112 WEDDINGS. Block also sat down for an interview with Jordan M. Smith of Ion Cinema.
Back at Nonfics.com, Christopher Campbell had a list of the 100 best docs available for streaming on Netflix in July.
At Realscreen, Nick Krewen reported on the passing of doc filmmaker Michael Henry Wilson. David Kolker of the Los Angeles Times did the same.
In a post at Mastering Film, Todd Grossman explained how to guide a documentary interviewee.
Writing for Screen Daily, Jeremy Kay reported that Kartemquin films had signed on to produce a new film by Brent Hoffman on a number of imperiled Buddha statues in Afghanistan. Kevin Ritchie of Realscreen also reported on the news.
Also at Realscreen, Adam Benzine reported on the passing of doc filmmaker Wolf Koenig.
Over at the Huffington Post, Michele Willens made the case that 2014 has been a banner year for docs thus far.
At Canada's POV Magazine, Adam Nayman wrote on the ideas of utopia as explored in a number of documentaries.
Writing for Indiewire, Laya Maheshwari made a case for why the Robert Flaherty film MOANA deserved restoration.
The folks at POV thoughtfully published a calendar containing a host of grant and festival deadlines, which you can find here.
In a piece for Fandor, Anthony Kaufman wrote on the prescience of the film IRAQ IN FRAGMENTS from director James Longley.
At the International Documentary Association (IDA) site, Wanda Bershen profiled the Documentary Media Studies graduate certificate program at The New School.
Writing for FCP.co, Mark Spencer and Steve Martin had a breakdown of new features in the latest iteration of FCP X.
Tom Roston of the POV blog listed his 10 most patriotic docs in honor of the Fourth of July.
Producer Gordon Quinn of Kartemquin Films shared with Sarah Lai Stirland of the Disruptive Competition Project the impetus for his conversion to a Fair Use Doctrine adherent.
At Nonfics.com, Christopher Campbell noted that Frederick Wiseman's film NATIONAL GALLERY had gained a release date in November.
Writing for The Wrap, Jordan Zakarin examined the claim that the theatrical doc was dead (or at the very least, dying).
At Indiewire, Anthony Kaufman considered the box office prospects of Dinesh D'Souza's latest film, AMERICA: IMAGINE THE WORLD WITHOUT HER.
In a post for i-Docs, Jess Linington examined the interactive doc DOOR INTO THE DARK.
Dave McNary of Variety reported that Cinedigm was expanding its digital networks.
At the New York Times, Michael Ciepley wrote on efforts by Participant Media to measure the impact of social issue docs.
Basil Tsiokos published a documentary overview of the Karlovy Vary festival in the Czech Republic at his What (Not) to Doc blog.
Back at the IDA site, Lauren Cardillo reported on the AFI Docs transition year
And finally, the POV site shared an interview with Digital Executive Producer Adnaan Wasey in which he shared networking tips for documentary filmmakers.
If you have tips or suggestions for the Memo, please send them via e-mail here, or by Twitter to @GuerrillaFace. Thanks and have a great week.