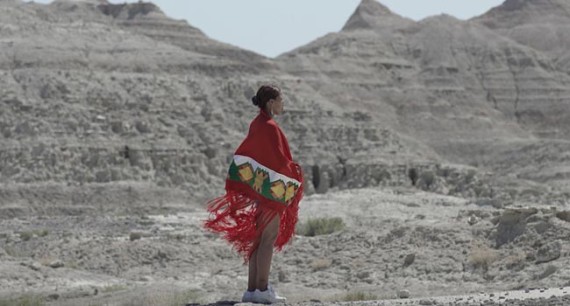 The Museum of Modern Art's Documentary Fortnight program began on Friday. Writing at his What (Not) to Doc blog, Basil Tsiokos provided an overview of the program. At Twitch, Christopher Bourne wrote up some capsule reviews for some Doc Fortnight films.
Ben Beaumont-Thomas of the Guardian reported on THE ACT OF KILLING's win at the British Academy of Film and Television Arts (BAFTA) for best documentary. Writing for Filmmaker Magazine, Scott Macaulay reported that director Joshua Oppenheimer's speech appeared to have been edited to eliminate criticism of the British and U.S. governments in a video posted by the BAFTAs.
In an open letter posted on Facebook, filmmaker Dawn Porter criticized the decision by Washington, D.C., PBS station WETA not to air her film SPIES OF MISSISSIPPI on Monday, Feb. 10 at 10 p.m. Peter Hart of the Fairness and Accuracy in Reporting (FAIR) blog had additional reporting on the incident.
This week Stranger Than Fiction is hosting a screening of the classic D.A. Pennebaker film MONTEREY POP at the IFC Center in Manhattan on Tuesday, February 18 at 8 p.m. The film immortalized the now-famous Monterey International Pop Festival held in the summer of 1967. Following the screening D.A. Pennebaker will be in attendance, along with a number of crew members on the film, including Albert Maysles. For more information or to buy tickets please go here.
At Art Threat, Kristi Kouchakji reviewed THE ACT OF KILLING and considered some of the ethical and moral issues raised by the film.
At Filmmaker Magazine, Sarah Salovaara wrote a piece considering whether the future of film distribution lies in the live event.
The BitTorrent blog turned out a piece about the BitTorrent bundle for the film THE CRASH REEL, which they reported had been downloaded 3.2 million times.
Hot Docs this week announced that it would honor director Adam Curtis with a retrospective and its Outstanding Achievement Award. Adam Benzine reported the news for Realscreen, while Etan Vlessing did the same at The Hollywood Reporter. Adam Curtis was also interviewed by Rob Pollard of The New Statesman.
The Full Frame Festival announced that it would honor filmmaker Steve James with a tribute and retrospective, and that director Lucy Walker will program its Thematic Program. Again, Adam Benzine covered the news for Realscreen, while Eric Eidelstein did the same at Indiewire.
Indiewire's Eric Eidelstein reported that AFI Documentary Festival Sky Sitney had resigned from her role as director. Ann Hornaday also had the news for The Washington Post.
The folks behind the doc filmmaker interview book "Tell Me Something" are hosting an event at The Strand bookstore on Monday, February 24 at 7 p.m. that will feature guests D.A. Pennebaker, Chris Hegedus, Albert Maysles, Rachel Grady, Gary Hustwit and more. For more information or to purchase tickets please go here.
Writing for The Wrap, Steve Pond examined the Oscar nominees for best short documentary.
Christopher Borrelli of the Chicago Tribune examined the crowdfunding effort employed by Steve James and the team at Kartemquin Films for LIFE ITSELF.
In a post for No Film School, Oakley Anderson-Moore rounded up a list of grants intended for documentary filmmakers.
In distro news, Realscreen's Adam Benzine reported that Sundance award-winner RETURN TO HOMS had been acquired by Journeyman Pictures for worldwide distribution. Realscreen colleague Manori Ravindran had the news that Drafthouse films had nabbed North American rights for 20,000 DAYS ON EARTH, a doc about musician Nick Cave. Adam Benzine also reported that U.K. distributor Dogwoof had picked up THE PUNK SINGER for distribution in Great Britain.
Kenneth Turan wrote a piece for the Los Angeles Times naming his favorite docs for 2013.
Adam Schartoff of Filmwax Radio fame will be hosting a screening of CUTIE AND THE BOXER with filmmaker Zachary Heinzerling in attendance on Feb. 18 at 7 p.m. at the BRIC House Stoop in Brooklyn. Schartoff will also pair with the Maysles Cinema for a Feb. 22 screening of ONE NIGHT STAND at 7:30 p.m. Finally, Schartoff recently spoke with Jessica Green, the force behind the documentary filmmaker interview book "Tell Me Something," as well as Sally Berger, the programmer behind MOMA's Documentary Fortnight program for a Filmwax Radio podcast.
At Realscreen, Kelly Anderson wrote up five documentary projects that received Tribeca Film Institute grants this past week.
This week Christopher Campbell and Daniel Walber were joined by Kristy Puchko in the latest edition of The Realness podcast, which focused on Lotfy Nathan's 12 O'CLOCK BOYS.
Christopher Campbell rounded up his top home picks for the week in a post at Nonfics.com, and wrote a separate post on films of note hitting theaters this week.
In his weekly Docutopia post at the SundanceNOW blog, Anthony Kaufman looked at two films about protest–THE UPRISING and DEMONSTRATION–screening at this year's Documentary Fortnight program.
Writing for Indiewire, Nigel M. Smith traced filmmaker Zachary Heinzerling's path from making CUTIE AND THE BOXER to making films for pop powerhouse Beyonce.
In a piece at the POV blog, Melissa Saucedo profiled the Mexican documentary filmmaker organization DOC RED.
PBS mainstay Ken Burns held a Reddit AMA this week in order to help promote the launch of his new iPad app.
Finally, Katharine Relth of the International Documentary Association (IDA) announced a new screening series, The Art of the Documentary, set to take place in Los Angeles
That's it for this week. Please send any tips or recommendations by e-mail here, or via Twitter to @GuerrillaFace. Thanks and have a great week everyone.