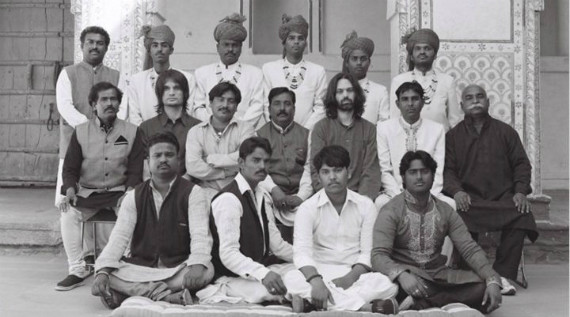 In a week in which the Toronto International Film Festival announced its programming schedule for its ever eventful Doc Conference and Hot Docs announced the appointment of Shane Smith as their new Director of Programming in an attempt to plug the hole left by the departure of Charlotte Cook earlier this year, the biggest news of the week may be the release of the New York Film Festival's lineup. Most notably, included as part of the Special Events programming is the world premiere of JUNUN, Paul Thomas Anderson's first attempt at documentary filmmaking. According to Nicholas Kemp's Film Society of Lincoln Center announcement, the film "follows the musical journey of his close friend and collaborator Jonny Greenwood to northern India, to record an album with an Israeli musician Shye Ben Tzur and illustrious local musicians." Reporting for Rolling Stone, Daniel Kreps outlined the surprise film's origins.
Prior to the world premiere of Fredrick Wiseman's IN JACKSON HEIGHTS in Venice and its subsequent screenings at TIFF in tandem with showings of his recently restored classic TITICUT FOLLIES, A.O. Scott celebrated the legendary doc filmmaker in The New York Times, gushing, "There are nonfiction films that force you to suppress your summarizing reflexes, to slow your thinking and open your sensory receptors to new modes of perception, even when what you are perceiving seems to be perfectly ordinary. The master of this kind of filmmaking is Frederick Wiseman, now 85, whose sustained acts of attention to various places, institutions and social phenomena constitute one of the great monuments of modern filmmaking."
While Wiseman was on the mind of Scott, Variety's Addie Morfoot had the Emmys and their recent rule changes on the brain. She writes, "a rule change this year has opened up the Emmy nonfiction category, allowing theatrical hits such as CITIZENFOUR to compete for Emmys," increasing the competition in an already increasingly competitive field which now includes titles from Netflix, while Emmy mainstays like PBS and HBO continue to produce outstanding content. Realscreen's Kevin Ritchie reports that Justine Nagan, POV's new executive producer and executive director of American Documentary, has plenty to plans already in the works to keep PBS on the fore of doc filmmaking. The 67th Primetime Emmy Awards will air September 20, 2015.
Amy Berg also made headlines in The Guardian, via Benjamin Lee's dirt slinging article that reports that the industrious filmmaker is being sued by her AN OPEN SECRET producers "over 'failure to cooperate' in the production of controversial exposé of the film industry." In addition to claims that the film was not delivered on time in a releasable state, producer Gabe Hoffman also "claims that she failed to get the proper release forms from some of the interviewees and this error almost caused the film to miss its initial premiere at last year's DOC NYC."
The most talked about doc related event this week was undoubtedly the release of Bill Hader, Fred Armisen and Seth Meyers' non-fiction parody series, DOCUMENTARY NOW!, which premiered on IFC on August 20th. Meredith Blake of the LA Times wrote a feature on the show, outlining its late night origins, while Mandalit Del Barco of NPR revealed the influence of Monty Python and THIS IS SPINAL TAP on the show's creators. Variety's Whitney Friedlander previews several of the seven episodes, which spoof doc classics like THE THIN BLUE LINE, GREY GARDENS and NANOOK OF THE NORTH. Flavorwire's Pilot Viruet also wrote a piece on the new series, as did Libby Hill at Vulture and Gabriella Paiella at Maxim. Prior to airing a single episode, IFC renewed the show for two more seasons, reports Danette Chavez at AV Club. And in celebration of the first episode, which plays on the Maysles' classic GREY GARDENS, K Thor Jensen posted a list of five things you probably didn't know about the original film at IFC's blog.
In theatrical releases, J. P. Sniadecki's THE IRON MINISTRY was selected as a New York Times's Critic's Pick by A.O. Scott, while the film was also lovingly reviewed by Joshua Brunsting at Criterion Cast, concluding that Sniadecki "cements himself as one of the luminaries of today's non-fiction cinema, and proves once again that the Harvard Sensory Ethnography Lab is producing the most forward thinking documentaries in recent memory." Daniel Junge's Sundance debuted BEING EVEL also hit select theaters this week, receiving coverage from Geoff Berkshire in Variety, Michael Rechtshaffen in the LA Times, and Glenn Kenny at RogerEbert.com.
Jimmy Chin and Elizabeth Chai Vasarhelyi's MERU was featured by David Edelstein on NPR, as well as highlighted by Realscreen's Daniele Alcinii for its climbing film innovations. In The New Yorker, Richard Brody reflected on BEST OF ENEMIES, while Martin Tsai of the LA Times and Joshua Brunsting both reviewed Mina T. Son and Sara Newens' table tennis doc, TOP SPIN. Bobcat Goldthwait and his film CALL ME LUCKY also got some love from Sean Burns at Movie Mezzanine, as well as an interview with Steven Hyden at Grantland.
Having opened this week in the UK, Crystal Moselle's THE WOLFPACK continues to glean attention. Michael Atkinson featured the project as Sight & Sound's Film of the Week, as Adam Woodward at Little White Lies and Sam Parker at Esquire gave the film positive reviews. Other reviews this week included Michael Rechtshaffen's piece on MATEO in the LA Times, Daniel Walber's article on WE COME AS FRIENDS at Nonfics, Chase Whale's review of A BRAVE HEART: THE LIZZIE VELASQUEZ STORY at Hammer to Nail, Dennis Harvey's review of THE BLACK PANTHERS: VANGUARD OF THE REVOLUTION for Variety and Daniel Kasman's substantial interview with Chantel Akerman about NO HOME MOVIE at Notebook.
I'll sign off this week with a link to Caroline Losneck and Christoph Gelfand's new short DIVING FOR SCALLOPS, published as part of the ongoing Op-Docs project, as well as Heather McIntosh's helpful epilogue on teaching Op-Docs, which was posted on POV's Documentary Blog.
As usual, if you have any tips or recommendations for the Memo in the meantime, please contact me via email here, or on Twitter, @Rectangular_Eye. I look forward to hearing from you!