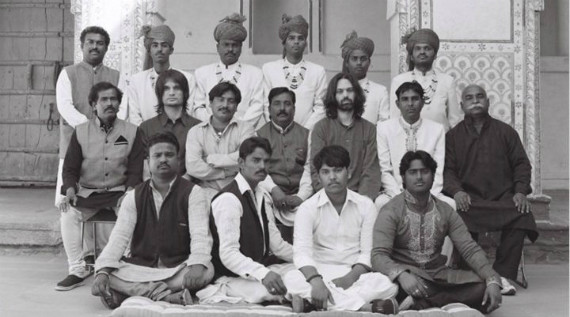 In a week in which the Toronto International Film Festival announced its programming schedule for its ever eventful Doc Conference and Hot Docs announced the appointment of Shane Smith as their new Director of Programming in an attempt to plug the hole left by the departure of Charlotte Cook earlier this year, the biggest news of the week may be the release of the New York Film Festival's lineup. Most notably, included as part of the Special Events programming is the world premiere of JUNUN, Paul Thomas Anderson's first attempt at documentary filmmaking. According to Nicholas Kemp's Film Society of Lincoln Center announcement, the film "follows the musical journey of his close friend and collaborator Jonny Greenwood to northern India, to record an album with an Israeli musician Shye Ben Tzur and illustrious local musicians." Reporting for Rolling Stone, Daniel Kreps outlined the surprise film's origins.
Prior to the world premiere of Fredrick Wiseman's IN JACKSON HEIGHTS in Venice and its subsequent screenings at TIFF in tandem with showings of his recently restored classic TITICUT FOLLIES, A.O. Scott celebrated the legendary doc filmmaker in The New York Times, gushing, "There are nonfiction films that force you to suppress your summarizing reflexes, to slow your thinking and open your sensory receptors to new modes of perception, even when what you are perceiving seems to be perfectly ordinary. The master of this kind of filmmaking is Frederick Wiseman, now 85, whose sustained acts of attention to various places, institutions and social phenomena constitute one of the great monuments of modern filmmaking."
While Wiseman was on the mind of Scott, Variety's Addie Morfoot had the Emmys and their recent rule changes on the brain. She writes, "a rule change this year has opened up the Emmy nonfiction category, allowing theatrical hits such as CITIZENFOUR to compete for Emmys," increasing the competition in an already increasingly competitive field which now includes titles from Netflix, while Emmy mainstays like PBS and HBO continue to produce outstanding content. Realscreen's Kevin Ritchie reports that Justine Nagan, POV's new executive producer and executive director of American Documentary, has plenty to plans already in the works to keep PBS on the fore of doc filmmaking. The 67th Primetime Emmy Awards will air September 20, 2015.
---