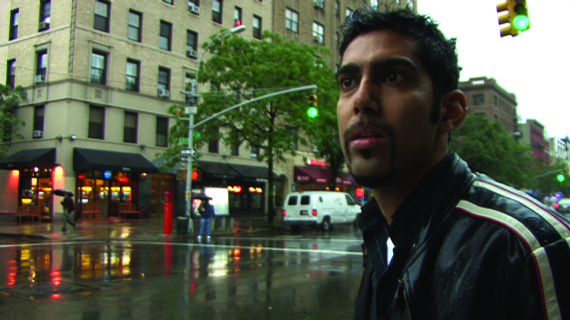 The PBS documentary show POV announced the films screening during the first part of its upcoming season, which begins Monday June 23. Alison Willmore of Indiewire also reported on POV's lineup, which includes WHEN I WALK from director Jason DaSilva and AMERICAN REVOLUTIONARY: THE EVOLUTION OF GRACE LEE BOGGS from director Grace Lee.
The South by Southwest Film Fest concluded last week, but not before handing the Grand Jury Prize for documentary feature to THE GREAT INVISIBLE from director Margaret Brown. Adam Benzine of Realscreen reported on the award, as did Craig Phillip of the Independent Lens blog.
In other SXSW news, Manori Ravindran of Realscreen interviewed EVAPORATING BORDERS director Iva Radivojevic. At the Women and Hollywood blog, Melissa Silverstein also interviewed Radivojevic, while Sarah Salovaara chatted with Radivojevic for Filmmaker Magazine. Her colleague Danielle Lurie interviewed Eline Jongsma of the interactive documentary THE EMPIRE PROJECT, which also showed at SXSW. Lurie also interviewed UKRAINE IS NOT A BROTHEL director Kitty Green. Back at Realscreen Kevin Ritchie spoke with HARMONTOWN director Neil Berkeley, and also interviewed VESSEL director Diana Whitten. Realscreen's Manori Ravindran also profiled the SXSW film THE IMMORTALISTS from directors David Alvarado and Jason Sussberg.
This week Stranger Than Fiction is closing out its Winter Season by hosting a screening of AMANDLA! A REVOLUTION IN FOUR PART HARMONY, a film about the history of music during South Africa's anti-apartheid struggle from director Lee Hirsch. The film plays at the IFC Center in Manhattan on Tuesday, March 18 at 8 p.m. Following the screening, director Hirsch will be in attendance for a Q&A. For more information or to purchase tickets please go here.
Patricia Aufderheide of the Center for Media & Social Impact also turned out a series of posts on SXSW, one addressing the dearth of films focusing on the working class and African Americans, one the heavy reliance on fair use by SXSW films, and one on two verite films that screened at the festival–THE GREAT INVISIBLE and E-TEAM.
The D-Word, the online forum for documentary filmmakers, is still in the middle of its fundraising campaign to improve its website in advance of its 15-year anniversary. In order to find out more about the campaign and donate, please go here.
Filmmaker and sometimes writer A.J. Schnack continued to stoke the debate surrounding THE ACT OF KILLING in a piece for Filmmaker Magazine that defended the film from some of its critics. Meanwhile, THE ACT OF KILLING director Joshua Oppenheimer was treated to a profile courtesy of Harvard Crimson writer Marios V. Broustas.
Writing for the New York Times, Jeanette Catsoulis reviewed BIG MEN by director Rachel Boynton about the oil trade in Ghana, handing it a NYT Critics' Pick.
In a post at the POV blog, Tom Roston profiled a few of the festivals taking place in the early part of the year, including SXSW and Tribeca.
At the British Film Institute's site, Patrick Russell shared a list of nine great documentary filmmakers born in 1914.
At the Tribeca Film Institute's blog, Karen Kemmerle spoke with TEENAGE director Matt Wolf about his film. And Manori Ravindran reported on some of the doc shorts set to screen at the Tribeca Film Festival this year.
The True/False Film Fest published a digest of its blog festival coverage, which you can check out here. Also, Shelley Gabert provided coverage of the festival for the International Documentary Association (IDA) website. And the folks at Columbia, Missouri public radio station KBIA rounded up the series of interviews they did with True/False Film Fest filmmakers; you can find them all here.
Donna K. interviewed filmmaker Joe Callander about his film LIFE AFTER DEATH for a post on her blog.
In his latest Filmwax Radio podcast, Adam Schartoff spoke with New Directors/New Films programmers Dennis Lim and Jytte Jensen, along with TEENAGE director Matt Wolf.
Over at Filmmaker Magazine, Lauren Wissot interviewed Beth B, director of the burlesque doc EXPOSED.
At the New York Times, Larry Rohter wrote on some films that were expanding the traditional approaches to documentary film.
Back at Realscreen, Manori Ravindran reported on additional programming announced for the Full Frame Festival. Ravindran also had the news that U.K. distributor Dogwoof was launching a doc-focused digital distribution platform called IF365.
Writing for Nonfics.com, Daniel Walber took a look at the Japanese docs CAMPAIGN from director Kazuhiro Soda and THE EMPORER'S NAKED ARMY MARCHES ON from Kazuo Hara.
The latest issue of Document, the magazine from the Center for Documentary Studies at Duke University, is now available online here.
The i-docs website published a guest post from Kate Nash on the reimagining of the documentary on new platforms and in new technologies. And also writing for the i-docs website, Jess Linnington interviewed Ramona Pringle about her interactive documentary AVATAR SECRETS.
Finally, Christopher Campbell of Nonfics.com had his weekly list of some of the top nonfiction films hitting theaters last week.
That's it for this week. Please send any tips or recommendations for the Memo via e-mail here, or by Twitter to @GuerrillaFace. Thanks and have a great week all!