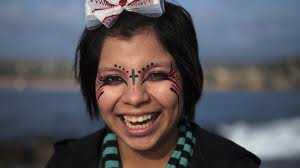 Coming as no surprise to anyone, SEARCHING FOR SUGAR MAN by Swedish director Malik Bendjelloul–which screening in DOC NYC's short list section last year–took home this year's Oscar for best documentary, after going on an impressive awards run that lasted pretty much all year. The Oscar for best short-form documentary went to INOCENTE from directors Sean Fine and Andrea Nix Fine; the film follows a young, undocumented and homeless artist in San Diego.
For those interested in the practice of Monday morning quarterbacking, there was no shortage of prognostications prior to Sunday's awards ceremony, with SEARCHING FOR SUGAR MAN named as the odds-on favorite by most, including Adam Benzine of Realscreen. He was joined by Richard Corliss of Time and Tom Roston on the POV blog. On the New York Times Carpetbagger blog Larry Rohter considered how the recent voting rules changes had helped SUGAR MAN. Rohter also spoke with HOW TO SURVIVE A PLAGUE director David France about his filmmaking education, while Peter Knegt of Indiewire also talked to the team behind the film. At Movies.com Christopher Campbell wondered whether the "most important" doc films would win awards. At AwardsDaily.com, Brian Whisenant similarly considered how important docs stacked up against entertaining ones. In another post for POV, Tom Roston recalled Michael Moore's 2003 acceptance speech denouncing the Iraq War. Writing for the Documentary Channel blog, Christopher Campbell made the argument that THE INVISIBLE WAR director Kirby Dick deserved greater recognition for his professional body of work. (Campbell's argument was helped by the fact that Dick's film picked up the best documentary award at this year's Independent Spirit Awards, and that it also won the 2013 Ridenhour Documentary Film Prize.)
On the shorts side, Jared Mobarak of The Film Stage reviewed all of the Oscar contenders, while Peter Knegt of Indiewire shared his prediction for the win. Writing for Film School Rejects, Christopher Campbell did the same. Peter Debruge of Variety also had a roundup of this year's doc shorts.Writing for the DocGeeks blog, Jacob Harbord considered the potential influence that REDEMPTION could have on the practice of observational cinema.
The awards ceremony was, however, marred by the detention of 5 BROKEN CAMERAS co-director Emad Burnat at LAX earlier in the week, the details of which were reported by Jennifer Schuessler of the New York Times Carpetbagger blog and Kristopher Tapley of Hitfix.com. At Filmmaker Magazine, Nick Dawson had Burnat's statement on his detention.
In better news for documentarians, a U.S. District Court judge this week ruled that New York City could not subpoena notes and outtakes from the making of the doc THE CENTRAL PARK FIVE by Ken Burns, Sarah Burns and David McMahon. The judge effectively ruled that the film production met the standard for a journalist shield law. Russ Buettner of The New York Times reported the full story, as did Kevin Ritchie at Realscreen and Bernard Vaughan of Reuters. The International Documentary Association's Editorial Staff also issued a statement on the matter.
This week, Stranger Than Fiction closes out its Winter Season with a screening of Terence Nance's film AN OVERSIMPLIFICATION OF HER BEAUTY, which relies on a mix of live action and animation to tell a story of young love. Nance will be in attendance for a Q&A following the screening, scheduled to take place on Tuesday, Feb. 26 at 8pm at the IFC Center in Manhattan. For more information and to purchase tickets go here.
A number of filmmaker interviews hit the web this week. At the Independent Lens blog Maria Goodavage spoke with AI WEIWEI: NEVER SORRY director Alison Klayman. The Times' Larry Rohter also spoke with the subject of the film Ai Weiwei. Jessica Kiang of Indiewire's The Playlist blog queried Ken Loach about his new film THE SPIRIT OF '45, while the Huffington Post UK spoke with FIRE IN THE BLOOD director Dylan Mohan Gray. At the Chicago Reader, Ben Sachs interviewed documentarian Shawn Convey.
This week the Museum of Modern Art and the Film Society of Lincoln Center announced the lineup for its New Directors/New Films series, which is set to screen March 20-31 and will include six documentary features. At the New York Times ArtsBeat blog, Dave Itzkoff noted that the film OUR NIXON, directed by Penny Lane, would close out the series.
At the Independent Lens blog, Rebecca Huval had a list of eight documentaries that celebrate Black History Month.
This week Anthony Kaufman's Docutopia blog examined the link between the new film SNITCH and the Frontline episode of the same name, originally aired in 1999, from which the film derives its plot. Writing for the Documentary Channel blog, Christopher Campbell also noted the link, and excerpted a piece of the Frontline show's transcript.
On the What (Not) to Doc blog, Basil Tsiokos turned out a few overviews of some upcoming film festivals and film programs: ZagrebDox, Punto de Vista and the True/False Film Festival.
Speaking of the True/False fest, Aarik Danielson of the Columbia Daily Tribune spoke with festival founders Paul Sturtz and David Wilson.
At Filmmaker magazine Sara Kaye Larson shared her Indiegogo fundraising experience, and specifically some of the ethical issues considered during the effort. In other crowdfunding news, Jon Foughner of Indiewire reported on the new fundraising platform Seed&Spark.
Neda Ulaby of WNYC profiled grantmaking institution Cinereach, which has backed a number of critically heralded films, including BULLY, THE QUEEN OF VERSAILLES and GIRL MODEL.
At the DocGeeks blog, Joëlle Pouliot considered the film CALL ME KUCHU by by Katherine Fairfax Wright and Malika Zouhali-Worral given its recent DVD release.
HBO scored a ratings bonanza with its film BEYONCE: LIFE IS BUT A DREAM, with an estimated audience of about 1.8 million viewers, although Dodal Stewart of Jezebel had a pretty critical assessment of the film.
ESPN this week announced that it was launching a female-focused series of sports docs, Nine for IX. Alison Willmore of Indiewire had the details.
Kevin Ritchie of Realscreen had a roundup of doc sales this week, with deals inked for HARRY DEAN STANTON: PARTLY FICTION and other works.
POV is still taking applications for those interested in participating in its third Hackathon, with the March 12 deadline fast approaching.
The Tribeca Film Institute this week launched the TFI Sandbox, a collection of resources for those interested in the intersection of storytelling, technology and interactivity.
That's it for this week. Please keep sending your tips and recommendations for the Memo via e-mail here, or tweet them to @GuerrillaFace. Have a great week everyone!