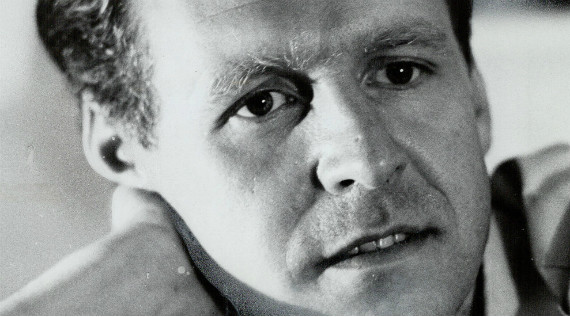 With so much attention being paid to Richard Linklater's twelve year project BOYHOOD last year while other (possibly more deserving) long term doc equivalents like Joe Brewster and Michele Stephenson's AMERICAN PROMISE fly confidently under the radar, it's important to remember where the seed for these projects was originally planted: Michael Apted and Paul Almond's half-century spanning UP series. Sadly, this passed week Paul Almond died of complications of a recent heart attack at the age of 83. Margalit Fox of the New York Times wrote a profile of the man's life and work, as did David Colker of the LA Times and Mike Barnes of The Hollywood Reporter. The Guardian's Ben Beaumont-Thomas and Realscreen's Kevin Ritchie also reflected on Almond's filmmaking career.
We at Stranger Than Fiction are playing host to a pair of film screenings this week in Tuesday's work-in-progress showing of director Howard Weinberg's NAM JUNE PAIK & TV LAB: LICENSE TO CREATE, which explores the collaborative collisions of the TV LAB through the prism of one of the giants of 20th century video art, and Thursday's showing of director Nick Broomfield's AILEEN: LIFE AND DEATH OF A SERIAL KILLER, the follow-up work to his clear-eyed profile of America's first female serial killer and the greed and paranoia that surrounded her case in AILEEN WUORNOS: THE SELLING OF A SERIAL KILLER. Both filmmakers will be on hand for Q&As at the IFC Center for their respective screenings.
The Tribeca Film Festival kicked off this past weekend and as it turns out, according to Mike Hale at the New York Times, nearly half of the roughly 100 film program is made up of non-fiction fare. For Filmmaker Magazine, Brandon Harris wrote up a lengthy overview of why the festival is more prominent in the film landscape than ever and in doing touched on various films, while David Hudson collected a wealth of festival coverage over at Fandor's Keyframe. Both articles touched on Steve Hoover's sophomore doc effort CROCODILE GENNADIY which has garnered quite a bit of attention in the form of glowing reviews from The Hollywood Reporter's Sheri Linden, Indiewire's Casey Cipriani, Screen Daily's Fionnuala Halligan, and me over at IONCINEMA.com. Daisy Jones of Vice also caught up with Hoover to discuss the making of the film. Bao Nguyen's opening night SNL profile LIVE FROM NEW YORK! has also been catching the eyes of critics, gleaning reviews from the likes of Variety's Ronnie Scheib, Grantland's Amos Barshad, and Jason Bailey of Flavorwire. The Hollywood Reporter's Gregg Kilday spoke with Nguyen about how he ended seeing the film through, as did Mekado Murphy of the New York Times.
Other reviews that have come out of Tribeca this past weekend include a trio of reviews by Manori Ravindran for Realscreen, on THE WOLFPACK, THANK YOU FOR PLAYING and a work-in-progress screening of Alma Har'el's latest film, LOVETRUE. Variety's Ben Kenigsberg reviewed Eric Weinrib's new film ROSEANNE FOR PRESIDENT!, while Jason Bailey interviewed the film's subject, Roseanne Barr, on the topic of democracy and weed for Flavorwire. For the POV Blog, Liz Nord wrote an overview of this year's experimental experiential doc program, Tribeca Storyscapes, and also interviewed May Abdalla and Amy Rose, the directors of DARK IN THE DOOR, one of the projects featured as part of the program. And finally, Eric Kohn at Indiewire produced a piece on Albert Maysles's final film IN TRANSIT, while I wrote a piece for the Influence Film Club reflecting on the delicate performative balance Maysles managed while shooting his classic GREY GARDENS.
Thierry Fremaux and the programming team at the Cannes Film Festival announced the first 43 selections of the 2015 edition of the fest. Never known for their enthusiasm for non-fiction features, there are only a pair of docs in the bunch, including a midnight screening of Asif Kapadia's much anticipated AMY, and a Cannes Classics screening of Stig Björkman's INGRID BERGMAN: IN HER OWN WORDS to compliment the fest's thematic celebration of the beloved actress.
In other festival coverage, the Film Society of the Lincoln Center's Art of the Real continues its annual run, garnering an interesting write-up by Daniel Walber at Nonfics arguing that the fest has made a decent case for reenactments in the documentary form. Brian Brooks of the Film Society itself posted a pair of interviews from festival filmmakers Camila José Donoso and Matt Porterfield. Eric Hynes wrote a wonderful reflection on his experience at this year's True/False Fest for Reverse Shot, Tom Roston recounted his time at the Full Frame Documentary Festival at Doc Soup, José Teodoro wrote on the non-fiction selection at Locarno's L'immagine e la parola this year for Film Comment, and Giorgia Del Don ruminated on the surprisingly high number of Swiss docs at this year's Buenos Aires International Independent Film Festival for Cineuropa. At the MUBI Daily Notebook, Jacqueline Valencia recounted her time at Images Festival 2015 and Andreas Stoehr noted the prominence of ethnographic documentaries at the 53rd Ann Arbor Film Festival.
And on a much more serious note, Cineuropa's Vladan Petkovic reported that the Istanbul Film Festival cancelled its competition programs and closing ceremony after the producers and directors of 22 titles withdrew their films in protest after "the premiere of the documentary film North (Bakur), about the outlawed Kurdistan Workers' Party (PKK), was cancelled just hours before the screening as the Istanbul Foundation for Culture and Arts (IKSV), the organiser of the Istanbul Film Festival, announced that it had received an official letter from the Cinema General Directorate of the Turkish Ministry of Culture and Tourism stating that films produced in Turkey must have a formal registration certificate in order to be screened at festivals." According to the report, "The same day, more than 100 filmmakers, including Nuri Bilge Ceylan, published an open letter saying: "We, the undersigned filmmakers, oppose the imposition [of this regulation] as a tool of censorship. The festival programme was announced weeks ago, and other local films that did not have the registration certificate were screened without problems."
In the past week, a variety of new docs hit theaters, including Louise Osmond's DARK HORSE, which was reviewed by Sophie Monks Kaufman for Little White Lies and featured at the BFI's website by Ann Lee. Flavorwire's Jillian Mapes reviewed Scott Crawford and Jim Saah's DC Hardcore doc SALAD DAYS, and at The Dissolve, Genevieve Koski reviewed the lovable new Disney nature doc MONKEY KINGDOM which opened wide this past weekend. In addition, Donna K. reviewed I AM BIG BIRD: THE CAROLL SPINNEY STORY for Hammer to Nail. Later this week, prior to it's premiere on HBO, Brett Morgen's sublime portrait of Nirvana's troubled frontman KURT COBAIN: MONTAGE OF HECK will see a limited theatrical release. Brooks Barnes pieced together a superb write-up of the film for the New York Times.
Lastly, the BFI and Sight & Sound respectively produced a pair of brilliant pieces – the first, by Toby Haggith, directly titled 'The importance of German Concentration Camps Factual Survey' – and the second, by Thirza Wakefield, asks us to reconsider the value soft-focused but underutilized public-domain Pacific War footage.
As always, until next week, if you have any tips or recommendations for the Memo, please contact me via email here, or on Twitter, @Rectangular_Eye. I look forward to hearing from you!