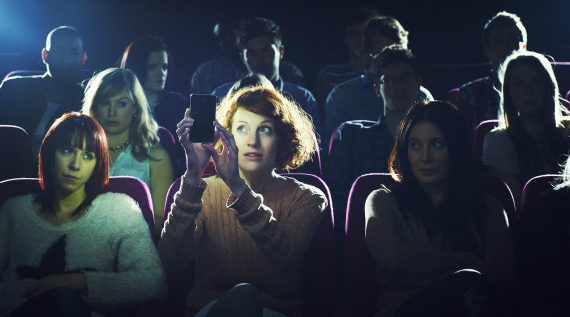 The first full week of 2017 has already flashed before our eyes, but not a whole lot happened in terms of documentary news. Most excitingly, Sundance approaches and giddy critics are chomping at the bit to see what will be the most remarkable finds this year in Park City. While the festival's Documentary Programming Associate Basil Tsiokos continues to roll out his previews of each film over at What (not) To Doc, while at Doc Soup, Tom Roston has composed a list of docs to watch out, not just at Sundance, but also Slamdance and in theaters later in the year. In other festival news, the Rotterdam International Film Festival revealed their lineup, which included the lengthily titled duo Rong Guang Rong's CHILDREN ARE NOT AFRAID OF DEATH, CHILDREN ARE AFRAID OF GHOSTS and Jung Yoonsuk's BAMSEOM PIRATES SEOUL INFERNO. Doc filmmakers should also take note that today is Hot Docs' Late Deadline for submissions – you can do so here.
In a rare role reversal, our own Thom Powers was at the receiving end of questioning by Daniel Clarkson Fisher for Nonfics about "what he looks for, what trends he's seeing, and how he continues to champion a greater appreciation for nonfiction cinema". A highlight — "Fisher: The New York Times has used the phrase "kingmaker" to describe your place in the world of documentary — Powers: Mind you, this is the same newspaper that told you Iraq had weapons of mass destruction".
Looking back at 2016, Slate's Dana Stevens came out with a piece claiming that "the best documentaries of the year tested the boundaries of the term documentary," stretching the boundaries of classification to note Beyoncé's "visual album" LEMONADE and Julie Dash's long-neglected DAUGHTERS OF THE DUST. Filmmaker Lucy Walker supplanted the usual year end list at The Guardian by celebrating instead a range of anger inducing docs poised to inspire activism in their viewers, such as Ava DuVernay's 13TH and Agnès Varda's classic THE GLEANERS & I. And at Variety, Scott Tobias outlined why the Oscars have never and probably ever will nominate a documentary filmmaker for Best Director, despite their eligibility.
Thanks to serial Apple leaker Sonny Dickson, news spread like wildfire that the upcoming Apple iOS update would add something called "theatre mode". For The Guardian, Andrew Pulver writes that analysts "suggest the update will be "iPad-centric" and might "disable system sounds and haptic feedback, block incoming calls and messages and reduce initial screen brightness during a movie". AppleInsider also suggests it could draw on a series of Apple-patented technologies going back to 2012 that allow for the triggering of "customised phone settings automatically based on a phone's GPS position"". As cellphone use inside cinemas continues to be publicly debated, David Jenkins argues against the idea at Little White Lies, concluding that "if you're the type of person who is unable to sit tight for 90 minutes without RTing the latest Trump missive (with added egregious commentary), then perhaps you'd be better off staying in and watching Happy Gilmore on TV while playing a Rammstein record and leafing through the new issue of Gardiner's World".
Theatrically, it was a quiet week, with a handful of great conversations and just a trickle of reviews for previously released films coming in – Joshua Eisen at Nonfics on DO NOT RESIST, The Guardian's Peter Bradshaw on ZERO DAYS, and Neil Genzlinger on COMMAND AND CONTROL in The New York Times. Most interestingly, Eric Kohn published a fascinating conversation between the filmmakers behind two vérité political masterworks, WEINER and THE WAR ROOM, at IndieWire. Michael Nordine also posted THE IVORY GAME director Kief Davidson's response to China's new announcement of an ivory trade ban at the same outlet. Following the debut of five new works by James Benning at the at the Austrian Film Museum in Vienna back in November, Patrick Holzapfel and Ivana Miloš corresponded about "the pleasure as well as the discontent of the encounter with these films".
Understandably, most critical conversation was centered around HBO's early release of BRIGHT LIGHTS: STARRING CARRIE FISHER AND DEBBIE REYNOLDS. The film racked up positive press from Margaret Lyons of The New York Times, Catherine Gee of The Telegraph, Julie Miller in Vanity Fair, Sheila O'Malley via RogerEbert.com, David Ehrlich of IndieWire, and Yvonne Villarreal of The Los Angeles Times. The Guardian also published a feature thanks to Hannah Ellis-Petersen and a review from Jordan Hoffman.
In other small screen news, The Washington Post published Paul Farhi's public inquiry "Why did CNN air a documentary about the band Chicago produced by band members?," while Realscreen's Regan Reid reports that "Canadian pubcaster TVO has unveiled its programming for Canada's 150th anniversary, including the world premieres of Alan Zweig's THE LAY OF THE LAND and TVO-commissioned LATKES, LADOOS and LAUGHS".
Until next week, if you have any tips or recommendations for the Memo, please contact me via email here, or on Twitter, @Rectangular_Eye.