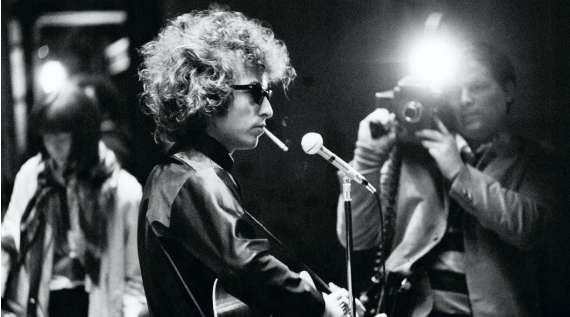 As with most holiday weekends, Monday has come too soon, but hopefully you've stuffed yourself silly, enjoyed the company of family and friends and maybe even watched a doc or two (possibly the final film of our fall season, DANNY SAYS?)! Over at the POV Blog, Tom Roston gave thanks for a variety of doc film related goodness, while I gave thanks to The Criterion Collection for releasing D.A. Pennebaker's doc classic DON'T LOOK BACK by hitting up their bi-annual half sale at Barnes & Noble which wraps up today. Celebrating the release, Criterion posted a series of outtakes from the film, an interview with Patti Smith about the film's influence on her life, and an in depth essay on the film by Robert Polito. How could one not be thankful for that?
DOC NYC concluded this year's edition over a week ago now and coverage of the festival's riches continue to hit the net, including Daniel Walber's top five festival favorites found at Nonfics and a pair of indieWIRE articles from Aubrey Page and Ryan Anielski covering DOC NYC PRO's Pitch Day and Show Me The Money sessions, respectively. Similarly, on behalf of the New York Film Festival, Alex Hunter posted a video this week of a live conversation with Laura Poitras, AJ Schnack and Charlotte Cook about their ongoing journalistic doc short development and distro project, Field of Vision. And following the conclusion of this year's edition of CPH:DOX, the festival announced that the 2017 edition of the fest would be permanently shifting to March.
Having concluded yesterday, IDFA announced its award winners, honoring Jerzy Sladkowski's DON JUAN with the VPRO IDFA Award for best feature-length documentary and Roman Bondarchuk's UKRAINIAN SHERIFFS with the Special Jury Award, reports Barry Walsh for Realscreen and Damon Wise for Variety. Also at Variety, Damon Wise has published a piece on how IDFA's DOK Incubator helps doc filmmakers raise their game. Meanwhile, Realscreen's Manori Ravindran covered the project pitches at the IDFA Forum in painstaking detail in a pair of posts, with another forthcoming.
The momentum of awards season is increasing, as The Producers Guild of America named its five doc nominees for the 27th Annual Producers Guild Awards. Anne Thompson broke the news via indieWIRE, as did Dave McNary at Variety, Gregg Kilday at The Hollywood Reporter, Erik Pedersen for Deadline and Daniele Alcinii of Realscreen. The Independent Spirit Awards also announced their doc nominees, as reported by Flavorwire's Moze Halperin, Realscreen's Barry Walsh and Christopher Campbell at Nonfics. Between the two sets of nominees, THE LOOK OF SILENCE and MERU are the only repeats. While THE HUNTING GROUND received a nomination for the PGAs, it also had its primetime premiere on CNN last week, the film nabbed "the highest average [rating] for cable news networks during the nearly two-hour period" according to Richard Sandomir in The New York Times.
And while there was a variety of theatrical coverage that cropped up online this past week, the most widely regarded doc this week came exclusively on the small screen via Showtime's premiere of Gedeon and Jules Naudet's THE SPYMASTERS: CIA IN THE CROSSHAIRS. The film received a swath of substantial features from the likes of David Bauder in The Washington Post, Brian Moylan for The Guardian, and Mark Mazzetti of The New York Times. Adding to the conversation, Salon's Andrew O'Hehir, The Los Angeles Times' Meredith Blake, Variety's Brian Lowry and Wall Street Journal's John Anderson each published insightful reviews of the film.
In regards to theatrical releases, Wired published a lavish piece on Louis Psihoyos' RACING EXTINCTION thanks to Andy Isaacson, Ben Kenigsberg of The New York Times reviewed HITCHCOCK/TRUFFAUT, and Christopher Llewellyn Reed praised BARGE, which recently screened at DOC NYC, over at Hammer To Nail. The New York Times also published Stephen Holden's review of the exquisite IRAQI ODYSSEY and Jeannette Catsoulis' thoughts on STINK!, while The Los Angeles Times posted Robert Abele's review of CENSORED VOICES and RogerEbert.com posted Nick Allen's piece on the taser doc, KILLING THEM SAFELY, formally known as TOM SWIFT AND HIS ELECTRIC RIFLE. Additionally, Deadline published a wonderful little interview by Joe Utichi with SHERPA director Jennifer Peedom.
I don't think I've mentioned any books in previous Monday Memos, but I thought it worth a mention to highlight the release of Kelley Conway's new study of Agnès Varda's life and work, newly published as part of The University of Illinois Press' Contemporary Film Directors series. Film theorist David Bordwell also took the time to piece together some loving thoughts on the book at his blog.
For filmmakers looking for doc development help or upcoming festival submission dates, the European Documentary Network has updated their schedule pages for potential pitch opportunities and festival inclusion. Among the festivals listed is Hot Docs, which just recently opened up their submissions for 2016.
Those looking for new docs to catch online, The New York Times has posted Jonah M. Kessel's A TIBETAN'S JOURNEY FOR JUSTICE for online viewing, while Huck Magazine has published Zach Sabastian's PRISON DA VINCI NO. 1: PAINTING WITH SKITTLES, as well as linked to a variety of online shorts about "the new, free Cuba."
I'll leave you this week with a trio of pieces from the BFI, beginning with a brief video posted by David Robinson showing Sight & Sound being laid out by hand back in the '50s. Speaking of the '50s, Lisa Kerrigan, Steve Bryant, Katy McGahan and Simon McCallum put together a list of "10 Great But Forgotten TV Documentaries of the 1950s and 60s" for the outlet. And breaking the first Best Of The Year list, Sight & Sound published their Top 20 of 2015, noting Chantel Akerman's NO HOME MOVIE, Joshua Oppenheimer's THE LOOK OF SILENCE, Asif Kapadia's AMY and Miguel Gomes' hybrid epic, ARABIAN NIGHTS among the ranks. Until next week, if you have any tips or recommendations for the Memo, please contact me via email here, or on Twitter, @Rectangular_Eye. I look forward to hearing from you!