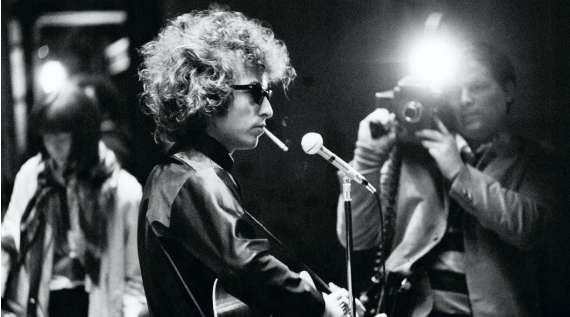 As with most holiday weekends, Monday has come too soon, but hopefully you've stuffed yourself silly, enjoyed the company of family and friends and maybe even watched a doc or two (possibly the final film of our fall season, DANNY SAYS?)! Over at the POV Blog, Tom Roston gave thanks for a variety of doc film related goodness, while I gave thanks to The Criterion Collection for releasing D.A. Pennebaker's doc classic DON'T LOOK BACK by hitting up their bi-annual half sale at Barnes & Noble which wraps up today. Celebrating the release, Criterion posted a series of outtakes from the film, an interview with Patti Smith about the film's influence on her life, and an in depth essay on the film by Robert Polito. How could one not be thankful for that?
DOC NYC concluded this year's edition over a week ago now and coverage of the festival's riches continue to hit the net, including Daniel Walber's top five festival favorites found at Nonfics and a pair of indieWIRE articles from Aubrey Page and Ryan Anielski covering DOC NYC PRO's Pitch Day and Show Me The Money sessions, respectively. Similarly, on behalf of the New York Film Festival, Alex Hunter posted a video this week of a live conversation with Laura Poitras, AJ Schnack and Charlotte Cook about their ongoing journalistic doc short development and distro project, Field of Vision. And following the conclusion of this year's edition of CPH:DOX, the festival announced that the 2017 edition of the fest would be permanently shifting to March.
Having concluded yesterday, IDFA announced its award winners, honoring Jerzy Sladkowski's DON JUAN with the VPRO IDFA Award for best feature-length documentary and Roman Bondarchuk's UKRAINIAN SHERIFFS with the Special Jury Award, reports Barry Walsh for Realscreen and Damon Wise for Variety. Also at Variety, Damon Wise has published a piece on how IDFA's DOK Incubator helps doc filmmakers raise their game. Meanwhile, Realscreen's Manori Ravindran covered the project pitches at the IDFA Forum in painstaking detail in a pair of posts, with another forthcoming.
---