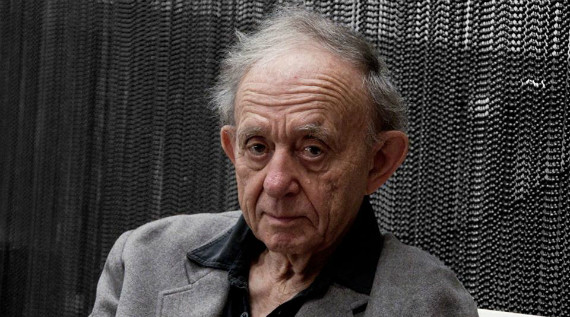 With forty films, a Golden Lion, three Primetime Emmys, and a Peabody award credited to his name, Frederick Wiseman has been selected as one of four individuals to receive honorary Oscars at this year's Academy of Motion Picture Arts and Sciences Governors Awards gala. Barry Walsh of Realscreen reported that "the Honorary Award is given 'to honor extraordinary distinction in lifetime achievement, exceptional contributions to the state of motion picture arts and sciences, or for outstanding service to the Academy.'"
On the eve of the 2016 Telluride Film Festival, its hyper secretive program was revealed and IndieWire's Eric Kohn combed through the A-list offerings, making special note of the latest from Errol Morris and Werner Herzog, as well as the Leonardo DiCaprio backed THE IVORY GAME and Doug Nichol's essayistic doc, CALIFORNIA TYPEWRITER. Glowing reviews of Herzog's INTO THE VOLCANO and Richard Ladkani and Kief Davidson's THE IVORY GAME from IndieWire's David Ehrlich, Eric Kohn, and The Wrap's Robert Abele, respectively. Shortly after the lineup announcement, Basil Tsiokos gave a rundown of the festival's non-fiction offerings over at What (not) To Doc.
Tsiokos also outlined the Venice Film Festival's doc lineup, highlighting the world premiere of Terrence Malick's first doc outing VOYAGE OF TIME: LIFE'S JOURNEY and Jon Nguyen, Olivia Neergaard-Holm, and Rick Barnes' DAVID LYNCH: THE ART LIFE, among many notable others. Having screened over the festival's first weekend, Obaidah Zytoon and Andreas Dalsgaard's THE WAR SHOW has already been dubbed "a deeply affecting documentary of the Syrian conflict" by Jay Weissberg of Variety, while Peter Bradshaw of The Guardian highly recommends Ulrich Seidl's "brutal, illuminating" SAFARI with a four star review, and Vanessa Friedman and Nicolas Rapold wrote commending pieces on Francesco Carrozzini's FRANCA: CHAOS AND CREATION and Sergei Loznitsa's AUSTERLITZ for The New York Times.
---