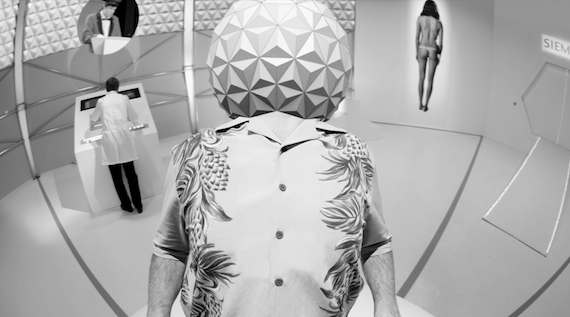 Stranger Than Fiction – named by Time Out NY as the city's "Best Documentary Programming" – launches its ninth year with a special sneak preview on Wed. Sept.18 of MUSCLE SHOALS, about the renowned Alabama recording studios, featuring a Q&A with director Greg "Freddy" Camalier and FAME recording studio founder Rick Hall. STF fall season has its official opening night on Tuesday, September 24, 2013 with LINSANITY, about basketball sensation Jeremy Lin, featuring a Q&A with director Evan Jackson Leong. STF takes place at the IFC Center Tuesday nights at 8:00 pm for eight weeks. Each event includes a discussion with the filmmakers, followed by a gathering at a nearby bar. The fall season closes on November 12 with a rare screening of SHOTGUN FREEWAY: DRIVES THROUGH LOST L.A., a film essay about Los Angeles that was the 1996 directorial debut of Morgan Neville (20 FEET FROM STARDOM), who will attend.
Season passes are now on sale through Sept. 18 at the early bird rate of $80 for 9 films ($70 for IFC Center members). Season pass holders are assured a seat, even in the case of a sold out show, as long as they arrive 15 minute before showtime; plus a free DVD courtesy of Docurama; free popcorn at every STF show; and the ability to transfer your pass to a friend if you can't make it. The full season schedule appears below.
"This season has a strong blend of sneak previews, classic revivals, plus ESCAPE FROM TOMORROW (pictured) that fulfills the label of 'stranger' even if it is fiction," said Artistic Director Thom Powers, who also programs for the Toronto International Film Festival, DOC NYC and SundanceNOW.com. New works being previewed before their wider release include BIG MEN (Oct 1) about oil drilling in Africa; THE NEW PUBLIC (Oct. 22) about an experimental Brooklyn school; and CALVET (Nov. 5) about an artist whose work is currently showing at Manhattan's Monkdogz gallery. Classic docs in the program include the Oscar-nominated CAPTURING THE FRIEDMANS (Oct. 15), about a controversial criminal case, with dir Andrew Jarecki in person to discuss new developments in the story; and the Oscar-winning BORN INTO BROTHELS (Oct. 29) about kids in Calcutta's red-light district learning photography. One outlier in the season is a sneak preview of ESCAPE FROM TOMORROW (Oct. 8) that employs documentary observational techniques to tell a surreal fictional satire, shot surreptitiously inside of Disney World.
Stranger Than Fiction: Fall 2013 Lineup (8pm, IFC Center)
Sept. 18: Pre-season special: MUSCLE SHOALS (2013, Q&A w/ dir Greg "Freddy" Camalier & FAME recording studio founder Rick Hall)
Sept 24: Opening Night – LINSANITY (2013,Q&A w/ dir Evan Jackson Leong & prod Brian Yang)
Oct. 1: BIG MEN (2013, Q&A w/ dir Rachel Boynton)
Oct. 8: ESCAPE FROM TOMORROW (Q&A w/ dir Randy Moore & actor Roy Abramson)
Oct 15: CAPTURING THE FRIEDMANS (2003, Q&A w/ dir Andrew Jarecki)
Oct 22: THE NEW PUBLIC (2012, Q&A w/ dir Jyllian Gunther)
Oct 29: BORN INTO BROTHELS (2004, Q&A w/ dir Ross Kauffman)
Nov 5: CALVET (2011, Q&A w/ subject and painter Jean-Marc Calvet)
Nov 12: SHOTGUN FREEWAY: DRIVES THROUGH LOST L.A. (1996, Q&A w/ dir Morgan Neville)
Tickets for Stranger Than Fiction screenings are $16 for the general public and $13 for IFC Center members. A Season Pass, good for admission to all 8 evenings per season (plus 1 special), is available at an Early Bird rate of $80 ($70 for IFC members) through Sept. 18.  Regular price is $99 ($80 for IFC members).
Related Film