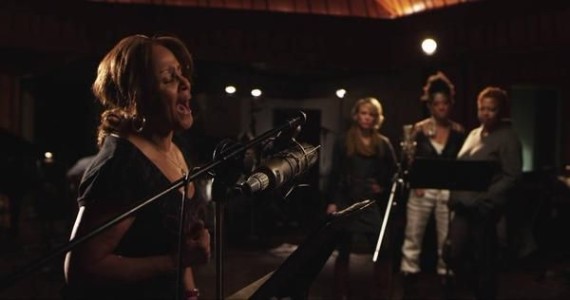 The Academy of Motion Picture Arts and Sciences (AMPAS) this week announced the 15 docs named to this year's Oscar shortlist. Adam Benzine of Realscreen covered the news, as did Peter Knegt of Indiewire and Tim Gray of Variety. Basil Tsiokos took a look at the shortlisted films and linked to previous coverage of them at his What (Not) to Blog, while Larry Rohter of the New York Times noted a focus on politics and music. Inkoo Kang of the Women in Hollywood blog at Indiewire took note of five women directors whose films made the shortlist. In his Docutopia post at the SundanceNOW blog, Anthony Kaufman examined the effect that recent rule changes had on the doc Oscar process. And Lily Rothman of Time explained how viewers could watch every film on the doc shortlist.
The other big news came this week when the Sundance Film Festival announced the films in its 2014 lineup. Again, Adam Benzine had coverage at Realscreen, as did Daniel Fienberg of Hitfix. Indiewire had a rundown of the films in the World Cinema doc competition, and in the U.S. doc competition. Christopher Campbell had a nice rundown of the Sundance films, along with some trailers for films. And Kevin Ritchie of Realscreen had coverage of the docs screening at this year's Slamdance.
The International Documentary Association (IDA) also had its awards ceremony this week, with Anne Thompson and Ryan Lattanzio of the Thompson on Hollywood blog at Indiewire providing coverage. Scott Feinberg of The Hollywood Reporter also wrote up the awards.
In other awards news, Kevin Ritchie of Realscreen reported that Joshua Oppenheimer's THE ACT OF KILLING won the Gotham Award for best documentary. Christopher Campbell of Nonfics.com also had coverage of the Gotham Awards.
Coverage of the International Documentary Film Festival Amsterdam (IDFA) continued to trickle out this week. At About.com, Jennifer Merin interviewed IDFA director Ally Derks. Realscreen's Adam Benzine issued part one of a three part report on the IDFA forum. Carely Lundin of Reel Chicago reported on Kartemquin Film's impact at IDFA. Jess Linington of i-Docs reported on interactive docs at IDFA. LJ Kessels of the Independent Magazine also reported on IDFA's Interactive Reality Conference.
Over at the Washington Post, Steve Dollar covered Frederick Wiseman's AT BERKELEY, as did Javier Panzar of the Daily Californian.
The Garrett Scott development grant announced that its window for applications would run from December 16 to January 31. The grant funds travel and accommodations for first time filmmakers at the Full Frame Festival in Durham, North Carolina. For more information on the grant please go here.
The film NARCO CULTURA earned some write-ups this week, with one coming from Ben Sachs of the Chicago Reader and another one coming from Kenneth Turan at the Los Angeles Times.
At Sight and Sound Magazine, Carrie McAlinden wrote an essay linking Walter Benjamin to THE ACT OF KILLING.
In distro news, Kelly Anderson of Realscreen reported that UK outfit Dogwoof grabbed worldwide rights to the film WEB JUNKIE from directors Shosh Shlam and Hilla Medalia
Over at Nonfics.com, Christopher Campbell rounded up this week's home picks and listed the docs hitting theaters in another post. He also reported on last week's box office performers, with the Kathleen Hanna doc THE PUNK SINGER performing particularly well.
Back at Indiewire, Eric Kohn took a look at LENNY COOKE, a profile of a former high school basketball star from directors Josh and Benny Safdie.
Indiewire colleague Katharine Relth covered a talk delivered by Errol Morris to an IDA Documentary Screening Series event on his film THE UNKNOWN KNOWN.
In a guest post at Ted Hope's blog, Stephen Eyer listed 10 lessons learned about sustainable filmmaking while working on the film SEVENTH-GAY ADVENTISTS.
At the 11 Poloroids blog, Luke Moody considered LEVIATHAN and the slate of new nature documentaries coming out.
Heather McIntosh of the Documentary Site had a roundup of documentary links for the week.
This week Robert Greene added STREETWISE from filmmakers Martin Bell into his canon of cinematic nonfiction in a post at Nonfics.com.
Kelly Anderson of Realscreen wrote up the docs nominated for Satellite Awards.
At Rolling Stone, Katie Van Syckle wrote up the Jared Leto doc ARTIFACT.
Writing for Canada's Globe and Mail, Zosia Bielski covered Therese Schecter's film HOW TO LOSE YOUR VIRGINITY.
That's it for this week. Please send tips and recommendations for the Memo via email here, or by Twitter to @GuerrillaFace. Thanks and have a great week!