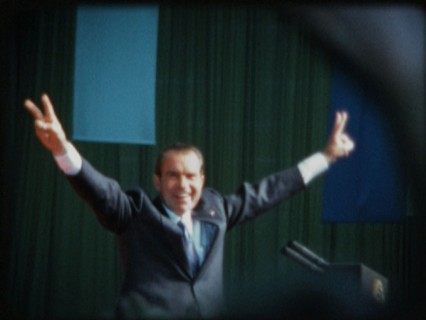 The Penny Lane-helmed film OUR NIXON hit theaters this week. At Film.com David Ehrlich interviewed Lane, while Reva Goldberg added producer Brian Frye to the mix for her interview at Cinereach's website. Brandon Harris spoke to Lane for Filmmaker Magazine, while Anya Jaremko-Greenwold queried Lane for BOMB Magazine's blog. Christopher Campbell profiled Lane and Frye at RogerEbert.com, while Anthony Kaufman considered the task of documenting presidents in his weekly Docutopia post at the SundanceNOW site. And Nathan Rabin penned a review of the film at The Dissolve.
It was a good week for distro deals. Kevin Ritchie of Realscreen reported that Variance had acquired North American theatrical rights for Roger Ross Williams' GOD LOVES UGANDA, while Alison Willmore of Indiewire reported that Showtime had snagged the rights for Ron Howard's Jay-Z concert doc MADE IN AMERICA. Adam Benzine of Realscreen had the news that Entertainment One Films International had picked up worldwide rights for Jennifer Baichwal and Edward Burtynsky's WATERMARK. Rebecca Ford of The Hollywood Reporter wrote up Zeitgeist Film's U.S. rights acquisition of THE GALAPAGOS AFFAIR: SATAN COME TO EDEN. Back at Realscreen Kevin Ritchie reported news of MASTER OF THE UNIVERSE's acquisition by Autlook, while colleague Adam Benzine wrote about Cinephil's pickup of UKRAINE IS NOT A BROTHEL from Kitty Green.
Stranger Than Fiction this week announced the details of its new fall season, which will kick off Sept. 18 with a preview screening of MUSCLE SHOALS featuring a Q&A with director Greg "Freddy" Camalier and FAME recording studio founder Rick Hall. Tickets for Stranger Than Fiction screenings are $16 for the general public and $13 for IFC Center members. A Season Pass, good for admission to all 8 evenings per season (plus 1 special), is available at an Early Bird rate of $80 ($70 for IFC members) through Sept. 18. Regular price is $99 ($80 for IFC members).
Adam Benzine of Realscreen wrote of ESPN's decision to pull out of a doc investigating concussions in the NFL that it had been coproducing with the PBS show Frontline. Kelly McBride wrote a piece on what ESPN's pullout meant for investigative journalism.
At the What (Not) to Doc blog, Basil Tsiokos provided an overview of the Telluride Film Festival, which concludes today. Adam Benzine also profiled the festival at Realscreen, while John Horn wrote up the festival's screening of TIM'S VERMEER directed by the magician Teller. Nick Dawson of Filmmaker Magazine provided a first look at Errol Morris's latest film, THE UNKNOWN KNOWN.
Writing for The International Documentary Association's Documentary Magazine, Kathy A. McDonald interviewed outgoing Sundance Institute Documentary Film Program and Fund director Cara Mertes about her tenure. McDonald also had a recap of the Sundance Institute's creative producing lab, which was held in July.
A writer identified as F.S. wrote a piece for The Economist on the rise of the entertaining documentary film, referencing THE ACT OF KILLING, STORIES WE TELL and BLACKFISH to make his or her case.
The Camden International Film Festival announced its lineup this week, which included THE ACT OF KILLING, CAUCUS, and THESE BIRDS WALK, among others.
STF's Thom Powers was profiled by Nicolas Rapold this week for a piece in The New York Times.
Gordon Cox of Variety wrote up the documentary sidebar at this year's New York Film Festival, while Kelly Anderson also provided coverage at Realscreen.
Vice Media and Drafthouse Films made news this week with their plan to bring THE ACT OF KILLING to Indonesia, where it will be made available for free download; Jen Yamato of Deadline had the details.
Basil Tsiokos also provided an overview of the Venice International Film Festival at the What (Not) to Doc blog. At The New York Times, Nicolas Rapold profiled Frederick Wiseman's new film AT BERKELEY, which screened at Venice.
Writing for Mashable, Seth Fiegerman had a piece on The New York Times' efforts to develop interactive docs for tablets.
Canada's POV Magazine took the effort to republish Peter Wintonick's personal manifesto, which first appeared in the magazine's spring 2007 issue. It's worth taking a look at.
A few weeks ago Emma Norton published a guide to using social media to promote your film in a post at The Knowledge.
Neil Genzlinger recapped the PBS doc THE MARCH from director John Akomfrah in a piece for The New York Times
At Filmmaker Magazine, Lauren Wissot examined the unorthodox distro strategy employed by director Jonathan Goodman Levitt for his film FOLLOW THE LEADER.
Back at POV Magazine, Thomas White wrote a piece on the need for filmmakers and festivals in the U.S. to adopt a DIY approach in order to keep docs alive.
Writing for Galo Magazine, Greg Iacurci interviewed CUTIE AND THE BOXER director Zachary Heinzerling.
Filmmaker Magazine's Scott Macaulay wrote a reminder that Canadian filmmaker John Greyson remained incarcerated in Cairo, along with Dr. Tarek Loubani.
Marc Glassman published the first (of several?) reports on the Toronto International Film Festival in a post for POV Magazine.
At the POV blog, Fernanda Rossi shared some details on her work on LOST AND SOUND from director Lindsey Dryden.
Orly Ravid of The Film Collaborative interviewed Richard Propper about the state of international broadcast sales for docs.
Finally, in a piece for No Film School, Joe Marine took a look at the new Black Betty digital camera.
That's it for this week. Please send tips and recommendations for the Memo via e-mail here, or via Twitter to @GuerrillaFace. Have a good week everyone!