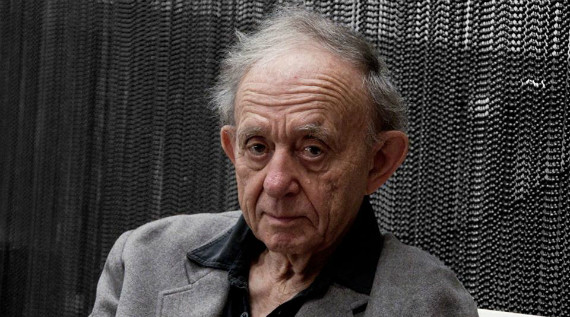 With forty films, a Golden Lion, three Primetime Emmys, and a Peabody award credited to his name, Frederick Wiseman has been selected as one of four individuals to receive honorary Oscars at this year's Academy of Motion Picture Arts and Sciences Governors Awards gala. Barry Walsh of Realscreen reported that "the Honorary Award is given 'to honor extraordinary distinction in lifetime achievement, exceptional contributions to the state of motion picture arts and sciences, or for outstanding service to the Academy.'"
On the eve of the 2016 Telluride Film Festival, its hyper secretive program was revealed and IndieWire's Eric Kohn combed through the A-list offerings, making special note of the latest from Errol Morris and Werner Herzog, as well as the Leonardo DiCaprio backed THE IVORY GAME and Doug Nichol's essayistic doc, CALIFORNIA TYPEWRITER. Glowing reviews of Herzog's INTO THE VOLCANO and Richard Ladkani and Kief Davidson's THE IVORY GAME from IndieWire's David Ehrlich, Eric Kohn, and The Wrap's Robert Abele, respectively. Shortly after the lineup announcement, Basil Tsiokos gave a rundown of the festival's non-fiction offerings over at What (not) To Doc.
Tsiokos also outlined the Venice Film Festival's doc lineup, highlighting the world premiere of Terrence Malick's first doc outing VOYAGE OF TIME: LIFE'S JOURNEY and Jon Nguyen, Olivia Neergaard-Holm, and Rick Barnes' DAVID LYNCH: THE ART LIFE, among many notable others. Having screened over the festival's first weekend, Obaidah Zytoon and Andreas Dalsgaard's THE WAR SHOW has already been dubbed "a deeply affecting documentary of the Syrian conflict" by Jay Weissberg of Variety, while Peter Bradshaw of The Guardian highly recommends Ulrich Seidl's "brutal, illuminating" SAFARI with a four star review, and Vanessa Friedman and Nicolas Rapold wrote commending pieces on Francesco Carrozzini's FRANCA: CHAOS AND CREATION and Sergei Loznitsa's AUSTERLITZ for The New York Times.
Looking forward to the Toronto International Film Festival, which kicks off later this week, Matt Fagerholm spoke with Steve James about his new TIFF-bound feature ABACUS: SMALL ENOUGH TO JAIL, over at RogerEbert.com. Writing for Vanity Fair, Judy Bachrach previewed Rod Blackhurst and Brian McGinn's AMANDA KNOX, raving that it "is more illuminating than a decade's worth of trial coverage." Hugh Gibson, director of the TIFF Docs selection THE STAIRS, turned up at TIFF's The Review blog divulging the massive influence left on him by the Iranian master Abbas Kiarostami. Eric Kohn also highlighted the fact that TIFF will be hosting a special selection of 98 brief Lumiere Brothers films with a live commentary by Cannes director Thierry Fremaux as part of their TIFF Cinematheque program.
This past week also saw the announcement of the International Documentary Association's 2016 Screening Series schedule, which begins September 7th with THE EAGLE HUNTRESS at The Landmark in Los Angeles, reports Michael Nordine for IndieWire. At POV Magazine, Pat Mullen noted that the Vancouver International Film Festival has added a handful of extra docs to their lineup, including BANG! THE BERT BERNS STORY, GIMME DANGER and DON'T BLINK: ROBERT FRANK.
Theatrically, it was another quiet week with first time filmmaker Brian Oakes' JIM: THE JAMES FOLEY STORY coming out in the UK stirring up the loudest critical reaction, with warm reviews appearing from Wendy Ide in The Guardian, Catherine Karellis at Little White Lies, and Matthew Anderson at Cine-Vue. Andrew Dominik's Nick Cave doc ONE MORE TIME WITH FEELING soon hits theaters, prompting an interview between the filmmaker and IndieWire's Anne Thompson. In a brief but loving review in The New York Times, Helen T. Verongos named Kamala Lopez's EQUAL MEANS EQUAL a NYT Critics' Pick. And at Huffington Post, Larry Harris Jr. wrote at length about  Devin Leisher, Erik Motta and Mehdi Ahmadi's San Francisco-debuted WEAVING SHIBUSA.
Oddly, there was far more coverage of small screen releases this past week. With MUBI now streaming Diego Echeverria's little seen LOS SURES from 1984, Poppy Doran published a lauding review of the film at Little White Lies and Echeverria himself reflected on his experience with the film at MUBI's Notebook. Ron Howard's THE BEATLES: EIGHT DAYS A WEEK is soon to hit HULU and select theaters, prompting a lengthy profile of the film by Randy Lewis in The Los Angeles Times. The Guardian published a trio of pieces on small screen docs, including Stuart Heritage's take on LAST CHANCE U, Hannah Ellis-Petersen's rumination on GANGLAND: TURF WARS, and Morwenna Ferrier's piece on ABSOLUTELY FASHION: INSIDE BRITISH VOGUE.
I'll leave you this most lovely of Labor Days with a quartet of must reads: Renee Tajima-Peña's "#DocsSoWhite: A Personal Reflection" at IDA, Deanna Janes' excellent examination of the current state of the streaming war at Co.Create, Brian Raftery's divisive doomsday piece at Wired that asks, "Cound This Be The Year Movies Stopped Mattering?," and Richard Brody's incisive response at The New Yorker, "Why Movies Still Matter." I'll be taking next week away from the memo, as I'll be neck deep in docs at TIFF, but if you have any tips or recommendations for the Memo in the meantime, please contact me via email here, or on Twitter, @Rectangular_Eye.