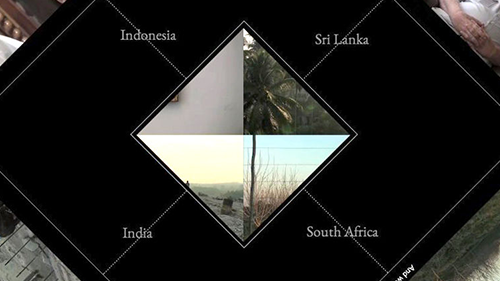 This week, POV released several digital short documentaries online that had participated in its Hackathon program. Jess Linington of i-Docs covered the release of the online docs, as did Sarah Salovaara of Filmmaker Magazine. POV also hosted several interviews with project creators, including one with the directors of EMPIRE, one with Jake Price of FUKUSHIMA: THE ETERNAL SEASON, and one with the directors of THE MOST NORTHERN PLACE.
POV also announced a call for entries for the POV Hackathon 7, set to take place in New York City November 8-9.
Writing for Nonfics.com, Jason Gorber issued a list of the best docs gracing screens at this year's Toronto International Film Festival (TIFF). Canada's POV Magazine also had a roundup of its TIFF coverage, which you can find here, and which included a review by Patrick Mullen of the new Joshua Oppenheimer film THE LOOK OF SILENCE, as well as a review by Adam Nayman of MONSOON. And Realscreens' Adam Benzine covered the doc awards winners at the festival.
The Stranger Than Fiction fall season kicks off tomorrow with with a screening of TOWN BLOODY HALL from filmmakers Chris Hegedus and D.A. Pennebaker on Tuesday, September 23 at 8 p.m. at the IFC Center in Manhattan. The film captures a 1971 discussion between Norman Mailer and a panel of feminists on the topic of Women's Liberation. Following the screening, Hegedus and Pennebaker will be in attendance for a Q&A. For more information or to purchase tickets please go here. This season STF is dedicating itself to a retrospective of films from Hegedus and Pennebaker; you can find the full season lineup here.
Writing for Realscreen, Kevin Ritchie reported that the film DO I SOUND GAY? from director David Thorpe was set to open this year's DOC NYC festival.
No Film School's Oakley Anderson-Moore had the news that Docurama had launched a new app that allows users to stream docs for free.
At the International Documentary Association (IDA) website, Lauren Carroll Harris wrote about the new Nick Cave doc 20,000 DAYS ON EARTH.
In a blog post, POV staff highlighted some Hispanic films in its catalog to mark Hispanic Heritage Month. Also at POV, Tom Roston wrote on the next move for director Ken Burns following the conclusion of the airing of his latest PBS series THE ROOSEVELTS.
Indiewire asked a handful of directors for a response to Michael Moore's TIFF keynote"manifesto" on the rules of documentary filmmaking; you can find the responses here. Also, director Joe Berlinger penned a substantial and thoughtful response that was published by Indiewire. And filmmaker Zachary Wigon shared his own response in a post for the Tribeca Film Institute's website.
At Realscreen, Adam Benzine reported that the new Laura Poitras doc on NSA whistleblower Edward Snowden, CITIZENFOUR, was set to premiere at this year's New York Film Festival (NYFF). Realscreen colleague Manori Ravindran covered the nominees for the Grierson Trust's 2014 British Documentary Awards.
Realscreen's Kevin Ritchie covered the news that THE ACT OF KILLING director Joshua Oppenheimer had received a MacArthur Foundation "genius" grant for his film work.
At his What (Not) to Doc blog, Basil Tsiokos shared an overview of the docs screening at this year's Urbanworld Film Festival.
Ben Lopez of the National Association of Latino Independent Producers (NALIP) wrote a post on the organization's upcoming Doing Your Doc conference in NYC, designed for producers of color and/or LGTBQ producers.
In distro news, Paula Bernstein of Indiewire reported that Kartemquin Films release HOMESTRETCH from directors Anne de Mare and Kirsten Kelly would receive a multiplatform release following its theatrical run held earlier this month.
Back at Indiewire, Zainab Akande reported on an Independent Film Week panel on measuring the impact of a documentary.
Writing for Nonfics.com, Christopher Campbell covered filmmaker Alex Barrett's dedication to the city symphony doc genre. Also at Nonfics.com, Campbell had a list of his top home picks for the week.
Adam Schartoff's latest Filmwax Radio podcast includes an interview with Laura Nix, Andy Bichlbaum, Mike Bonanno, the filmmakers behind THE YES MEN ARE REVOLTING.
At the ITVS Beyond the Box blog, Laurel Spellman Smith and Francine Strickwerda penned a guest post about their film OIL & WATER.
Writing for The Hollywood Reporter, Tim Appelo had the news that a new short documentary series about the economy titled WE THE ECONOMY would feature work from directors like Morgan Spurlock, Marshall Curry, Shola Lynch and Steve James.
Back at No Film School, Robert Hardy had a piece on the difference in the quality of files exported from Adobe Premiere and Final Cut Pro X.
Kevin Ritchie had a piece on the Hot Docs audience research report for Streamdaily.tv.
At Nonfics.com, Daniel Walber reviewed STOP THE POUNDING HEART from director Roberto Minervini.
Eric Hynes wrote a piece for the New York Times on some films with new approaches to the rock documentary subgenre.
Finally, Ken Burns was interviewed at National Geographic by Jeremy Berlin on his PBS doc series THE ROOSEVELTS.
Please send any tips or recommendations for the Memo by e-mail here, or via Twitter to @GuerrillaFace. Thanks, and have a great week.