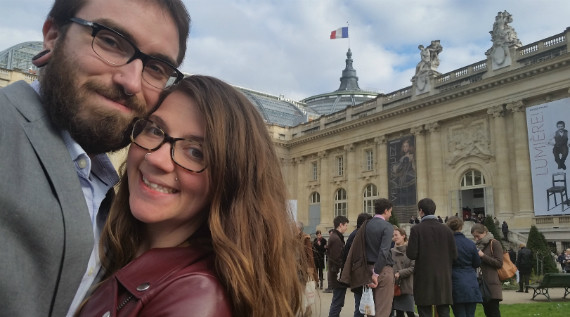 I hate to brag, but the last few weeks have been quite lovely, with getting married to my partner in life, Valerie Rettberg-Smith, and our subsequent honeymoon to Paris and Amsterdam and all. That said, I have returned, not quite rested, but full of hope, love, fresh perspectives and just now getting back into the swing of things. While I was away, Rachel Donadio of The New York Times wrote a piece on the Grand Palais's Lumière! Inventing Cinema exhibition which opened March 27th, just in time for me to investigate. The exhibit, put together in partnership by the Grand Palais and the Institut Lumière, features an incredible history of film technology and the impact the Lumières continue to wield in artifacts and copious amounts of newly restored Lumière productions, some on film and others in various interactive displays. Celebrating over a hundred years since the Lumière brothers brought cinema as we know it into being, the exhibition runs now through June 14th.
Most of the Lumière films were in fact brief documentaries, running no more than a few minutes at most. The format continues to be more than relevant, as the stark cell-phone documentation of Walter Scott's horrifically unjust murder by officer Michael T. Slager proves this past week. Writing for Time, Errol Morris commented on the necessity of documentation in terms of sorting out the truths in such a situation, while Ty Burr of The Boston Globe wrote at length on what he calls, "the cinema of evidence" and its essential pivot point in the battle against abuses of power in America. One would think such blatant injustices would have been curbed after this past year's outrage in the wake of Michael Brown and Eric Garner's murders by overzealous police, but alas, the preposterous bloodshed continues.
On a lighter note, tomorrow marks the start of the Spring '15 season of Stranger Than Fiction with KING GEORGES, Erika Frankel's documentary on the fiery French chef Georges Perrier and his crusade to keep his 40-year-old landmark restaurant, Le Bec-Fin in Philadelphia, relevant. Both director Erika Frankel and film subject Georges Perrier will be on hand for a post screening Q&A. Info on the film and tickets are available here.
---