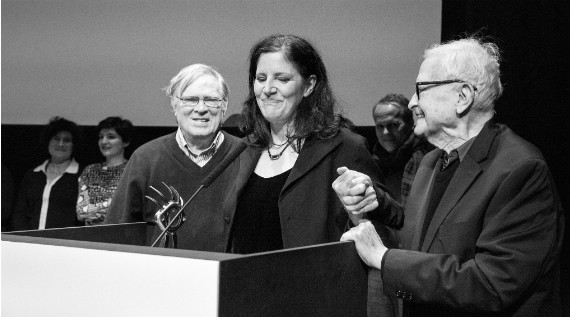 With the heavyhearted departure of Rahul Chadha, whose been handling the Monday Memo here at Stranger Than Fiction for several years now, a large pair of soundly tuned shoes was in need of filling. So, with the blessing of Rahul, Thom and Raphaela, I will be attempting to serve as his dutiful replacement, shepherding this weekly roundup I've personally found quite useful and enlightening for the foreseeable future. Let me introduce myself: My name is Jordan M. Smith – the M. being necessary so I don't get lost amongst the other millions of Smiths floating through cyberspace. You may know me from my film and festival coverage over at IONCINEMA.com where I've served as a staff writer for a few years now, or from my running commentary on life and cinema on Twitter. Most recently, I've been creating content and curating films for the recently launched Influence Film Club. I'm hoping with my experiences tracking the film festival circuit and watching upwards of 400 films a year, I could be of some use here at Stranger Than Fiction. So, without further ado, this week's Monday Memo:
Among the big stories in the documentary world, nothing topped the disbursement of the 8th Annual Cinema Eye Honors, where CITIZENFOUR took home four of the major awards, including Outstanding Achievements in Nonfiction Feature Filmmaking, Direction, Editing and Production. Sarah Salovaara reported on the event for Filmmaker Magazine, as did Steve Pond for The Wrap, Nigel M. Smith at Indiewire, Adam Benzine for Realscreen, and Basil Tsiokos at his What (Not) Not To Doc blog. Before the honors were awarded, the filmmakers were taken on a surprise tour of New York City by none-other-than Timothy "Speed" Levitch, the legendary double-decker tour guide and star of "The Cruise," on which Steve Dollar of the Wall Street Journal bore witness. Meanwhile, over at Indiewire, director Marshall Curry took the time to reflect on not only the tour, of which he happily took part in, but the Cinema Eye Honors themselves.
Next Monday the 19th, at the IFC Center, Stranger than Fiction will be hosting a screening of director Brad Bernstein's FAR OUT ISN'T FAR ENOUGH: THE TOMI UNGERER STORY. Taking advantage of the fact that Tomi Ungerer himself will be in town for a retrospective of his work at the The Drawing Center in SoHo, both Brad Bernstein and Tomi Ungerer will be in attendance for a post screening Q&A. In light of the Charlie Hebdo tragedy, this should prove to be a timely and moving event.
Yanked from the pages of The Hollywood Reporter's January awards special issue, a remarkably high-profile roundtable was published by Gregg Kilday both in condensed print form and as an hour long audio conversation between directors Laura Poitras (CITIZENFOUR), Steve James (LIFE ITSELF), Orlando von Einsiedel (VIRUNGA), Ben Cotner and Ryan White (THE CASE AGAINST 8), RORY KENNEDY (LAST DAYS IN VIETNAM), Alan Hicks (Keep On Keepin' On), and Nick Broomfield (TALES OF THE GRIM SLEEPER).
Anticipating the premiere of Andrew Jarecki and Marc Smerling's six-part HBO documentary series THE JINX: THE LIFE AND DEATHS OF ROBERT DURST, Douglas Durst, a real estate developer and the younger brother of Robert Durst, spoke with Jim Dwyer of the New York Times about his worries that his brother might be "on the verge of opening up a new attack on the family" with his film. The first of the six-part series is set to premiere at the Sundance Film Festival later this month.
For the past month or so, Basil Tsiokos has been hard at work, profiling each and every one of documentaries set for a Park City premiere complete with in-depth background information about the filmmakers involved with each at What (Not) To Doc. Just this last week alone he wrote up pieces on SEMBENE!, THE RUSSIAN WOODPECKER, PERVERT PARK, LISTEN TO ME MARLON, HOW TO CHANGE THE WORLD, DREAMCATCHER, (T)ERROR, WELCOME TO LEITH, WESTERN, THE WOLFPACK, THE AMINA PROFILE, CENSORED VOICES, THE CHINESE MAYOR, CHUCK NORRIS VS COMMUNISM, and last but not least, DARK HORSE.
On January 4th, the Roger Ebert doc LIFE ITSELF premiered on CNN, garnering unusually high ratings for the news network. Writing for the International Business Times, Christopher Zara reported on the ratings trend set by previous showings of BLACKFISH and the documentary mini-series THE SIXTIES.
In the New York Times, art critic Roberta Smith reflected on how art has recently been portrayed in films such as Frederick Wiseman's NATIONAL GALLERY and Teller's TIM'S VERMEER.
A pair of excellent historically fascinating doc-centered posts were published on the BFI's blog this week. The first, written by Patrick Russell and Steve Foxon, profiles the careers of eight British documentary filmmakers that were born in the year 1915, while the second sees Michael Pattison, in light of the UK release of Claude Lanzmann's THE LAST OF THE UNJUST, reflect on 10 grandiose documentaries that remain monumental for more than just their length.
Also at the BFI, nestled within the online portion of Sight & Sound, filmmaker and critic Robert Greene published his comprehensive look back at 2014, zeroing in on "twenty-five new triumphs in the art of interpreting reality". I also listed my top 20 films of 2014, including a great many documentaries, at IONCINEMA.com.
Looking forward to 2015, Lisa Hasko published a comprehensive list of grants, awards, open calls, and opportunities to be had for filmmakers in the first quarter of this year at the IDA website. Also, on January 7th, Creative Capital announced their 2015 awardees in the categories of Moving Image and Visual Arts, including filmmakers such as Lotfy Nathan (12 O'CLOCK BOYS) and Jeff Malmberg (MARWENCOL).
And to end on a bit of bittersweet news, Heather Croall, the director of Sheffield Doc/Fest has decided to step down, citing an opportunity to move closer to home and family in taking a post as CEO and festival director of the Adelaide Fringe Festival. Michael Rosser reported on the news for Screen Daily, as did Adam Benzine for Realscreen. In addition, Benzine also reported that former HBO executive John Hoffman has taken on the position of executive VP of documentaries and specials for the Discovery Channel.
As was Rahul's regular practice, I'm accepting any tips or recommendations for the Memo via email here, or by Twitter, @Rectangular_Eye. I look forward to hearing from you!