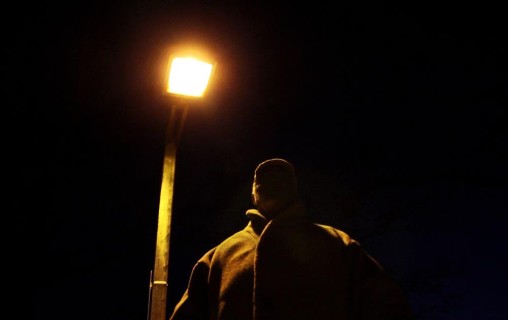 This week the Sundance Institute named this year's fellows for the documentary edit and story labs. Writing for Realscreen, Manori Ravindran covered the news, as did Nigel M. Smith of Indiewire.
The film NORTHERN LIGHT from director Nick Bentgen began a run at the Maysles Cinema this week. On the True/False Fest blog Chris Boeckmann posted an interview conducted with Bentgen about a year ago. Lance Edmands of Hammer to Nail also had an interview with Bentgen, while Jeannette Catsoulis of the New York Times awarded it a Critics' Pick.
Basil Tsiokos turned out a slew of overviews of some upcoming film festivals and events on his blog, What (Not) to Doc. Among the events he looked at were the BAMcinemaFest, the American Black Film Festival, the AFI Docs festival, and the Edinburgh International Film Festival.
This week Stranger Than Fiction closes out its spring/summer season with a special Wednesday screening of THE PLEASURES OF BEING OUT OF STEP, a profile of music critic Nat Hentoff from director David L. Lewis, on June 25 at 8 p.m. at the IFC Center in Manhattan. Following the screening, Lewis will be in attendance for a Q&A. For more information or to purchase tickets please go here.
At the Guardian, Saeed Kamali Dehghan reported on the jailing of Iranian filmmaker Mahnaz Mohammadi for collaborating against the state. A post at the International Campaign for Human Rights in Iran also reported Mohammadi's detention.
Writing for the Los Angeles Times, Amy Kaufman reported on the film STRAY DOG, the latest from director Debra Granik.
Barry Walsh of Realscreen interviewed Sunny Side of the Doc founder Yves Jeanneau in advance of the international doc market and conference.
Over at the IFP site, Michael Haertlein shared a theory on why filmmakers feel compelled to make docs.
At Realscreen, Adam Benzine reported on the finalists for the Cinema Eye Honors' Nonfiction Film for Television award. Writing for Nonfics.com, Jonathan Sullivan did the same.
In distro news, Barry Walsh of Realscreen reported that Gathr Films had picked up U.S. rights for RETURN TO HOMS. Paula Bernstein of Indiewire reported that Cinema Guild had acquired U.S. rights for ACTRESS, from director Robert Greene. And Adam Benzine of Realscreen took a look at the emergence of theatrical on demand platforms.
The folks at U.K. distribution outfit Dogwoof penned a blog post on THE ACT OF KILLING's consecutive year of screenings at the ICA cinema in London, and its planned celebration of that fact.
On his latest Filmwax Radio podcast, Adam Schartoff spoke with director Harry Mavromichalis and subject Olympia Dukakis, along with director Jonathan Caouette.
At Nonfics.com, Landon Palmer interviewed director Andrew Rossi on his film IVORY TOWER. Also on the site, Dan Schindel wrote a post about the five best docs to screen at this year's Los Angeles Film Festival.
Writing for Filmmaker Magazine, Lauren Wissot interviewed director Adam Rifkin about his film GIUSEPPE MAKES A MOVIE.
Anthony Kaufman interviewed filmmaker Jill Godmilow in a piece for Fandor.
At Ion Cinema, Jordan M. Smith reviewed the film POINT AND SHOOT from director Marshall Curry.
A piece by Lavanya Ramanathan for the Washington Post examined two docs investigating the history of punk in the nation's capitol.
Writing for Indiewire, Eric Kohn reviewed NE ME QUITTE PAS (DON'T LEAVE ME), giving the film high marks.
Back at Nonfics.com, Daniel Walber rounded up 10 films he believes represent the best doc portraits of LGBT culture. Also at Nonfics.com, Dan Schindel wrote a review of the film STRAY DOG, which screened at the Los Angeles Film Festival. And Christopher Campbell interviewed director Godfrey Reggio about his film VISITORS.
In a post at Indiewire, Oliver Macmahon spoke with filmmaker Geeta Patel about the making of her film, MEET THE PATELS.
Tom Roston penned a piece about World Cup documentaries for the POV blog.
Over at i-Docs, Sandra Gaudenzi covered the Sheffield Doc/Fest's crossover market.
Indiewire's Casey Cipriani spoke with I AM BIG BIRD: THE CARROLL SPINNEY STORY director Dave LaMattina and Chad Walker, along with subject Carroll Spinney.
The Samuelson Clinic at Berkeley Law University of California released a handbook detailing copyright status claims.
At The Skinny, Jamie Dunn turned in a recap of this year's Sheffield Doc/Fest.
The POV blog posted their recent #docchat on making short docs to their YouTube page.
Writing for Grolsch Film Works, Oliver Lunn made the case for why documentary filmmakers should consider ditching their cameras.
Mitchell Block, writing for the International Documentary Association (IDA), provided coverage of the winners of the 2014 Student Academy Awards for documentary film.
Finally, Hazel Pfiefer wrote a review of RETURN TO HOMS for the DocGeeks blog.
Please send tips or recommendations for the Memo via email here, or by Twitter to @GuerrillaFace. Thanks and have a great week all!