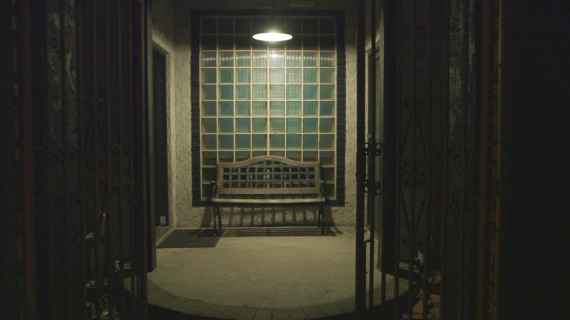 This week the Cinema Eye Honors for Nonfiction Filmmaking released the list of nonfiction short films nominated for an award this year.  Kevin Ritchie covered the news for Realscreen, while Daniel Walber did the same at Nonfics.com, as did Jake Folsom of Indiewire.
At Indiewire, Peter Knegt updated the staff's Oscar prediction for best doc. In a separate piece at Indiewire, Steve Greene reported on the docs topping the critics' lists thus far in 2014. Over at Nonfics.com, Christopher Campbell contemplated which fall festival docs had a shot at winning the Oscar.
At the POV blog, staff interviewed Christopher Allen of Uniondocs about the interactive short project 89 STEPS: A CHAPTER OF LIVING LOS SURES. The blog also hosted an interview with Theo Rigby, creator of interactive doc IMMIGRANT NATION.
This week Stranger Than Fiction continues its fall season devoted to the works of Chris Hegedus and D.A. Pennebaker with a screening of JANE, along with the shorts DAYBREAK EXPRESS and BABY, on Tuesday, September 30 at 8 p.m. at the IFC Center in Manhattan. JANE is a rarely seen film following actress Jane Fonda as she prepares for a recurring role in the Broadway show "The Fun Couple." Pennebaker will be in attendance for a Q&A following the film. For more information or to purchase tickets please go here.
Third World Newsreel announced the workshops set to take place in its New York City office this fall. They also noted the passing of long-time TWN instructor Herman Lew. Our condolences go out to his family and friends.
Landon Palmer of Film School Rejects rounded up six filmmaking tips from filmmaker William Greaves.
At Go Metro, Pavel Barter spoke to filmmaker Joe Berlinger about his latest film, WHITEY: UNITED STATES OF AMERICA V. JAMES J. BULGER.
Writing for Indiewire, Shipra Gupta had 10 tips on making a doc from filmmakers Lauren Greenfield and Kirby Dick.
Basil Tsiokos turned out an overview of the docs screening at this year's New York Film Festival in a post at his What (Not) to Doc blog.
Writing for the International Documentary Association (IDA) website, Marc Glassman provided an overview of this year's Toronto International Film Festival (TIFF). Adam Benzine of Realscreen wrote a post aggregating his publication's coverage of the festival.
Peter Broderick released his third installment on how not to negotiate a distro deal at Ted Hope's Truly Free Film website.
A reminder that the deadline for the Karen Schmeer Film Editing Fellowship is Tuesday, September 30 at 11:59 p.m. EST. For more information on the fellowship and to find out how to apply please go here.
The documentary community forum The D-Word is covering this year's Getting Real conference with some liveblogging. You can find out more details by going here. (Registration with The D-Word required.)
Kartemquin Films set the graduation ceremony for its 2014 Diverse Voices in Docs program for Sunday, October 5 at the University of Chicago's Logan Arts Center. You can learn more about the ceremony and the program by going here.
Back at Realscreen, Manori Ravindran reported that director Michael Apted had launched a crowdfunding effort for his next installment of the UP series.
And Paula Bernstein of Indiewire reported that filmmaker Robert Greene had launched a crowdfunding effort to clear the music for his film ACTRESS.
Realscreen colleague Adam Benzine had the news that Hussain Currimbhoy was joining the Sundance Film Festival as a documentary programmer.
Also at Realscreen, Kevin Ritchie reported that the new film from director Laura Poitras, CITIZENFOUR, would open the 57th International Leipzig Festival for Documentary and Animated Film in October.
Jennifer Merin interviewed International Documentary Film Festival Amsterdam (IDFA) head in a piece for the Alliance of Women Film Journalist pub Cinema Citizen.
At the Thompson on Hollywood blog at Indiewire, Ryan Lattanzio reported that KUNG FU ELLIOTT from director Jaret Belliveau had won the best documentary feature award at this year's Fantastic Fest.
Writing on his Medium page, Anrick Bregman explained his interactive doc THE MOST NORTHERN PLACE.
At Filmmaker Magazine, Michael Murie culled some editing tips from editor Adam Epstein's "The Cutting Edge Post-Production Tour."
Joe Lynch of Billboard magazine interviewed musician Nick Cave about his new nonfiction film 20,000 DAYS ON EARTH.
Over at Nonfics.com, Christopher Campbell highlighted some of the films now available on VOD and other home viewing platforms this week.
In a piece for Canada's POV Magazine, Rob King made an argument in favor of regulating Netflix.
Writing for the Chicago Reader, Ben Sachs reviewed the Chris Marker film LEVEL FIVE.
In a piece for Indiewire, Anthony Kaufman wrote that the 2005 Rachel Boynton doc OUR BUSINESS IS CRISIS was being remade as a narrative film with George Clooney and Sandra Bullock.
The Deadline team reported that the Ken Burns PBS doc series THE ROOSEVELTS had become the most streamed series on the PBS website to date.
At the Docs & The Law blog, Regina Austin wrote on the added responsibilities of the criminal defense lawyer when a doc was being made about their client.
Writing for the POV blog, Brian Chirls wrote on the lessons gleaned from making the online interactive doc EMPIRE.
In the latest edition of Filmwax Radio, Adam Schartoff spoke with filmmaker Lucia Small about her collaboration with the late filmmaker Ed Pincus.
Michael Miner of The Chicago Reader spoke with director Anne de Mare about her film on teen homelessness, THE HOMESTRETCH.
Over at the Sundance website, Eric Hynes covered an Independent Film Week panel on the nuts and bolts of digital deliverables.
At Realscreen,  Adam Benzine interviewed David Tedeschi, who, along with Martin Scorsese, is a co-director of the film THE 50 YEAR ARGUMENT.
Writing for the POV blog, Brian Chirls wrote about the technology used to synchronize video for collective online viewing experiences.
Back at Nonfics.com, Dan Schindel wrote on seven nonfiction films that challenge the art world.
ITVS this week announced that Noland Walker had become its senior content director.
Back at the IDA website, Maria Christina-Villasenor covered the New York Peruvian Film Showcase. And Laura Alma had an interview with Ambulate California's director, Christine Davila.
Finally, the POV blog took note of banned books week by highlighting some relevant docs in its back catalog.
Please send any tips or recommendations for the Memo via email here, or by Twitter to @GuerrillaFace. Thanks and have a great week everyone.