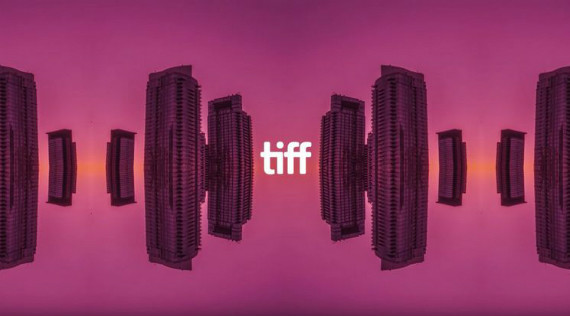 Like so many in the business of film making, curating, critiquing or just consuming, I'm feeling a little overstimulated after 11 days of movie-going at the Toronto International Film Festival, but in a good way. I managed to catch 46 films of the 296 features on offer this year, 19 of which were docs, many of which were outstanding. I managed to log a trio of reviews over at IONCINEMA, while an avalanche of doc coverage was amassed at outlets like Nonfics, POV Magazine, and Cinema Scope, among countless others. Found in the mix was Amy Kaufman's extensive takes on RATS and AMANDA KNOX, and Steven Zeitchik's review of BEFORE THE FLOOD, all for the LA Times, while The Guardian's Benjamin Lee also ruminated on AMANDA KNOX.  At Realscreen, Jonathan Paul spoke with Errol Morris about his latest, THE B-SIDE: ELSA DORFMAN'S PORTRAIT PHOTOGRAPHY, while Kevin Ritchie asked Werner Herzog about INTO THE INFERNO. At yesterday's closing awards ceremony Raoul Peck's I AM NOT YOUR NEGRO was given the People's Choice Documentary Award, while Fisher Stevens' BEFORE THE FLOOD and Steve James' ABACUS: SMALL ENOUGH TO JAIL were named the second and first runners up, respectively.
In the midst of the action, our own Thom Powers hosted TIFF's annual one day Doc Conference, featuring live panels and discussions on a wide range of non-fiction filmmaking related topics. If you weren't able to make it, most of the events are now available to stream on TIFF's YouTube channel, including conversations with Steve James, Jonathan Demme and more. Meanwhile, VR made its prescence known at the festival this year with its POP VR event reports Realscreen's Jonathan Paul. Looking at the many films that scored distribution at TIFF, Kate Erbland wrote an overview of the sales for IndieWire, including Magnolia's pick up of I AM NOT YOUR NEGRO and Syndicado's purchase of IN EXILE.
Here at Stranger Than Fiction, we've revealed that our Fall Season is devoted to the documentary work of Jonathan Demme. The series features a six film retrospective with live director Q&As at each screening, beginning on September 27th with his legendary Talking Heads concert doc, STOP MAKING SENSE. Season passes and individual screening tickets are available.
With the fall festival fervor kicking into high gear, award season hysteria quickly follows suit. This past week the Cinema Eye Honors named the 10 Finalists for its 2017 Outstanding Nonfiction Short Film Honor, including a pair of Field of Vision shorts in Mike Palmieri and Donal Mosher's PEACE IN THE VALLEY and Margaret Brown's THE BLACK BELT, as well as festival favorites PICKLE by Amy Nicholson and BACON AND GOD'S WRATH by Sol Friedman. In other award news, the Emmys reigned supreme last night, honoring MAKING A MURDERER with a quartet of golden statues for Outstanding Directing For A Nonfiction Program, Documentary Or Nonfiction Series, Outstanding Picture Editing For A Nonfiction Program and Outstanding Writing For A Nonfiction Program, while WHAT HAPPENED, MISS SIMONE? won for Best Documentary or Non-fiction Special.
There has been a bit of buzz around the theatrical release of Robert Kenner's nuclear thriller COMMAND AND CONTROL, having received positive press from Mark Jenkins at NPR and Willam J. Broad in The New York Times, as well as having been selected as WNYC's Documentary of the Week, but it was Ron Howard's much anticipated Beatles doc EIGHT DAYS A WEEK – THE TOUR YEARS that picked up the most buzz this past week. Now available to stream via Hulu Plus, the film received raves from Godfrey Cheshire of RogerEbert.com, Kenneth Turan of The Los Angeles Times, and Anthony Lane of The New Yorker who gushed, "There is something thrillingly open and unhermetic about the less complex creations of the early years, and there are patches of the new film that, like Richard Lester's A HARD DAY'S NIGHT (1964), leave you shocked with excitement and glee; if you want to know how Uma Thurman felt, in PULP FICTION, when that syringe of adrenaline was harpooned into her chest, here's your chance." The Guardian published a pair of warm pieces on the film, one from Peter Bradshaw, the other by John Patterson, while Rolling Stone also posted a list of 10 things Jordan Runtagh learned from the film.
Another film currently available on the small screen, this time thanks to HBO, is Jeff Feuerzeig's AUTHOR: THE JT LEROY STORY. The film recently came under critical fire from A.O. Scott, as well as Asia Argento and others whom turn up in the film, both via The New York Times, but over at Doc Soup Tom Roston has come out in defense of the film, citing the slippery slope of subjectivity as its largest issue – "there has to be more to the story than we are seeing here, but Feuerzeig has told the one he (and, it seems, she) wanted to tell." And speaking of doc controversy, Kevin Ritchie has reported at Realscreen that "gun rights advocates have slapped Katie Couric and producers of the documentary UNDER THE GUN with a $12-million defamation lawsuit…alleging that the filmmakers manipulated footage to make it appear as though the members could not respond to a question about universal background checks for firearms owners."
Easing back into the swing of things, I'll leave you with a pair of celebratory pieces from Christine N. Ziemba of Paste and David Sims of The Atlantic on the new season of DOCUMENTARY NOW!, and Robert Greene's wonderful new article on "The myth of authenticity and the limits of access" in documentary filmmaking for Sight & Sound. As always, if you have any tips or recommendations for the Memo in the meantime, please contact me via email here, or on Twitter, @Rectangular_Eye.