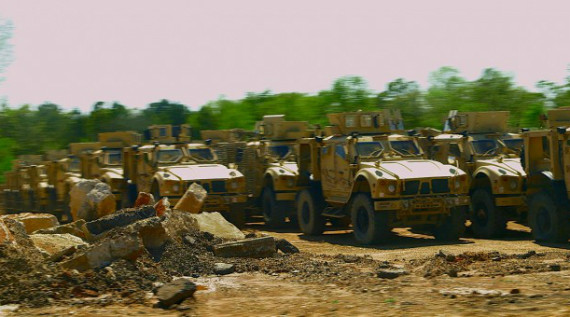 Outside of Tribeca's wrap-up and award announcements over the weekend, this week has been rather uneventful in the realm of nonfiction cinema. That said, the 15th Tribeca Film Festival concluded by giving Craig Atkinson's DO NOT RESIST the $20,000 cash prize for Best Documentary and the Ross Brothers' CONTEMPORARY COLOR was awarded with prizes for both Best Cinematography and Best Editing. Reflecting on the top prize winner, indieWIRE's Eric Kohn reviewed DO NOT RESIST, while Joe Peeler of Hammer To Nail spoke with Bill Ross about his award winning color guard film,  Realscreen's Daniele Alcinii reported on the festival's complete awards list.
In other festival news as reported by Kevin Ritchie at Realscreen, Cannes announced that Laura Poitras' feature length Julian Assange doc RISK (formally billed as a web series and titled ASYLUM) will have its world premiere as part of Director's Fortnight, joining Jim Jarmusch's Iggy Pop doc GIMME DANGER, Mahamat-Saleh Haroun's HISSEIN HABRÉ: A CHADIAN TRAGEDY, and Rithy Panh's EXIL as part of the festival's nonfiction offerings. Meanwhile, Basil Tsiokos previewed the doc offerings at this year's San Francisco International Film Festival at What (not) To Doc, noting the world premieres of Moby Longinotto's THE JONESES and Michael Almereyda's ESCAPES. Realscreen's Kevin Ritchie reports that Sundance has announced a new development lab aiming to develop projects "that focus on climate change, conservation and the environment, and inspire viewers to take action." And at indieWIRE, Eric Kohn, Kate Erbland, David Ehrlich and Liz Shannon Miller debated the future of film festivals, discussing current trends and cultural ruts.
Here at Stranger Than Fiction, our spring season continues tomorrow with special 15th Anniversary screening of Sandi DuBowski's TREMBLING BEFORE G-D, featuring a post-screening Q&A with the director and film subjects David, Rabbi Steve Greenberg, Michelle, Naomi and Mark. Tickets for the event can be purchased here.
A pair of pieces from Anthony Kaufman at indieWIRE and Manori Ravindran at Realscreen both looked at the rise of long form doc series like MAKING A MURDERER, THE JINX and most recently, O.J.: MADE IN AMERICA, and questioned its longevity as a format. More random, but no less intriguing are Brian Coney's outline of the best heavy metal docs beyond the classic short HEAVY METAL PARKING LOT published by The Quietus and Michael Pattison's look at five new docs hailing from Eastern Europe posted in The Calvert Journal.
Our own Raphaela Neihausen and Thom Powers selected STREIT'S: MATZO AND THE AMERICAN DREAM as WNYC's Documentary of the Week, while Nicolas Rapold warmly regarded the film in The New York Times. Powers' new podcast Pure Nonfiction dropped its first three episodes this week, each are available via iTunes and the Pure Nonfiction website.
In theatrical releases, Randall Wright's HOCKNEY was the most written about doc this week, with a trio of reviews coming in from Stephen Holden of The New York Times, Kenneth Turan of The Los Angeles Times, and Daniel Walber of Nonfics. Other docs that found their way into print this week included I DON'T BELONG ANYWHERE and NO HOME MOVIE, both written up by Sheri Linden in The Los Angeles Times, Josh Fox's lengthily titled HOW TO LET GO OF THE WORLD (AND LEARN TO LOVE ALL THE THINGS CLIMATE CAN'T CHANGE) reviewed by Joshua Brunsting at Criterion Cast, and the Tribeca premiered ALL THIS PANIC, covered by Daniel Walber for Nonfics. At Variety, Dennis Harvey reviewed MAD TIGER, while Katie Van Syckle considered OBIT. For Sight & Sound, Wendy Ide wrote a feature dissecting Roberto Minervini's THE OTHER SIDE, Brian C. Bush spoke with Margaret Byrne about her film RAISING BERTIE for The Huffington Post and Jake Coyle wrote at length about Roger Ross Williams' LIFE, ANIMATED in The Washington Post.
I'll leave you this week with an interview by Anthony Noto with Gary Hustwit on his new VR production company Scenic in the New York Business Journal. I will be splitting my time next week between the Eastman Museum's second annual Nitrate Picture Show in Rochester and Toronto's Hot Docs, so I will be taking the week away from the memo, but I'll be back soon! Until then, if you have any tips or recommendations for the Memo, please contact me via email here, or on Twitter, @Rectangular_Eye.