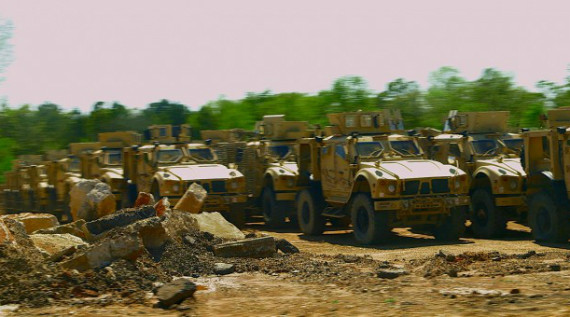 Outside of Tribeca's wrap-up and award announcements over the weekend, this week has been rather uneventful in the realm of nonfiction cinema. That said, the 15th Tribeca Film Festival concluded by giving Craig Atkinson's DO NOT RESIST the $20,000 cash prize for Best Documentary and the Ross Brothers' CONTEMPORARY COLOR was awarded with prizes for both Best Cinematography and Best Editing. Reflecting on the top prize winner, indieWIRE's Eric Kohn reviewed DO NOT RESIST, while Joe Peeler of Hammer To Nail spoke with Bill Ross about his award winning color guard film,  Realscreen's Daniele Alcinii reported on the festival's complete awards list.
In other festival news as reported by Kevin Ritchie at Realscreen, Cannes announced that Laura Poitras' feature length Julian Assange doc RISK (formally billed as a web series and titled ASYLUM) will have its world premiere as part of Director's Fortnight, joining Jim Jarmusch's Iggy Pop doc GIMME DANGER, Mahamat-Saleh Haroun's HISSEIN HABRÉ: A CHADIAN TRAGEDY, and Rithy Panh's EXIL as part of the festival's nonfiction offerings. Meanwhile, Basil Tsiokos previewed the doc offerings at this year's San Francisco International Film Festival at What (not) To Doc, noting the world premieres of Moby Longinotto's THE JONESES and Michael Almereyda's ESCAPES. Realscreen's Kevin Ritchie reports that Sundance has announced a new development lab aiming to develop projects "that focus on climate change, conservation and the environment, and inspire viewers to take action." And at indieWIRE, Eric Kohn, Kate Erbland, David Ehrlich and Liz Shannon Miller debated the future of film festivals, discussing current trends and cultural ruts.
Here at Stranger Than Fiction, our spring season continues tomorrow with special 15th Anniversary screening of Sandi DuBowski's TREMBLING BEFORE G-D, featuring a post-screening Q&A with the director and film subjects David, Rabbi Steve Greenberg, Michelle, Naomi and Mark. Tickets for the event can be purchased here.
---