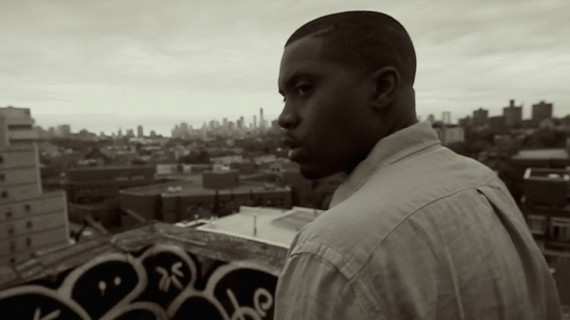 The 2014 Tribeca Film Festival started this week with a screening of the new Nas doc TIME IS ILLLMATIC. At Indiewire, Eric Kohn reviewed the new film from director One9 as did Scott Foundas of Variety. Associated Press writer Jake Coyle had coverage of the Tribeca opening night film for his press outlet. Basil Tsiokos provided an overview of the docs screening at the festival at his What (Not) to Doc blog. At DocGeeks, Emma Norton had a list of must-see docs at the festival. Writing for Nonfics.com, Daniel Walber previewed 10 of the festivals most anticipated docs. Walber also penned a review of the Tribeca film BALLET 422 from director Jody Lee Lipes and one of DIOR AND I from director Frederic Tcheng. Steve Pond of The Wrap had an interview with BEYOND THE BRICK: A LEGO DOCUMENTARY filmmakers Daniel Junge and Kief Davidson at The Wrap.
This week Chicago-based documentary production non-profit Kartemquin Films announced that it would collaborate with network Al Jazeera America to produce a six-part documentary series on the struggles of those on low incomes in the U.S. Sergio had coverage of the development for Indiewire's Shadow and Act blog, while Deadline also covered the news.
Nikita Stewart of the New York Times reported that New York City Mayor Bill DeBlasio announced that Cynthia Lopez, co-executive producer of the PBS doc series POV, had been appointed the commissioner of the Mayor's Office of Media and Entertainment. Todd Cunningham of The Wrap also covered the appointment, as did Marisa Guthrie and Tatiana Siegel of The Hollywood Reporter and Shipra Gupta of Indiewire.
At the New Yorker, Richard Brody reviewed the doc Manakamana from directors Stephanie Spray and Pacho Velez, as did A.A. Dowd at the A.V. Club. J. Hoberman wrote up the film for the New York Review of Books, while Bilge Ebiri did the same at New York Magazine's Vulture blog.
Christopher Campbell of Nonfics.com had the documentaries reaching theaters this week. Campbell also had a separate post on the docs reaching homes this week via various channels.
Over at Realscreen, Manori Ravindran covered some of the docs screening at this year's Cannes Film Festival.
Daniel E. Slotnick of the New York Times wrote an obituary for documentary filmmaker Warren Forma, who profiled artists for a series titled ARTISTS AT WORK.
The New Yorker's Richard Brody posted his list of the best documentaries, made in response to a request from Sight & Sound Magazine.
In a post at Nonfics.com, Christopher Campbell considered the ethical implications of making a documentary about a subject who might prefer to remain reclusive.
The documentary screening network Cinema Politica released a book cataloguing the last ten years of its activity in a series of interviews, essays and other work.
At DocGeeks, Alexandra Zeevalkink reported on PULP: A FILM ABOUT LIFE, DEATH AND SUPERMARKETS opening this year's Sheffield Doc/Fest. Manori Ravindran of Realscreen also reported on the news.
The non-profit outfit Docs in Progress announced its 10-year anniversary event, set to to take place on May 20 in Washington, D.C. The event will feature awards and a panel discussion.
The staff of the Toronto Star culled a list of films to keep an eye on at this year's Hot Docs film festival, which starts April 24. Writing for the New York Times, Tom Roston noted that a handful of Hot Docs films focused on the Ukraine in some way.
Back at Nonfics.com, Christopher Campbell highlighted 12 documentaries that address environmental disasters in advance of Earth Day.
At the Daily Mail, Sara Nathan reported that director Amy Berg was working on a documentary about sexual abuse and Hollywood.
Writing for Truly Free Film, Mike Hedge shared his experience attempting to make a participatory documentary.
In his latest Filmwax Radio Podcast, Adam Schartoff spoke with filmmaker Robert Greene.
At the Docs & the Law blog, Regina Austin wrote a piece on a series of talks delivered by Stanley Nelson.
The True/False Film Fest noted that a pair of panels from earlier this year had made their way onto YouTube. One was on the "Place is the Space" panel, and the other on "Lies My Subject Told Me."
ZIPPER: CONEY ISLAND'S LAST WILD RIDE, a film from director Amy Nicholson about Brooklyn's storied Coney Island neighborhood, is screening on NYC's PBS station, WNET Thirteen, on Monday, April 28 at 10 p.m.
In a piece for Filmmaker Magazine, Seth Fisher wrote on the idea of attainable success that a filmmaker could enjoy.
At the POV blog, Fernanda Rossi wrote a post rounding up 10 tips for creating successful fundraising demos.
Writing for Guernica Magazine, Ela Bittencourt interviewed the filmmaker Davi Pretto.
Back at the Docs & The Law blog, Tom Isler wrote on the phenomenon of fictional narrative films appropriating the names of earlier documentary works.
POV posted to YouTube a recording of its Documentary Equipment & Tools chat, which covered a range of subjects and equipment.
In a piece for Film School Rejects, Christopher Campbell wrote about the Kickstarter campaign for Sebastian Junger's sequel to RESTREPO, a film named KORENGAL.
Karen Nash wrote a piece about interactive documentary for The Impact Blog at the London School of Economics and Political Science website.
Writing for Indiewire, Nigel M. Smith took note of the Pulitzer award given to work that filmmaker Laura Poitras contributed to regarding the NSA leaks from Edward Snowden.
At Filmmaker Magazine, newly minted managing editor Vadim Rizov turned out a piece on the new Errol Morris film THE UNKNOWN KNOWN.
Finally, Robin McKenna remembered Peter Wintonick in an essay for Canada's POV Magazine.
Please send tips and recommendations for the Memo via e-mail here, or by Twitter to @GuerrillaFace. Have a great week all!