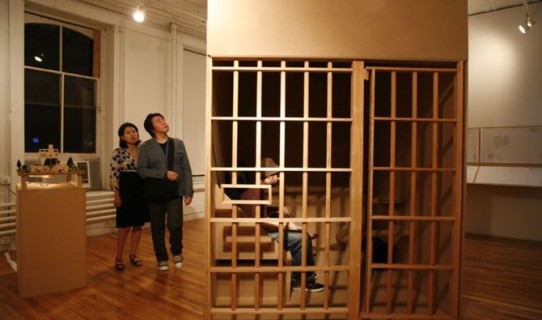 POV this week announced the lineup for its 26th season, which includes a solid lineup of festival darlings such as 5 BROKEN CAMERAS from directors Emad Burnat and Guy Davidi; HERMAN'S HOUSE from director Angad Singh Bhalla; and ONLY THE YOUNG from directors Jason Tippet and Elizabeth Mims, among several other great titles. Adam Benzine of Realscreen covered the announcement, as did Alison Willmore of Indiewire.
Canada's Hot Docs festival also announced it's full lineup this week; you can check out the full schedule for the festival, set to run April 25 – May 5 in Toronto, by going here. Realscreen's Adam Benzine also had coverage of the announcement.
This week Stranger Than Fiction officially kicks off its spring season with a screening of NO PLACE ON EARTH from director Janet Tobias on Tuesday, March 26 at 8pm at the IFC Center in Manhattan. Tobias will be in attendance for a Q&A following the film, which is the story of a cave enthusiast who finds evidence of recent human habitation where there should be none. For more information and to purchase tickets please go here.
News from this year's South by Southwest Film Festival continued to straggle out of Austin. Film Threat played host to Ondi Timoner's BYOD: Bring Your Own Doc episode focused on the festival. Adam Schartoff spoke with filmmaker Jeffrey Schwarz, the director behind the film I AM DIVINE. At his What (Not) to Doc blog, Basil Tsiokos issued his last two roundups of the festival, with part two here and part three here. At the Center for Social Media blog, Patricia Aufderheide took a look at the social issue docs that infused Austin this year.
In this week's Docutopia post, Anthony Kaufman wrote up some of the docs featured in this year's New Directors/New Films series from the Museum of Modern Art and the Film Society of Lincoln Center. In a piece for Indiewire, Eric Kohn highlighted five films from the program he thought were worth seeing. And at What (Not) to Doc, Basil Tsiokos provided an overview of the docs screening at ND/NF.
At POV, Tom Roston this week spoke with filmmaker Jessica Edwards, the force behind the work-in-progress book "Tell Me Something," which solicits advice from a roster of accomplished doc filmmakers. Jessica Edwards also penned a post on the book herself at Filmmaker Magazine.
Christopher Campbell of the Documentary Channel blog shared this week's notable docs in theaters in two posts, one that notes (108) CUCHILLO DE PALO and another highlighting two other films. Campbell in another post on the blog also highlighted the film PAINTERS PAINTING from Emile de Antonio as an undervalued classic of the genre. He also rounded up a slew of new documentary trailers that hit the web this week.
Critic Eric Hynes issued a reflective take on the True/False Film Festival for Cinema Scope magazine this week.
Basil Tsiokos turned out yet another festival overview, this time of the Cinema du Reel, which runs March 21 – 31 in Paris.
Over at the No Film School website, Oakley Anderson-Moore spoke with THESE BIRDS WALK directors Bassam Tariq and Omar Mullick on their film, gleaning some interesting info on their production techniques.
In a piece for Indiewire, Anthony Kaufman took note of the new right-wing docs that were announced at this year's Conservative Political Action Conference, among them a new film from Dinesh D'Souza.
Writing for Hammer to Nail, Robert Greene reviewed Cristian Soto and Catalina Vergara's film THE LAST STATION, which screened at True/False this year.
The Flaherty Seminar's website posted a recap of its recent screening of EL OTRA DIA with director Ignacio Agüero in attendance.
Michael Moore participated in a Reddit AMA this week, with the level of discourse in the dialogue befitting the internet.
Melissa Harris of the Chicago Tribune profiled the Good Pitch Chicago forum set to take place this fall.
The MacArthur Foundation named nine film projects as recipients for grants totaling more than $1 million. Among the recipients were AMERICAN EXILE by John J. Valadez and Carleen L. Hsu and BETRAYAL OF THE AMERICAN DREAM from Barbara Kopple.
At the Huffington Post, Malika Rao traced the path of the documentary film HANDS ON A HARDBODY to its recent incarnation as a broadway musical.
In distro news this week, Adam Benzine of Realscreen reported that The Weinstein Co. had acquired worldwide rights for Shane Salerno's film SALINGER. Steven Zeitchik of The Los Angeles Times also reported on the acquisition.
At the Tribeca Institute's website S.T. VanAirsdale had a helpful piece on what filmmakers running Kickstarter campaigns should offer as rewards (and what they shouldn't).
At his Sub-genre website, Brian Newman penned a post this week on the atrophication of film festivals, and the effect of that phenomenon on the indie film world.
Kelly Anderson of Realscreen reported that Film Independent had named 12 filmmakers to its next documentary lab, an eight-week program assisting filmmakers with projects in post.
The MIT Open Documentary Lab's latest dispatch on transmedia for Filmmaker Magazine focused on Hugues Sweeney, executive producer of interactive production at the National Film Board of Canada.
And writing for the Tribeca Institute's website, S.T. VanAirsdale considered the potential effect of Google Glass devices on cinema.
That does it for this week. Please send any tips via e-mail here, or tweet them to @GuerrillaFace. Thanks, and have a great week everyone!