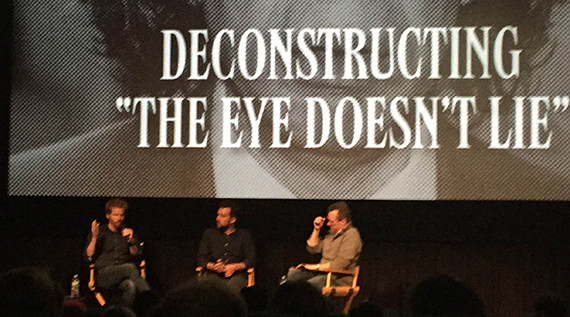 "Imitation is not just the sincerest form of flattery – it's the sincerest form of learning." – George Bernard Shaw
For several decades, if not centuries, the greatest imitators have been found in comedy.  But very rarely have they set their sights on documentary.  That's now changed with the emergence of IFC's original series Documentary Now! Through the parody of the genre, the series is a melange of tales with hilarious storylines and totally ridiculous characters played by Bill Hader and Fred Armisen.
Stranger Than Fiction kicked off the spring season with a special presentation of DOCUMENTARY NOW! DECONSTRUCTED with special guests EP/Director/Writer Rhys Thomas and EP/Director Alex Buono in conversation with host Thom Powers. Full screenings of "Kunuk Uncovered" and "The Eye Doesn't Lie" were decorated with clips from the films that inspired the stories and highlights from the rest of the series. These clips also poked fun at some of the most revered documentarians and subjects, who universally found the idea enjoyable.  D.A. Pennebaker, Al Maysles, Bob Dylan – they all loved the idea and Buono, while initially hesitant to reach out about satirizing their work, then realized everyone had a good sense of humor about it. 
Another initial concern of the creators and documentary aficionados were whether audiences beyond the presumably small documentary world would get the self-referential series. They did get it, and one doesn't need to be intimately familiar with the resonant themes of spontaneity and love in an Al Maysles film, or the type of film stock and camera lens used by Errol Morris to appreciate the hilarity of characters like Barnabus, played by Hader in "Kunuk Uncovered." Playing with the Documentary Now! audience, Barnabus bemoans the audience of his questionably made documentary. "Audiences! he exclaims, "there's no accounting for taste."  Chewing on that, Buono said, "As a filmmaker you never know what's going to work and what's not going to work. Trying to anticipate, 'well I think this is what the audience wants' is such a risky maneuver that all you can really do is make the thing you want to see and just trust that if I like this someone else is going to like this." 
As an STF audience, it was a fun shared experience as Buono and Rhys circled back to their process, which "aspires to be unique films in and of themselves and watching with an audience is a really unique experience for us," said Buono. It was evident to see that the EPs were both energized and tempered by the talents of the other. Thomas said of their partnership, "one is the gas pedal and one is the brake," not unlike Hader and Armisen. And the secret, it seems, to working on set with two of the funniest men is comedy isn't keeping a straight face, it's keeping quiet.
Fortunately neither of them kept quiet for the Stranger Than Fiction audience, providing several anecdotes from the first season of Documentary Now! Their second season, recently green-lit by IFC, will once again featuring various imitations and lampoons of work by  Maysles and other documentary legends. 
---
Writing by Megan Scanlon. Megan works at the American University of Beirut. She has written for the DOC NYC blog and the Journal of Community Engagement and Scholarship. Megan was a prescreener for the Margaret Mead Film Festival, and is a volunteer at the Bronx Documentary Center and DOC NYC. Follow her on instagram and twitter @meganscanlon5
Related Film